Amtrak Travelogue & Photos
Orlando, Florida to Fullerton, California
via Washington, DC and Chicago, Illinois
on the Amtrak Silver Star, Amtrak Capitol Limited and Amtrak Southwest Chief
December 4 through December 8, 2005, Sunday through Thursday

www.trainweb.com/travelogues/stevegrande/2005l04a.html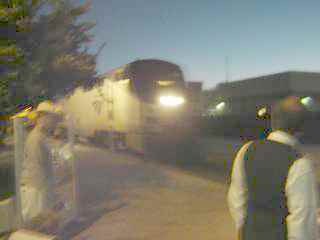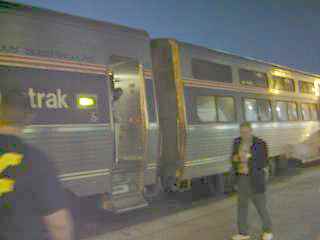 This is a travelogue of my train trip on the Amtrak Silver Star from Orlando, Florida, to Washington, DC, on Sunday and Monday, December 4 - 5, 2005, my train trip on the Amtrak Capitol Limited from Washington, DC to Chicago, Illinois, on Monday and Tuesday, December 5 - 6, 2005, and my train trip on the Amtrak Southwest Chief from Chicago, Illinois, to Fullerton, California, on Tuesday through Thursday, December 6 - 8, 2005. A number of photographs are also included with this travelogue, including extensive photographs of the interior of the Amtrak Viewliner Bedroom (formerly called the Viewliner Deluxe Bedroom) and the interior of the newly (2005) refurbished Superliner Bedroom (formerly called the Superliner Deluxe Bedroom). The older Amtrak Superliner I Sleeping Cars were refurbished in 2005 in order to provide an upgraded travel experience on the Amtrak Empire Builder. Fortunately, I ended up traveling in one of these Refurbished Amtrak Superliner I Sleeping Cars in both the Amtrak Capitol Limited and Amtrak Southwest Chief and was able to take extensive photographs of it and to review the upgrades in this travelogue.
Photographs From This Amtrak Train Journey:

My wife Barbara and I had flown on United Airlines from Los Angeles, California, to Orlando, Florida, on the red-eye on Thursday evening, December 1, 2005, arriving into Orlando, Florida, early Friday morning. December 2, 2005. A number of my siblings were also flying in on Friday and Saturday from New England to Orlando to celebrate the 80th birthday of my mother. I figured this would be an excellent opportunity to travel home by Amtrak.
Originally, I had booked this trip on the Amtrak Sunset Limited using points that I had on Amtrak Guest Rewards. When Hurricane Katrina disrupted a lot of the trackage along the gulf coast, I made an additional reservation on Amtrak for the same time period, but routed through Washington,DC and Chicago,IL, around the path of the devastation. I wasn't confident that the rail line would be back in operation in time for my trip. As it turned out, Amtrak did call me a few weeks ago and told me that the Sunset Limited would not be operating between Orlando and Los Angeles and that they would be crediting my Amtrak Guest Rewards back to my account. I asked them if they could re-book the trip, still using my Amtrak Guest Rewards, but have me routed on the Silver Star, Capitol Limited and Southwest Chief. They checked it out and said that I could do that for the exact same number of Amtrak Guest Rewards points that it would have taken on the more direct Amtrak Sunset Limited route. I had them make that change and then cancelled the reservation that I had made on my credit card.
Dec 04, 2005, 10:30 AM ET, Sunday
My wife and I drove around just outside the Orlando Airport searching in vain for a restaurant that was open this early on Sunday other than Denny's. Even though her flight wasn't until 1:30 PM, we decided to just return our rental car and see if we could find somewhere to eat inside the airport terminal. We filled up with gas and returned the rental car.
Just beyond the ticket counters in Terminal A there is a Chili's Restaurant on the second floor overlooking the main concourse. That worked out real well for us. We sat down around 11 AM and each ordered a Bloody Mary. Those were followed by two cups of regular coffee. My wife's flight had been delayed about an hour and was rescheduled for around 2:30 PM. My wife left Chili's to board her flight about 1:00 PM. I stayed at the table in Chili's and ordered a small item for lunch. I then got out my notebook computer and started on some work I needed to catch up on. Using my Verizon Wide Area Network Card, I was able to connect to the internet right from my table in Chili's. I finished eating and used up my first notebook battery a bit after 2:00 PM. So, I packed up and headed downstairs to catch a taxi.
Dec 04, 2005, 02:30 PM ET, Sunday
After having dropped off my wife at the Orlando International Airport for her flight home, I took a taxi to the Amtrak station. Actually, I'm not sure the vehicle was actually classified as a taxi. There was a whole row of vehicles waiting to take passengers from the airport, but they were all large passenger vans. The taxi dispatcher was assigning people to various vans, but mostly just one person or couple to each van. The van did not have a fare meter. Back in the days when I was doing a lot of travel, I would always get a fare quote before riding in a taxi without a fare box. Not having traveled that much lately, I've gotten a bit rusty and think that I may have been literally taken for a ride. The fare from the airport to the Amtrak station was $40. Since the distance is 10 miles, that comes to $4 per mile. I could be wrong, but I don't think taxi fares are running that high in Orlando. Next time, I'll try to remember to negotiate the fare before riding in a taxi without a meter again.
Dec 04, 2005, 04:54 PM ET, Sunday
I arrived at the Amtrak Orlando Station around 3:15 PM. There weren't any passengers inside the station when I first arrived, but a couple of people came in just a few minutes after me. The first two were older gentlemen. From the slogans on their caps and clothing, they were evidently veterans from the Korean War. Only one would be traveling on the train. The other had just come along to give his friend a ride to the station and to keep him company until the train arrived. While the one traveling was getting his ticket, the other one came over and talked to me. He said that he would never travel by train and that if he can't get to where he is going by flying or driving, then he just can't get there. He didn't really understand why some people like to travel by train.
While talking for a few minutes, I mentioned that all of the vending machines in the station were out of order. He said that he was on his way over to the store anyway and asked if he could pick up a soft drink for me while I was there. I told him that I'd really appreciate if he could get a small bottle of any diet drink for me. Within a few minutes, he was right back with an ice cold bottle of Diet Coke and said that I hadn't explored around the station enough. He said there was a Hot Dog vendor right around the corner from the station with drinks and other things for sale. He was right. I hadn't explored around the outside of the station at all this time. Compared to outside, it was nice and cool inside the station. After wandering about the inside of the station, searching in vain for an electric outlet, I settle down in a bench seat and got to work on my computer. I've been to the Orlando Amtrak Station a number of times over the past ten years. On some of those visits, I had been at the station for many many hours while waiting for late trains. On those past occasions, I spent lots of time exploring outside the station and taking plenty of photographs of the outside of the station.
The train that I am waiting for, the Amtrak Silver Star Train #92, was originally scheduled to arrive into Orlando from Miami at 4:21 PM. As is common, the train is running late and is not expected to arrive into Orlando until about 5:48 PM, about 1 hour and 27 minutes late. I brought 3 backup batteries for my computer with me. They are pretty heavy! They were all fully charged when I left the hotel this morning, but I've already gone through two of them and have just started into my third one. Each one lasts for about an hour or so. This last battery should last till the train arrives if it doesn't fall further behind schedule. Usually, I have electric power wherever I travel, especially in my room on the train. Thus, I seldom need my batteries to last more than an hour. If I find myself in more situations like this in the future, I'm going to have to re-configure my computer to more efficiently use power when it is running in battery mode. I should be able to tweak it up to last for at least two hours per battery.
Dec 04, 2005, 07:47 PM ET, Sunday
The northbound Amtrak Silver Star Train #92 finally arrived around 5:51 PM and departed from the station at 6:08 PM, 1 hour and 47 minutes late. The station staff directed everyone in Coach Class to the south end of the station while the Sleeping Car passengers boarding right in front of the station. There were two Viewliner Sleeping Cars on the train, but everyone was directed to board into the 9210 Viewliner Sleeper. Since I was booked into Room B of the 9211 car, the Car Attendant told me to turn right at the top of the stairs to go into the next car. I had no problem finding my room. There was a small bottle of water, a schedule for the train, and some safety instruction under the window of the room. Oddly, other than the long built-in bench chair, there wasn't a separate chair in the room. I really didn't need a separate chair since I was traveling alone, but it did seem odd. Without that separate chair, there was certainly a lot of room to walk around or for extra luggage. Is this a new policy for Viewliner Sleeping Cars or did they just run out of chairs and figured I didn't need one since I'm traveling alone?
(I received an e-mail from a reader explaining that the stand alone folding chair in the Viewliner Deluxe Room will often be folden up and placed under the long bench seat to provide more room when it is not needed. This may be especially true when someone is traveling alone in the room and the bench seat is facing in the direction of travel. Some people do not like sitting backwards to the direction of travel, so the Car Attendant might leave the folding seat set up when it is the only seat in the room facing the direction of travel. The reader seemed to indicate that the bench seat in Viewliner Deluxe Room B is usually facing the direction of travel. Since I don't travel in eastern United States that much, I don't have that much experience with the consistency of Viewliner Car orientation to know if the Viewliner Sleeping Cars are usually oriented in the same direction on every train.)
I took a LOT of photographs of the interior of the "Deluxe" Viewliner Bedroom, or whatever the official name is for the upgraded sleeping room nowadays. Now I know why the old-timers still call these Pullman Cars. It is hard to change what you've been calling something for so long, even if it is no longer the correct name. I've only traveled in the upgraded sleeping room on the Viewliner once before and I don't think I took too many photos of it. I figured I should take enough to answer as many questions as people may have about it, and also to refresh my own memory when others ask me things about it that I'm sure to forget later.
Unlike the Superliner Sleeping Car Rooms, the only electric outlet I could find was directly by the sink. Fortunately, I always bring along a surge protected extension cord with multiple outlets. I really could have used a longer one than the 3 footer that I brought along, but even this short extension cord worked out a lot better than a simple plug-in surge protector would have. Since the extension cord only reaches from one end of the sink counter to the other, I have a gaggle of electric cords running across the room to the table under the window. One cord is for my notebook computer, another for my GPS, and a third for my cell phone. I really don't like plugging anything in near the sink. In my mind, water and electrical outlets just shouldn't be that close to each other. As Amtrak does renovations on their cars, they really need to add electric outlets under every window in the train, in both the sleeping cars and coach cars. That is the most reasonable location for outlets so that passengers have somewhere to plug in whatever electrical device they are using at their seat. Unlike the early days of train travel, many people bring along a lot of electronics with them. In addition to notebook computers, I've seen passengers charging their cell phone batteries, their camera batteries, use portable TVs and DVD players (with headphones), and charging up their iPods and other MP3 players.
Dec 05, 2005, 08:10 AM ET, Monday
Last night I went to bed around 11:30 PM. That is only 8:30 PM Pacific Time. I was hoping to stay up later to get myself adjusted back to Pacific Time, but I was just too tired. I had just finished working on an important segment of work for TrainWeb and it seemed like a good time to call it a day. I took care of putting down the upper bed and setting up the ladder myself. By sleeping in the upper bed, I can keep the table under the window open and leave my computer all set up. That way, if I decide I want to do something on my computer during the night or want to get an early start, everything is all set up. This is something that I would only do in a Viewliner Sleeping Room and never in a Superliner Sleeping Room. The Viewliner Rooms have windows at eye level for both the lower and upper beds, so I can still see out the window even while lying in the upper bed. The upper bunk in the Viewliner Bedroom is pretty easy to set up. It is quite a bit easier than the upper bunk in the Superliner Sleeping Rooms. In the Deluxe Viewliner Bedroom, you turn a handle and fold the upper bunk out of the wall. In the Standard (Economy) Viewliner Bedroom, you turn a handle and pull it straight down from the ceiling. The extra bedding and pillows for the lower bunk is stored in the upper bunk during the day. I just took the upper bedroll and put it in the luggage space that is over the door, direct behind the head of the bed. I used the extra pillows so I could prop up my head and look out the window while falling asleep.
Finally, something can be seen out the windows! The train departed so far behind schedule last night that it had already become dark outside. There wasn't anything to see outside other than an occasional street light go by. There was only a partial moon last night, so that wasn't much help in lighting up the night. For the first time on this trip, I can enjoy watching the scenery roll by as I work on my notebook computer by the window.
At just a bit before 7:00 AM, I woke up. Actually, I woke up a few times during the night feeling pretty well rested and ready to go. However, I really wanted to try to sleep late to get back on California time. By 7:00 AM, I knew I wouldn't be able to get back to sleep anymore. Desiring to avoid the breakfast crowd in the Dining Car, I decided I had better get dressed and down to the Dining Car before they make their first call at 7:00 AM. Amtrak Dining Cars usually opens at 6:00 AM for breakfast, but they don't make any announcements over the P.A. until 7:00 AM so as to not wake up passengers too early needlessly. That first announcement usually fills up the Dining Car pretty quickly.
In the Dining Car, only 4 of the tables were occupied so far. Some had couples and some individuals. I fully expected the Dining Car Steward to seat me at a table that was already occupied as is the "community seating" custom in Amtrak Dining Cars. Usually, I'd prefer eating alone rather than with strangers. However, this was one of the unusual times where I was really hoping I'd have a chance to sit with others and tell them about the family event that was the purpose of this entire trip. I don't know why I felt like talking about this with perfect strangers, but it seemed to be one of those times in my life that I really just wanted to talk to anyone about it. Unfortunately, this was one of the few times that I have ever sat and eaten a meal alone in the Dining Car. A few more passengers arrived after I had started eating and they were also each placed at their own tables.
I was quite amazed at how few passengers were in the Dining Car. Is it always like this on the eastern single level trains, except during the busy holiday travel? I've always been under the impression that Sleeping Car passengers make up the majority of the people who eat in the Dining Car since their meals are included free with the price of their accommodation. The Superliner Sleeping Cars can hold a lot of passengers because of their double level configuration. Even the Superliner Coach Cars can hold quite a few passengers because of their double level configuration. If there are two or three Superliner Sleeping Cars and three or four Superliner Coach Cars on a trainset, that can generate quite a few people who would like to have breakfast in the Dining Car. Maybe it is because these single level trains have so few Sleeping Car passengers that there aren't many people in the Dining Car for breakfast.
I ordered the Continental Breakfast with Oatmeal. Whenever I order that, it seems like they are putting a whole feast in front of me! First comes the Orange Juice, a small glass pot of coffee, and a cup for the coffee. Then they bring out a serving of fresh fruit, a bowl of hot oatmeal, a glass of cold milk to go with the cereal, a croissant, and a sealed cup of Dannon Blueberry Yogurt! Maybe it was a good thing I was eating alone. Otherwise I think I would have had to use some of the tablespace of one of the other people at the table. Compared to what I normally eat for breakfast, this would easily be enough for 3 days for me. All I ate was just the Oatmeal, Orange Juice and Coffee. If I wanted a second breakfast equal to what I normally eat every morning, I could have had the milk and croissant. Or, I could have had the yogurt and fresh fruit. I did take the sealed cup of yogurt back to my room, with no idea of when I would get to eat it or if it would spoil before I had a chance to eat it. One thing I can say for sure: It is a rare person that will go hungry with the food that is included with your Amtrak Sleeping Car Accommodation!
It is raining out. I really like that. It almost never rains when I'm traveling by train in California. On those very rare times when it does rain, it will sometimes rain so hard that the tracks get flooded because of the poor drainage in California and rail service is suspended. A couple of times over the last ten years when the rains continued endlessly for days on end, homes slid off the cliffs onto the tracks. In other areas, hillsides washed into the ocean from under the tracks. Rebuilding the tracks along the Pacific Ocean was quite a feat for the Union Pacific and caused quite a delay in restoring service up the coast that year.
Dec 05, 2005, 08:45 AM ET, Monday
Here we are at Raleigh, North Carolina, at 8:45 AM! Our scheduled departure time was 5:40 AM, so we are running a bit more than 3 hours late. Except for a bit of padding and assuming that we don't get any further behind schedule, we should be into Washington, DC at about 2:53 PM. At least I won't have so long to wait for my connecting train, the Amtrak Capitol Limited Train #29, that departs Washington, DC at 3:55 PM.
Dec 05, 2005, 12:18 PM ET, Monday
We just left Petersburg, Virginia, at 12:18 PM. Our scheduled departure time was 8:29 AM, so we are running 3 hours and 49 minutes late. That means that this train will arrive into Washington, DC about 3:42 PM, about 13 minutes before the scheduled departure of my connecting train! With a connection that close, I'm sure they will just hold the other train for the connecting passengers from this train, as long as this train doesn't get any further behind schedule.
I went down to the Cafe Car to purchase a Bloody Mary. As I was walking along the corridor next to the cooking area for the Dining Car, I thought to myself that they must have the air conditioning really pumping to keep the kitchen cool since it was freezing cold in that corridor. Then, when I stepped between cars, I realized it wasn't the air conditioning. It is really cold outside! Having just left Florida yesterday, I forgot we would be heading north into colder and colder weather. It is actually snowing outside and the tracks, the trees and the ground are all covered in a white layer of snow. I love watching out the train window and seeing the snow come down. It is snowing pretty hard right now.
The Cafe was out of vodka for making Bloody Marys. You don't want to know what I had the Cafe Car Attendant substitute for the vodka in the drink. He had certainly never heard of that combination and I don't think I will try that combination again. While I was in the Cafe, I noticed they had the Tuna Sandwiches that I like so much. I hadn't planned to eat until dinner time, but I was too tempted and purchased one of the Amtrak tuna sandwiches for lunch. I don't get very tempted by the lunch selections in the Dining Car anymore, but I have a hard time resisting the tuna sandwiches on the train. To me, they just taste better than what I have found anywhere else and haven't even figured out how to make them that good myself.
Dec 05, 2005, 04:15 PM ET, Monday
We finally arrived into Washington, DC, at around 4:15 PM, about 4 hours and 22 minutes behind schedule. I gave the Car Attendant $5 even though I didn't have him do anything for me on this trip. It certainly wasn't because he didn't offer to do things for me. But sometimes it is just a lot easier to get things done when you want them done and in the way you want them done if you just do them yourself. But I don't punish the Car Attendant for me having done his work unless he has hidden himself and not offered to help in any way (which does happen sometimes).
The Amtrak Capitol Limited had been scheduled to depart at 3:55 PM, but I was totally confident that they would hold the train for connecting passengers. The crew didn't announce that the Amtrak Capital Limited had been held until after our train, the Amtrak Silver Star, had arrived into the Amtrak Washington Station. A cheer went up in the corridor when they announced that, followed by quite a bit of vocal grumbling about why the crew couldn't have announced it earlier so everyone didn't have to be so worried about their connection.
There were a number of reasons why I was confident that Amtrak would hold the Capitol Limited for connecting passengers, though the reasons would probably not be obvious to less seasoned Amtrak travelers:
First, I know it is an Amtrak guaranteed connection. Of course, guaranteed doesn't mean they will hold the train for you every time. It just means that Amtrak will make alternate arrangements to make sure you get to your destination. Usually, this means they will bus you to a location where you can catch up to the train you missed. At times, however, Amtrak has honored their guaranteed connection for me by sending me in a taxi to my destination (from Emeryville to Oakland), sending me in their crew shuttle van (from Albany, NY to Montreal, Quebec, Canada), flying me to meet my connecting train (from Washington,DC, to Chicago,IL, including vouchers for dinner and a night in a hotel), by placing me in an equivalent accommodation on a later train or a different route, and even by providing travel credits or partially refunding my travel fare. These are all methods which Amtrak may use to honor their "guaranteed" connection. Over the ten years I've been traveling by Amtrak, I think I've ended up with just about every alternative that Amtrak offers when a guaranteed connection is missed. Don't panic if you don't like flying. Amtrak will not force you to fly. They will offer you another alternative to your guaranteed connection if you will not accept flying when it is offered. However, Amtrak will usually try to make the connection work or bus you a short distance to catch up to your train whenever possible. This is the least costly and disruptive to Amtrak and usually the least inconvenient to passengers. Knowing this, I figured they would have held the train since our expected arrival was so close to the scheduled departure time of the Amtrak Capitol Limited.
Second, the entire schedule and connection is printed on the single page schedule of the Amtrak Capitol Limited. Amtrak would only combine these two schedules on a single sheet if it is a very common connection with a lot of passengers making this connection. Connections that are listed this way tend to have a lot more weight in being honored than rarely used unusual connections.
And last, our train suffered about a 30 minute additional delay just before arriving into Washington, DC. Thus, Amtrak was not aware that the Silver Star would not make it into Washington, DC, in time for the connection until almost the last half hour. If Amtrak was aware earlier of a problem connection, they could have dispatched buses to remove the passengers from the Amtrak Silver Star and bus them to the Amtrak Capitol Limited a little bit down the line. But it was now too late for that. If they let the Capitol Limited leave on time, it would just have to wait for the buses to arrive. There was no point to that, so I was certain it would be held for at least an hour in necessary awaiting the arrival of our train.
Amtrak station personnel directed everyone that was connecting to the Capitol Limited to assemble at the top of the escalator at the top of the exit from the platform. There was quite a group by the time assembled! I think there were around 30 of us, and that might not have included the people who were getting Red Cap assistance to drive them with their luggage to the other train on the electric carts. Some of the people were disappointed that they didn't get time to spend in Washington Union Station. I thought I was going to have a chance to try out the fast food Indian Restaurant in the food court in Washington Union Station, but I guess that will have to wait for next time. There is a huge shopping mall in the station itself, including even a movie theater and a number of restaurants.
All the passengers making the transfer marched right from one train through the gate and back onto the platform to the other train. The first Superliner Sleeping Car that I passed was a Superliner II Model, the ones that were manufactured later and had electronic displays for the exterior car loading numbers. When I got to my Superliner Sleeping Car, I saw that it had the old hand rolled loading car number. I just assumed this would be a relatively worn Sleeping Car with the orange and brown earth tone color scheme from the late 1970s. (The cars were built in the earl 1980s, but color schemes tend to go out of popularity by the time what is on the drawing board gets into production.)
As I started to head up the stairs, something didn't look familiar at all. There was wood paneling everywhere! The car was starting to give more the feel of a luxurious private railcar than a worn out old Superliner I Sleeping Car. Then I remembered that Amtrak had refurbished all of the old Sleeping Cars on the Amtrak Empire Builder. This was definitely one of the refurbished Superliner I Sleeping Cars! The wood paneling continued all down the hallways with new carpeting and a brighter pain scheme throughout. The car actually looked new inside, but in a classic way. All the corridors and stairways also had wood paneling throughout. The redesign definitely gives a more luxurious feel to the sleeping car.
I could hardly recognize the interior of the Deluxe Bedroom because of all the changes! The fabric of all the seats was the same blue material used in the Superliner II passenger cars. Actually, the Superliner II was furnished with blue material on all the seats except for the Deluxe Bedrooms. A deep green was used for the seating fabric in the Deluxe Bedrooms in the Superliner II Sleeping Cars, but Amtrak appears to have gone with the deep blue fabric throughout all of these refurbished Superliner I Sleeping Cars. The hallway walls and most of the walls in each room are a rich wood grain, very similar to what you will find in many classic private railcars. Even the sliding doors that separate every other Deluxe Room have been redone in the rich wood grain. Amtrak has also added a large mirror to the sliding door that gives the room the illusion of being much larger than it really is. The sliding door also seems to be much more stable. It doesn't rattle at all and doesn't seem to be even trying to open by itself as is often the case with the previous design.
I'm not exactly sure what they did with the lower and upper bunks, but they seem tremendously easier to operate than the older ones. They seem to latch and unlatch easily and securely. The Car Attendants probably really appreciate it being a lot easier to open and close the beds. All the surface areas that have not been redone in wood grain have been redone in either off-white or a slate grey. The color scheme of the room comes together quite nicely, much better than the outdated earth tones of orange, brown and lime from the 1970s that it replaced.
Amtrak got rid of the over-achieving folding chair that served as the separate chair in the room. Instead, the new chair is actually mounted to a pole in the floor. It is pretty large and comfortable with nice arm rests that go up and down. For the first time, I don't feel like the chair I'm sitting in might collapse at any moment. I've never seen one collapse, but it always felt that it might. This one is quite solid. Although it doesn't have the flexibility of being able to be picked up and moved anywhere it will fit in the room, I always thought that was something odd for a chair to be able to do in a moving vehicle. I'm not one to advocate seat belts on a train, but I really like the idea of the furniture being bolted to the vehicle and not being able to go sliding or flying around the room at its own whim. Don't forget to look under the chair for a lever that allows you to swivel the chair. I'm sure it was probably designed so that you could swivel the chair outward to face people sitting on the very long couch in the room. I am probably using it in an unusual way. I unlocked it to swivel to angle a bit better towards the table so that I would be facing my laptop computer from a bit of a better angle. The chair really is rock solid and doesn't slide around the room at all, except for when you want to change the angel using the lever under the chair. If the chair doesn't suit you, there is the long couch that is about 2/3 the width of the entire train. My guess is that the couch could very comfortably seat four adults, probably even five. It would even comfortably fit 3 super sized adults. (That is fine for daytime travel, but don't ask me where anymore than 2 American sized or 3 physically fit adults would sleep. That is all the Deluxe Room can handle after bed time.).
All of the electric switches and outlets appear to have been modernized and are very easy to find and operate. They even look quite modern. The exception is the switches and controls in the headrest of the couch. Those seem to have been left totally untouched. One thing I have always found odd is the way the electrical outlet in the headrest of the couch is near the windows in rooms B and D, but near the corridor door in rooms C and E. (I have no idea where it is in Room A, but suspect it is near the corridor as in rooms C and E.). Obviously, the electrical controls are built into the entire couch unit and just end up on one end or the other end of the room depending on whether the seats are facing forward or backward in that room. Personally, I like Rooms B and D since the electric outlet is near the window end of the room where I use my notebook computer on the table by the window. I can plug in my computer without long cords running the length of the room. It can get a bid awkward when there are electric cords running all over the room to reach the outlet on the other side of the room in rooms C and E, or if I have to have electric cords running across the sink to reach the outlet in that location.
Maybe the most dramatic change of all is in the shower/toilet and sink. That entire unit appears to be designed and installed into the room as a single unit. The sink is vastly upgraded and actually usable. There is a large loop faucet like you might find in a wet bar in your home. The sink is very deep so that it won't splash all over you when you turn on the faucet as the old sinks always seemed to do. The faucets are very large round push buttons. You push either or both the hot and cold buttons, and the sink runs for about 20 seconds. This sure beats the old simple tab faucets that would only pour water as long as you were holding them down. Ever try to wash your hands when one hand was needed to keep the water running? Quite a trick! With the old design, the best technique seemed to be to wash your right hand with the hot water while your left hand kept the hot water running and then wash your left hand with the cold water while your right hand kept the cold water running, or visa versa. With three or four hands, or a little help from friends, you might be able to mix the hot and cold to get a reasonable temperature. Of course you'd be doing all this while dancing around the sink trying to keep the over pressurized water from splashing out of the sink and getting all over you. With the automatic timers and deep sink bowl, of all these problems seem to have been solved. Actually, the water now seems to run longer than I need it to run. I keep my hands under the water until it stops running just so that the water doesn't pour down the drain for nothing. On top of all that, the new faucets and sink actually look quite stylish! The sink cabinet, light and cabinets have also been upgraded considerably. The 3D Amtrak logo above the 3 panel mirror looks quite fancy, but not overly so. Both the upper and lower cabinet doors open easily and swing open for easy interior access. You will usually find all your extra washcloths, towels, soap, cups, etc. in the large upper cabinet. This is also a great place to store several of your small extra items like toothpaste, combs, etc. Just don't forget to take them when you leave! The lower cabinet contains the trash bin. Unlike the old design, it is really easy to put your trash into the sizeable trash bin in the lower cabinet. The entire lower front of the sink cabinet is covered in wood grain. It looks like there may also be room to store some things in this lower cabinet, though I haven't tried to do so.
A narrow closet is also located by the door at the side of the couch as has always been there. But, the door now seems to latch a lot more securely and there is an interior light that turns on when you open the cabinet and off when you close it. You will usually find several coat hangers in the closet. I like to throw all the extra pillows I won't be using into the closet until bedtime. You can fit 2 comfortably, maybe 3 or 4 if you aren't storing a coat in there. As always, be careful what you put on top of that cabinet! When you or the car attendant open the upper bunk, anything placed on top of this cabinet will be crushed (such as my portable alarm clock). I would suggest that you never put anything on top of this cabinet (especially eye-glasses, iPods, cameras, MP3s, radios) other than flat paper items (like safety instructions, route guides, train schedules). It would be a good place to keep walnuts that you want cracked open for a snack before you go to bed.
The toilet/show is actually a welcoming site for a change. I don't know how they did it, but I swear they put more space in there. When you open the door, you can immediately see it is roomier in the toilet/shower. I don't know where they got the space from, but they definitely put it in there. A lot of people complained about it being cramped in the showers in the Deluxe Room and would use the showers and bathrooms downstairs in the car. That is all changed. There is a good amount of room to use it as a shower, and certainly plenty of room to use the toilet feature. You can definitely see that the toilet/shower was built with 21st century design techniques whereas the old toilet/shower was designed with 1970s design techniques at best. A lot of curved surfaces are used with waterproof clamshell locking methods instead of square surfaces. I'm sure this was one of the techniques used to add more space inside the toilet/shower. No longer is there a shower curtain inside the shower to prevent water from spilling out the door. The seal looks perfect enough to make it unlikely that water will get out the door.
The Sleeping Car Rooms always had a "night light" feature. If you turn the main room light switch one way, it turns on the bright overhead light that floods the room with plenty of light. With the switch in the center position, the light is off. If you turn the switch the other way, a blue overhead "night light" turns on. Prior to the refurbishing of the room, this night light seemed to add very little light to the room at all. It seemed to be a very dim blue bulb. Now, it is a much larger and brighter blue light. It is a lot easier to see in the room with the night light on without being so bright that it is disturbing to the eyes. Amtrak has also added a night light inside the toilet/shower. Thus, if you need to use the toilet at night, you can turn on the overhead night light and the toilet night light and not blind yourself with a flood of light from the main lights in the middle of the night. Also, the lights in the corridors are larger and much brighter.
After all that praise, I do have to mention a few minor faults. There are no hooks anywhere in the room to hand anything, not one! I used to be very impressed with how many places there were in the Economy, Deluxe, Family and probably even the Handicapped Rooms to hang things. I always felt I was wasting some of the hooks because I didn't have enough stuff to hang on all of them! I had my choice of many different locations where I could hang my pants and my hat. If I was traveling with someone else, or had additional things to hang, there were always plenty of hooks for everyone and everything! I sometimes even had problems deciding which would be the best place to hang my pants in case there was an emergency on the train during the night. Would the hook on this wall be better, or the one on that wall, or the one by the door, or the one inside the bathroom? Unfortunately, I can't find a single hook anywhere in this refurbished room! I had to fold my pants and put them on a shelf. I just can't find a single hook anywhere in the room! Another drawback is the Velcro on the draperies by the door. More accurately, the problem is the Velcro missing from the doorframe. Since both Deluxe Rooms that I stayed in had this problem, it looks like it may be a design issue. The new curtain is pleated and has Velcro at both ends. The door frame, however, only has Velcro on the side away from where the sliding door opens. Thus, you can securely fasten the curtain to one side of the doorframe, but can not securely fasten it to the side of the doorframe by the sink. I'm not sure why the door side of the Velcro is missing since it is on the curtain. One square inch of Velcro on the doorframe by the sink would fix this problem. If I remember, I'll probably bring my own one square inch of Velcro along with me on my next trip. People seeing into the room isn't the problem as the space is less than a half inch and people walk down the corridor pretty quickly. The problem is that it lets the light shine in at night, which makes a reflection on the window. That makes is difficult to see out the window at night when complete darkness is needed to allow the light from outside come in through the window without glaring reflections from the inside.
One thing that hasn't changed much is the latch that holds the sliding door to the room closed. It looks like that latching mechanism was left totally untouched. In some rooms that latch works quite well, but in others it is worn and tends to unlock by itself. I don't know, but it seems a better design could be found that would be more reliable. Those are about the only drawbacks I can think of at the moment.
I was so impressed with the newly refurbished Amtrak Superliner I Sleeping Car that it has motivated me more than ever to travel by train! Unfortunately, it is the luck of the draw to end up in one of these newly renovated Sleeping Cars. I don't even know why there is one on this train. All of the Sleeping Cars on the Amtrak Empire Builder are supposed to be like this. So, hopefully you are safe in assuming that if you book a Sleeping Car Room on the Amtrak Empire Builder, especially a Deluxe Room, you will end up in a room like this. I just hope they haven't given up on the idea of exclusively running all new upgraded equipment on the Amtrak Empire Builder now that David Gunn is no longer President of Amtrak. That has sort of been happening to the Amtrak Coast Starlight ever since Brian Rosenwald changed positions at Amtrak and is not longer the Product Manager of the Coast Starlight. I'm just hoping that Amtrak is gradually rebuilding all of the Superliner I Sleeping Cars on all of the routes and this is just one of those rebuilt cars.
Also unfortunately, no matter how much these rebuilt Superliner I Sleeping Cars inspire me to travel by rail; I'm already traveling about as often as I can afford to get out of the office, which isn't very often compared to my early heydays of Amtrak travel. I guess I'll just have to plan on riding the Amtrak Empire Builder sometime if I want anything approaching a guarantee of riding in an upgraded Superliner I Sleeping Car again!
Dec 06, 2005, 11:30 AM CT, Tuesday
The Amtrak Capitol Limited arrived into Chicago at about 10:31 AM Central Time, about 2 hours behind schedule. That was OK with me as that meant I had two hours less waiting in the Metropolitan Lounge before the expected boarding of my train, the Amtrak Southwest Chief Train #3, at about 3:00 PM for a 3:15 PM departure. Once again, I tipped this Sleeping Car Attendant $5 for the one night that I spent on the train even though the only thing he did for me was to carry by bag down the stairs. My rule of thumb is $5 per night per person up to a maximum of $20 for the entire trip, regardless of the number of nights or number of passengers you are with the same Sleeping Car Attendant (unless I have multiple rooms on the train). For exception service, I'll give more, but I usually will give those extra amounts as services are rendered. That would be if the Sleeping Car Attendant brings meals to my room or fetches items from the Cafe Car, or provides other services above an beyond the call of duty. You can always tell when a Sleeping Car Attendant is into really pleasing and keeping his passengers informed. I believe those exception service members deserve a reward beyond the standards.
Someone said something about Chicago being 20 below zero. That must have been with the wind chill factor. It wasn't windy on the underground platform at Chicago Union Station, but it sure was cold! I had put my jacket on before leaving the train, but hadn't zippered it up. I figured I'd just be outside for a few minutes. However, instead of being at the front of the train, the Amtrak Capitol Limited usually has the Sleeping Cars at the end of the train. It was a long walk past all the rest of the Sleeping Cars, Dining, Cafe, Coach, and Baggage Cars and the multiple locomotives before I could get to the warmth of the interior of the station. My brisk walk to the station started out fine, but I was freezing by the time I actually got to an interior part of the station that was heated! When I first got off the train, I think I may have been the furthest passenger from the station entrance. The cold air had me walking so fast that I think I managed to pass everyone and be almost the first passenger to walk into the station from our train!
I stopped by the information area just outside the Metropolitan Lounge in Chicago and picked up a couple of Amtrak Southwest Chief Train Schedules as well as a few other interesting items of Amtrak literature. I then registered at the Amtrak Metropolitan Lounge and found a seat at the table next to the fireplace. I've spent a number of days at this table during previous long layovers between trains and I know this table would be here along with an electric power outlet for my computer to the right of the fireplace. I also knew that if I had too, I could go to the bar directly upstairs in the station to purchase wireless access and be able to use it from this table. I immediately set up my computer, but was surprised to find that my Verizon WAN card had no access to the internet! I'm sure Verizon provides very high speed access throughout Chicago, but the Metropolitan Lounge is so buried in the bowels of the station that the Verizon signal just couldn't find its way in. The signal for the bar was quite strong, but I decided I had plenty of work to do offline that would keep me busy until it was time to board the train. It seems ironic that everything is reversed now. It used to be that I had no web access on the train and had to wait until I go to a lounge area find a Hot Spot. Now, I don't have access in the lounge area unless I want to go out of my way up to the bar to buy some internet time, but I will have very good web access as soon as I board the train and the train pulls out from the tunnel under the station. Moving down the tracks at 70+ MPH I have great web access, but sitting still in the lounge I have none ... that is ironic.
Fortunately, they gave everyone the option of keeping their luggage with them or checking it into the Metropolitan Lounge for free. I didn't bring a separate computer case this time, so my computer, power cords and reference manuals were all in my suitcase and I needed that with me if I expected to get any work done in the Metropolitan Lounge. I've been in the Lounge a number of times when they would not let anyone keep their suitcases with them. It was OK to hang on to a purse, backpack, or computer case, but not anything larger. These were times when every seat in the Metropolitan Lounge was taken and there was just about Standing Room Only in the Lounge. Today, even with a lot of trains coming and going, the Lounge seemed rather empty. There was plenty of room for me to keep my small suitcase and backpack with me without it getting into anyone's way.
Someone stopped by my table seeing me working on my computer and asked about wireless access. I explained to him about the bar upstairs that sells internet access by the hour or by the day. I told him from past experience, I knew he could buy time up there and use it down here in the Metropolitan Lounge. That sounded like a great idea to him, but he said he might as well just stay up in the bar and use his notebook computer up there. That sounded good to me, but sometimes I like to be right down in the Lounge as train time approaches.
I hope this travelogue is coming out OK. Even though I usually do a lot of different things while I travel by train, but main task is to make sure I keep adding to the travelogue throughout the day. This time, I'm just writing huge gobs of the travelogue all at once, usually at the end of each day. I have a huge TrainWeb project to try to accomplish on this trip, so I've mostly been working on TrainWeb work all day on the train. I'm in the middle of trying to update the format of all the pages at TrainWeb as well as finding lost pages and fixing broken links. I can see that I won't make much more than a good size dent in this project during this trip, but rail travel is a great way to set aside huge blocks of time with minimal interruptions.
Dec 06, 2005, 03:00 PM CT, Tuesday
At about 3:00 PM they made the first boarding announcement. Since I'd been at my table for a few hours, I'd seen passengers arrive into the Metropolitan Lounge and then leave a bit later on many different Amtrak trains. I was one of the first in and last out of the lounge because of the large gap in time between my scheduled arrival and departure times. There were a few others on my train doing the same connection, but they seem to have gone off exploring the station or nearby Chicago before returning to the station.
It was a long walk to the front of the train, again in very cold weather. The trainset was the same Amtrak trainset that I had just come from this morning. Amtrak almost always uses the westbound Capitol Limited trainset as the westbound Southwest Chief and visa versa except when one of the trainsets needs to go in for servicing, or when one train arrives so late that they have to send out a different trainset. This is what Amtrak calls "through equipment". That means, most of the time, the trainset that starts out in Los Angeles as the Southwest Chief, continues on to Washington,DC as the Capitol Limited and visa versa. Amtrak was even once considering getting rid of the names "Southwest Chief" and "Capitol Limited" and just book it as the "National Limited" from Washington,DC to Los Angeles, California, with a short layover in Chicago. At one point, Amtrak actually did allow through booking on their reservation system without changing the train name or numbers. I traveled on Amtrak at that time and stayed on the train all the way from Washington, DC to Fullerton, California without every getting off the train, just to say that I had traveled coast to coast form Washington,DC to California without ever getting off the train. I had the exact same room in the exact same car on both the Capitol Limited and Southwest Chief portions of that trip. During this brief "through trains" experiment by Amtrak, they allowed passengers to stay onboard during the long wait over if they wished to. I purposely never stepped off the train just so that I could say I boarded an Amtrak train in Washington,DC and never got off until we got to California. You can't do that anymore as Amtrak forces everyone off the train in Chicago without any guarantee it will be the same trainset going on to California.
This time it definitely was the same trainset. I was booked into the 0331 Car Room E, but it had gotten flooded. Instead, they moved me to the 0330 Car Room D. It turns out that is the exact same car I was in on the Amtrak Capitol Limited, except I was in Room D this time instead of Room C. So once again, I got to ride in a Deluxe Room in the newly refurbished Amtrak Superliner I car!
Dec 06, 2005, 07:15 PM CT, Tuesday
I had purposely made the last reservations available for dinner as I figured I would not be having dinner in the Dining Car this evening. If they got all the way to the end of the reservations, and I changed my mind, I would still have a chance to go eat with my late reservation. When I boarded the train around 3:00 PM, I had not yet had breakfast or lunch. As soon as the Cafe Car opened for business, I went down and stocked up on some supplies for later in the trip. I purchased 2 Tuna Sandwiches, 1/2 Bottle of Red Wine, and 1 Diet Pepsi (I haven't seen any free soft drinks for Sleeping Car Passengers on this entire trip There were 4 small free bottles of water in my room when I boarded with plenty more in the refreshment area. There was also plenty of free coffee and various free juices in the refreshment area at the top of the stairs, as well as plenty of ice, but no soft drinks anymore.). The Car Attendant did announce over the P.A. system that everything served in the Dining Car is free to Sleeping Car Passengers except for alcoholic beverages. But, he also mentioned that you only get one free non-alcoholic beverage in the Dining Car. He specifically mentioned that if you order a soft drink and a bottle of water, you will be charged for the bottle of water. But, he did remind everyone that there are plenty of free bottles of water available in the Sleeping Car. I also know that the Dining Car is no longer "all you can eat." If you are a Sleeping Car passenger, you can only order one meal for free. If you order a second meal, or even any sides that don't come with your meal, you will be charged for them. Personally, I can't finish a meal from the Dining Car without feeling like I ate too much, even without ordering the free desert. But, I have known others that used to order two meals or at least additional sides that didn't come with the meal. The old Amtrak attitude used to be: "No problem. We don't want you to leave the Dining Car hungry." The new attitude is: "Will that be cash or charge?"
In any case, I had one of the Amtrak Tuna Sandwiches that I love along with the can of Diet Pepsi for lunch. As you can tell, I really have little personal interest in whether or not Amtrak gets rid of the Dining Car. Personally, I really would like to see Amtrak reduce the price of the rooms in the Sleeping Cars and have them not include free meals. I'll have to leave that up to the Amtrak Marketing Department to figure out how many people would no longer ride the train without a Dining Car. I might be unusual in that it wouldn't affect my decision one bit. On the other hand, if Amtrak eliminated the Sleeping Cars, as has been proposed for elimination along with the Dining Cars, I'd never travel on Amtrak long distance again. They could say goodbye to me -- as well as probably see TrainWeb officially endorse and lobby strongly for the complete shut down of Amtrak. Amtrak doesn't deserve to continue to exist if it doesn't remain a national network, and I personally don't see how it can be seen as legitimately be offering long distance service to everyone without comfortable onboard overnight accommodations.
I'm sorry to hear that this train has a light load of passengers. At 7:15 PM they called the 7:45 PM reservations and anyone else on the train that would like to have dinner in the Dining Car that didn't have reservations. My Car Attendant, Efran, knocked on my door to remind me that they called for passengers with 7:45 PM reservations even though it was only 7:15 PM. I appreciate his concern that I might not have heard that announcement. SO far, Efran has seemed very attentive to the needs of all the passengers in his Sleeping Car. He told me that there were only 3 people eating in the Dining Car for all the 7:15 PM and 7:45 PM reservations, as well as anyone else without reservations. No wonder they were so desperate to recruit passengers into the Dining Car! Most of the trains I've been on in the last couple of years have had to go to 8:00 PM and 8:15 PM reservations in order to accommodate everyone because the trains were so crowded. I asked Efran about the number of passengers on the train and he said it was pretty light. I wonder if that is just an oddity of this time of year as everyone is getting to travel closer to Christmas, or if there is some other reason that the passenger load is so light on this trip.
Dec 06, 2005, 09:00 PM CT, Tuesday
Early this evening, my Car Attendant came by and asked what time I'd like to have my bed made up. He said that he would be going to sleep after Kansas City around 11:00 P.M. I told him that would be a good time to make the bed. That would only be 9:00 P.M. Pacific Time. Once again, that is a reason I like to make my own bed. I don't have to worry about when the Car Attendant needs to go to sleep. He came by around 9:00 P.M. and asked if he could make up the bed now since he would be very busy coming into Kansas City. He said he could make it up without disturbing my computer or any of the wires. That was OK with me. I'd rather he take care of that now than bother me with it later.
After he was done, I noticed that he had made the bed with the head of the bed under the windows. Every time any Car Attendant makes the bed for me, they always make it with the head under the windows. If you've read my previous travelogues, you will know that I always want the head of the bed by the door to the corridor so that I can fall asleep looking out the window watching the scenery roll by and wake up to the same. There was a discussion about this very issue in one of the Amtrak newsgroups that I subscribe to on the internet. Someone else was complaining that the Car Attendant had made up their bed in the configuration just the way that I like it, and they refused to change it after the passenger requested they do it the other way. The Car Attendant stated that the manual requires they do it this way. Someone else on the Amtrak newsgroup who has access to the manual looked it up and found that the manual actually says that Car Attendants are to make the bed with the head of the bed by the door to the corridor. That makes total sense to me! So, why they ALWAYS make up my bed with the head under the window, I don't know. It is quite some coincidence that they always do it opposite to the instruction manual for me. Also, unlike walking through the train without shoes, I'm sure which way to make the bed is not a strict rule. I'm sure the Car Attendant would not be violating any company or safety policies by orienting the bed any which way the passenger desires.
After the Car Attendant left the room, I switched the bed around. I would have asked him to set it up the way I liked it to start with, but I was on my cell phone and outside the room while he did it. I just don't understand why they always set it up the wrong way for me when it is the wrong way according to the company manual and because it doesn't make any sense to set it up that way unless the air vent bothers you being above your head. The effort to change the bed around isn't all that much less that just setting up the bed from scratch. Another reason why I just prefer to do these things myself.
Dec 07, 2005, 07:30 AM MT, Wednesday
I first woke up around 06:00 AM Central Time (CT), and then went back to sleep for about another hour. At 7:00 AM, I figured I wasn't going to fall back to sleep anymore so I decided to get dressed and go down for breakfast. In the Dining Car there were a dozen people at most. The service was excellent. The number of crew members in the Dining Car almost exceeded the number of passengers, though most of them were sitting down for breakfast themselves. I was seated at a table by myself and ordered the Continental Breakfast again, this time with the Raisin Bran Crunch cereal.
I could barely see out the window next to me. The view out the window was totally white! It was very difficult to make out any details of the scenery. I assumed there must be a raging snow storm outside. Then, I glanced over to the other side of the train and the view out those windows was perfectly clear. Obviously, there couldn't be different weather out each side of the train. All I could figure out is that most of the snow must have piled up on just one side of the tracks and the speeding train was kicking up the loose snow on just that side.
Half way through my breakfast the few other passengers in my side of the Dining Car had finished their breakfasts and left. Other than the tables with crew members, I was the only one left. The service crew members were chatting away and laughing up a storm. The Dining Car seemed noisier with the racket the crew was making than when it is usually full of dining passengers. Customarily, other passengers will not be added to your dining table if everyone at the table is already well into their meal. The dining staff usually tries to fill tables so that everyone will finish about the same time and they can clear the table for the next seating. Thus, I just assumed I would again be alone for breakfast since I was just finishing up and ALL of the other tables on my side of the Dining Car were empty. But, I was wrong. First they added one more person across from me. After he had received his order and was clearly almost done with his breakfast, they added another couple to our table! Keep in mind that the rest of our entire side of the Dining Car is totally empty! I guess the two of us who had finished our breakfast except for the coffee we were still working on, both felt it would be rude to get up and leave just when they added the couple to our table. So, we hung around and made some small talk. Their food arrived quickly and they were fast eaters, so we weren't trapped at the table for all that long. I just thought it unusual to be adding starting diners to a table that has finished, especially with most of the rest of the Dining Car completely empty.
The Dining Car Lead Service Attendant (LSA) made several announcements that the Dining Car had opened at 6 AM Central Time, that we had gone through a time change to Mountain Time, and that the Dining Car would be closing for breakfast on Central Time. That last comment seemed to confuse everyone at the table. We didn't know why we or any other passengers in the train should care whether the Dining Car was closing on Central Time, Mountain Time, or even Zulu Time for all it mattered to us. All we could figure out is that the Dining Car would probably be closing an hour earlier than some passengers might be expecting. The employee manual probably says they have to keep the Dining Car open for breakfast until a certain hour. By closing on Central Time instead of Mountain Time, they could end breakfast an hour early. Maybe the staff figured the announcement would cover any passengers complaining that the Dining Car was closed for breakfast by 8:00 AM.
Because of the time change at Lamar, Colorado, it seemed like it took me no time to eat breakfast! I got to the Dining Car at 7:30 AM Central Time and returned to my room at 7:30 AM Mountain Time.
Dec 07, 2005, 08:30 AM MT, Wednesday
Ever since the start of this trip, I noticed we were making exceptionally long stops at every station. Even though we departed from Chicago 5 minutes late, we have been running ahead of schedule the entire way. The train would arrive into each station early and would have to wait in the station until the scheduled departure time. We arrived into La Junta quite a bit before the scheduled arrival time of 8:15 AM and departed right on the dot at 8:30 AM. My Verizon WAN car gave me excellent high-speed internet access in La Junta, so I took advantage of that to catch up on my e-mail and post some news items while we were stopped at the station. However, the Verizon WAN doesn't seem to have a very large footprint in La Junta as I lost the signal no more than 10 miles outside the station once we started moving again.
Dec 07, 2005, 06:30 PM MT, Wednesday
In Albuquerque, New Mexico, the train stops for about an hour to be serviced. Local Native Americans sell jewelry from tables on the station platform. There is also a place on the platform to purchase the best southwestern homemade burritos I have had anywhere! I was looking forward to this stop to purchase a burrito that I would have for dinner. Unfortunately, the selection is always limited for the passengers on the westbound Amtrak Southwest Chief as the passengers on the eastbound Amtrak Southwest Chief that comes through earlier in the day practically clean them out! They only had two types of burritos left of the six selections that they start out with. Fortunately, one of the remaining selections had potatoes and green chilis. I like the ones that are spicy "hot". This wasn't one of the hottest ones they make, but it was better than a mild one. One of these days I've got to make a point of taking the eastbound Amtrak Southwest Chief so I can purchase a burrito when they have the full selection!
Dec 07, 2005, 10:30 PM MT, Wednesday
The train is now well past Flagstaff, Arizona. I am very surprised that I have had such excellent high-speed internet access using my Verizon WAN wireless service. I've had a good connection ever since Lamy, New Mexico, even on the long deserted stretches of the route between Lamy and Flagstaff. I'm not sure why Verizon provides great coverage in that area, but I'm glad they do! There were only a couple of short interruptions in service as the train passed through a few canyons. Overall, I'm very pleased with my experiment to see how well the Verizon WAN service will allow me to get online from the train.
Dec 08, 2005, 04:40 AM PT, Thursday
I didn't intend to wake up this early, but my neighbors in Room B started chatting away again very loudly. All through the trip the volume of both of their voices was louder than I've just about heard ever used for normal conversation. But, I was in for yet another surprise. When they started talking on a cell phone, their volume went up a number of decibels! You've probably noticed how most people talk louder when they get on a phone than when talking in person. When they started talking on the cell phone, they were practically screaming into it! If we were in a ball park stadium, I'm certain everyone would have been able to hear their conversation clearly, without any amplification. The only thing that would have been more disturbing is if they were speaking in English. I would have been hard pressed to avoid the distraction of their conversation if I was able to understand what they were saying. I could certainly hear every word they said clearly enough, but just didn't understand any of them. Don't fret too much that you will be disturbed by our neighbors when you travel in a room in the Sleeping Cars. Of all the miles I have traveled by Amtrak, this is one of the very few times that I've heard just about anything coming from a neighboring room.
Dec 08, 2005, 07:00 AM PT, Thursday
After getting up this morning, I packed everything into my suitcase, except my notebook computer. I even packed away the power cords to my computer and the spare batteries. That might have been a mistake. We were delayed quite a bit just west of Riverside, so I don't know if my current battery is going to last all the way to Fullerton. Efran, the Car Attendant, provided excellent service during the entire trip, always offering to run errands to bring coffee to my room, or to bring food to my room when I skipped going to the Dining Car. I let him carry my suitcase in preparation for getting off the train in Fullerton and gave him a $20 tip.
As we approach Fullerton, I'm still online on my computer. The first thing that I did when I woke up this morning was to turn on my computer to see if it still had good internet access. The train hadn't quite gotten into San Bernardino yet. The Verizon WAN signal was excellent and I'm pretty sure it will remain that way for the rest of this route. The Verizon WAN service has definitely been worth it on this trip. I'd recommend it to anyone who wants to get online while traveling by Amtrak. The service is even more worthwhile for anyone that commutes to work by rail as I'm sure the Verizon WAN service works very good within dozens of miles of every major metropolitan area where most of the commuter rail lines operate.
My "Low Battery" warning just went on, so I don't imagine I have much more time to keep writing before I loose all computer power. This has been a wonderful trip. I enjoyed the scenery and was able to get a lot of the work that I had planned to get done with the extended hours of solitude on the train. If I had tried to get this same work done at the office, it probably would have taken four times as long with all the necessary interruptions, not to mention all the time I saved not commuting each day.
Dec 08, 2005, 08:00 AM PT, Thursday
I'm back at my desk in the TrainWeb office! Ray Burns of TrainWeb picked me up at the station and drove me the 3 blocks to our office. The train arrived into the station about 7:40 AM. We had about a 5 to 10 minute delay at Fullerton Junction waiting for another train to clear the station. It might have been the Metrolink commuter train that departed from Riverside Station ahead of us.
I was quite disappointed with the ride from Riverside to Fullerton. I saw the "Great Wall of Anaheim" for the first time! I knew they were building a sound wall to deaden the noise of all the freight trains along those tracks, but I never thought about the impact the wall would have on the view from the trains. For miles on end, where there was once an impressive view of the Anaheim Canyon from the train, nothing can be seen anymore but the back of a very tall wall! This doesn't affect just the Amtrak riders, but also affects all the commuters that ride a number of Metrolink trains along those tracks every day. This is just another lost battle in the war between passenger railroads and residents. The tracks were there long before any of these people moved into the area, so I think the people who moved to live by the railroad shouldn't have a right to complain. The list of battles between passenger railroads and residents is many with the trains being on the losing end of most. The idea of building a Metrolink Station in Yorba Linda was scrubbed because of fears of residents that it would create addition train noise. Instead, people who would have liked to take the train to work have to drive 10 to 15 miles to the Fullerton Station in heavy traffic as the Metrolink train zips right past them without stopping. Another battle is the double-tracking of the Amtrak Pacific Surfliner line all the way from Los Angeles to San Diego to improve service. Residents along the shore don't like having the trains run along the beach between their homes and the water. They have been very successful at lobbying to prevent the addition of a second track and may eventually succeed in having the tracks completely removed from the shore and moved inland. If the residents had their way, they would have the tracks moved to a tunnel underneath Interstate-5. Wouldn't that be a great alternate view to the ocean! The tracks were there first when that stretch of shore was desolate beach front. The people who live there knew the tracks were there when they moved in and now they want the tracks removed. They complain about the noise and that it spoils their view. What about the thousands of commuters that use these trains each day? Won't it spoil the enjoyment of the view by these commuters by moving the tracks off the shore and burying the tracks in a tunnel under the interstate?
On board, the Conductor announced that those passengers heading south of Fullerton do not have to ride all the way into Los Angeles to make their connection to the Pacific Surfliner and then ride all the way back to Fullerton again before heading south. He explained that those passengers can change trains right here in Fullerton and save at least two hours off their journey. He also explained that those passengers that have checked bags for points south, unfortunately, will have to wait for their bags to arrive on a later train. The checked luggage will go to Los Angeles and be transferred to the next southbound Amtrak Pacific Surfliner. That is one of the many reasons why I never check my baggage on Amtrak anymore. If I was one of the passengers that did have checked baggage on this train, I think I'd rather ride with it all the way to Los Angeles and back out again just to not be separated from my bags.
This was a one way Amtrak trip for Florida to California. I had flown to Florida on the red-eye the Thursday before the start of this Amtrak train trip. If you would like to know more about why I went to Florida in the first place, then click here to read my adoption reunion story.
Photographs From This Amtrak Train Journey:


Are you interested in rail travel along some or all of this journey yourself? There are very few travel agents that have the necessary knowledge and experience of rail travel to answer your questions and to book a journey that you will remember for a lifetime. TrainWeb has sought out those travel agencies and rail tourism companies that not only have the knowledge to book your travel, but have gained the required experience through extensive rail travel themselves! Click here for a list of these rail travel providers!
Visit our Rail Magazine promotion trading partners:
Click here to add your print rail magazine.