Boston to Fullerton by Amtrak
Monday-Thursday, June 20-23, 2005
Plus A Bit Of Autobiography By Stephen Grande
www.trainweb.com/travelogues/stevegrande/2005f21a.html
June 19, 2005, Sunday
It has been a while since I've posted my own real travelogue to TrainWeb.com. As best as I can tell, it looks like the last real travelogue I posted was more than two years ago on April 15, 2003. I don't get to travel as much by rail as I used to, but you have probably noticed that TrainWeb has a number of new travel reporters that continue to provide you with information and photographs of rail journeys throughout North America, and sometimes from other continents! If you haven't read any of their travelogues yet, you might want to take a moment to see the wealth of travelogues and photographs they have available. Here are links to their websites:
Things have gotten so busy at TrainWeb.com, and especially at our new venture, TrainParty.com, that neither Ray Burns nor I have the time to travel as much as we used to. However, the above travel reporters and others will continue to provide the frequent travelogues and photos that you have come to expect from TrainWeb.com. We have also recently posted a number of new travelogues from travel on the American Orient Express that you might want to check out by clicking here if you haven't done so already.
Those of you that have read my travelogues in the past know that I have quite a different style than almost anyone. Actually, most of my travelogues really aren't travelogues at all. Usually, I just write whatever I am inspired to write while I ride the train, and intersperse those thoughts with photos from my rail travel as well as what I feel are interesting discoveries about Amtrak travel along the way. If this is the first travelogue from me that you are reading, it may not be what you are expecting. If you get bored or annoyed while trying to make your way through this narration, then just click here to view hundreds of travelogues from many other rail travelers that we have posted at TrainWeb.com. But, if you decide you want to read more of my rail travel posts from past journeys, just click here to read the dozens of narrations and view the hundreds of photographs that I have posted since 1995.
Weight and Health
If you are not interested in weight or health, you can just skip right down to the next section!
Although I never mentioned my health or weight in previous travelogues, I weigh a heck of a lot less since I wrote my last travelogue and am feeling a lot healthier too! From a high of 203 pounds, I had already dropped to 180 pounds when I posted that last travelogue in April 2003. Around October 2004 I broke below the 150 pound mark and have stayed there ever since. For a height of 5'7.5", my new weight is just about right. Unfortunately, the photos of me from when I was at my peak weight prior to 2001 are still posted for all to see. Just look at any of the old travelogues at TrainWeb.com, especially around 1999 and 2000, and you will see that I was quite a bit heavier than I am today.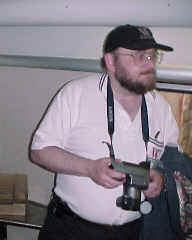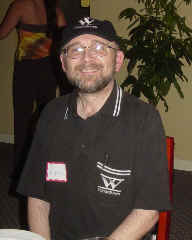 Left: Me in April 2000 - Right: Me in December 2004
Most of my weight loss was actually achieved with little sacrafice and a little bit of walking. I do try to walk 2 miles every day. I live in a very hilly area, so that is mostly up and down hills. I've read that is actually more effective exercise than walking on level ground. That makes sense to me as the elevation of the highest part of my walk is about 300 feet higher than the lowest point. I've heard that is the equivalent of climbing up and down the stairs of a 25 story building.
All I did to modify my eating habits was to stop eating meat for 3 years. Actually, I went totally vegan, except for fish, and didn't eat any meat products either, such as milk, butter, cheese, etc. Although this may sound terrible to most of you, there is actually an easy way to do this if you like Indian food. Almost every Indian Restaurant offers a wide selection of vegetarian items. Some even serve only vegetarian items. If you think meals without meat are bland, then you haven't tried Indian Food! I basically lived on Indian Food for almost all my meals, twice each day, seven days a week. You might think that would get boring, but I assume it doesn't get boring for 1,000,000,000 Indians that live in India. However, you do have to be a bit adventurous and not go to the same Indian Restaurant every day. Many Indian Restaurants serve the same dishes day in and day out. I had to explore many Indian Restaurants, especially those in the Indian community to find a good diversity of items that kept the meals exciting. If you decide to try something like this, be careful to avoid the dishes that contain butter or cheese. A lot of Indian menu items are prepared with butter or cheese, especially a number of the vegetarian items. But I avoided those along with limiting my consumption of items with a lot of potatoes. I tried to stick with items that featured a lot of vegetables in spicy sauces.
Now why did I decide to turn vegan for 3 years? Well, I knew to be healthy I'd have to increase my intake of vegetables. All my life I was never one to eat a lot of vegetables. From everything that I read, I realized that vegetables would have to be the main course of my meal if I was ever to get enough of them. If I allowed myself to eat any meat at all, I knew that vegetables would always remain a side item for me. So, I went totally vegan, except for fish (which I'll explain more about later)! After 3 years, my tastes in food changed radically. I'm no longer vegan, but I still rarely eat red meat. If I eat a pound per year of red meat, that would be a lot for me. I will occassionally eat chicken or turkey, but usually only when I'm splitting a meal with my wife or when I'm at an affair where this are no other options. When given the choice, I still go for strictly vegetarian food.
As far as fish goes, all my life I would never eat any kind of fish other than tunafish. I hated the taste and smell of fish, and I don't like bones in any of my food, especially tiny fish bones. Plus, you can forget about Sushi. I tried it once and it is not for me. However, I read a lot of medical newsletters and they were all touting the benefits of eating fish at least twice each week. I decided to bite the bullet. I know I was able to modify my tastes drastically with my all vegan diet, so I figured I could do it with fish. Finding that salmon was one of the most healthy fish to eat, I started eating salmon on a regular basis. Any hint of a fishy taste was a real problem to me at first. Today, however, I can pretty much eat salmon regardless of whether or not it has a fishy taste.
In any case, it all worked for me. I don't feel I'm on any special diet or regimen. I've just changed my lifestyle. I continue to eat whatever I like to eat, but everything that I like to eat is now healthy for me. The only thing I do have to watch is my total caloric intake for the day. It is still possible to eat too much of healthy food! I've also learned that walking 2 miles per day does nothing for helping me lose weight, but it is essential to maintaining my weight and staying healthy.
Trips Without Travelogues
Although I haven't written a travelogue in quite some time, I have actually taken a few Amtrak trips. During the early years of TrainWeb.com, when I did a lot of rail travel, I would open my computer and start typing the moment that I got into my room on the Sleeping Car. I was especially inspired to write when traveling alone. Lately, I just don't seem to get that same inspiration. I still enjoy rail travel, but I don't have an urge to quickly write down and share my experiences with everyone.
Many of my undocumented travels have been on the Amtrak Coast Starlight. I've done that trip many many times. I still enjoy those trips, but it is difficult to find anything novel on those trips that hasn't happened many times before. The one novel thing about the Amtrak Coast Starlight is that my rule about "even up, odd down" to get a room on the ocean side seems to have gone out the window. It used to be rare that a Sleeping Car would ever have an orientation that violated this rule. In the last two years, I've taken many trips and it seems to be a toss of the coin as to which rooms will end up on the ocean side.
I've saved up a lot of Alaska Airline Miles that I use for all my trips on the Amtrak Coast Starlight. I think it has been a few years since the last time that I had to pay for a trip on the Amtrak Coast Starlight. Since I have more points than time, I've even traveled with my wife on the Amtrak Coast Starlight a few times in a Deluxe Room. Unfortunately, the Alaska Airline Miles are only good for the Amtrak Coast Starlight and all my trips on the Starlight have started to get a bit redundant. Hence, the reason I've written so few travelogues about my Amtrak Coast Starlight trips over the past few years. I've even switched from using my Alaska Airlines VISA card to using my Amtrak Guest Rewards Mastercard as I would rather earn points that I can use throughout the system and not just on the Amtrak Coast Starlight. I've actually researched and written quite a bit about earning and using frequent travel points for Amtrak travel. You can find that information at: RAILrewards.com.
In the Fall of 2004, I took a long Amtrak trip all the way from Orlando, Florida, to Los Angeles, California. I was returning from a major family gathering and really had a lot to think about during that trip. Though that would have been a good trip for a travelogue, that was about the last thing on my mind during that trip. More information about that is posted later in this narrative.
Another reason that I haven't been able to take as many train trips as I used to is that much of my effort, and that of our entire in-house staff, has been focused on our new effort: TrainParty.com. Over the years, we would frequently get calls from parents that wanted to have a birthday party with a train theme for their child. They would call us asking where to purchase train theme party items. We didn't know any specific place to send them other than to their local party store. But, we were getting so many calls relating to finding train theme party items that we felt there must be an unsatisfied demand out there for these items. Even if places already existed that supplied these items, they weren't getting their word out to everyone. So, we figured this might be a good avenue for TrainWeb to branch into to enhance our revenue.
We approached this venture slowly, selling just a few basic train themed party supply items at TrainParty.com and promoted the website throughout TrainWeb. Sales slowly started to grow. As we increased the variety of items that we carried and increased our promotion of the website, sales continued to grow. It didn't take long before TrainParty.com became the most significant revenue stream for TrainWeb.
There was a problem, however. Our small office above the Amtrak Ticket Office at the Fullerton Santa Fe Depot was getting filled wall-to-wall, floor to ceiling with inventory. We had to rent a storage unit just to hold our basic inventory and hire additional help to pack and ship the orders. We were getting pretty crowded in our little office! A lot of deliveries had to be unloaded on the sidewalk in front of the station and we had to carry truckloads of boxes up the stairs quite frequently. We were also starting to get occassional walk-ins to our office that wanted to buy train theme party supplies, and many people in the local area were telling us that they wish we just had a place they could walk in and buy off the shelf. It quickly became obvious that we weren't going to be able to continue to operate out of the little office upstairs in the depot much longer.
It didn't take too long before we found a place that would meet our needs, and was only 3 blocks down from our existing office in the Fullerton Santa Fe Depot. The new office is at 400 E. Commonwealth Ave, Unit #7, Fullerton, California 92832, and is still just a short walk from both the Amtrak Station, the planned railway museum in Fullerton and Downtown Fullerton. From the roof of our new building we still have a good view of the tracks and the trains that is adjacent to the property and we do plan to install webcams at our new location soon.
We moved into our new location on June 1, 2005. The layout is ideal for our purposes. We have a storefront to display all the train theme party wares. In the center are several offices. Each of the TrainWeb staff members now has their own office, plus we had enough room left over to continue to provide office space for the Fullerton Railway Plaza Association while they continue their venture to get a railway museum built in Fullerton. In the back of the building is warehouse space large enough to hold our huge inventory and an easy loading area for the trucks that deliver to us on an almost daily basis now.
Although the in-house staff of TrainWeb has to now spend more time "in-house" than we used to, I think the current situation will be better for everyone. Our in-house staff will be concentrating on TrainParty.com sales and TrainWeb Sponsor Advertising which creates the financial support necessary for us to keep TrainWeb alive and to continue to offer all the features and services that we provide to the rail community. Meanwhile, our travel reporters will continue to take rail trips that provide the bulk of interesting content for TrainWeb that keep TrainWeb readers coming back for more!
Getting Around Boston On The MBTA
Boston, Massachusetts, was my home town. I was born just outside of Boston in Somerville. I grew up less than 5 miles from Boston in Malden. My mother used to take me into Boston on the MTA to go shopping or to go to movies. I was there when they changed the name from MTA to MBTA or "T" for short. At the age of 12, I started exploring the "T" by myself and sometimes with friends. I could ride a bus from my school to the nearest subway station, transfer to the subway, then ride all around the system and transfer back to a bus to take me home, all for just 10 cents! All through Junion High and High School, that was what I liked to do for a couple hours after school until it was time to go home for supper. School let out around 2 P.M. I could make a round-trip to almost any part of the "T" and be home by our dinner time, 5 P.M.
The subways may have been a lot more fun in those days, but probably much more confusing to a visitor to Boston. There were no maps just about anywhere! There were no signs in the trains with the names of the stations. There were no indications of where to get off to change to other lines. Even where there was a connection between two subway lines, each station would have a different name to make matters even more confusing. Actually, in the early days, I don't think they even had the lines color coded. In my early days of exploring the "T", I would just get off at every stop and see if I could find if there was a connection to another subway line at that station. To me, it was like exploring caves. You never knew what you mind find around the next bend!
One of my most excitinig discoveries was finding the Blue Line that went to Revere Beach. I was just hunting for a connection at various Orange Line Stations when I ran across another subway platform. I waited for the train, but I was really surprised when it arrived! The train had wooden seats and a manual break at the front of each car within reach of the passengers. The Orange and Red Subway Lines used a third rail to power the trains. This one had both a third rail and an overhead line for power. You could see every rivet in the sheet metal siding of the cars. These subway cars looked really really old compared to the ones on the Orange and Red Lines! Also at that time, PCC streetcars were being run on all of the Green Lines. The "T" had not yet purchased any modern light rail cars.
For my first year of college, I rode the "T" every day from my home to Northeastern University. I had to take a bus, an Orange Line Train, and two different Green Line Trains to get to the university. I did this every day during my first year in college. Sometimes, when I had a lot of time between classes, I'd ride the Blue Line out to Revere Beach. I'd just sit out there and watch the waves roll in for about an hour before heading back to school. One of my early part-time college jobs was working at Logan Airport. I'd take the train and bus to get there every day. Before heading home, I had to take the bus and train into Downtown Boston to deliver documents from the company airport office to their waterfront office. Then I would take the "T" home.
After 1970, I got my own car and rarely ever rode the "T" again. But by that time, I pretty much knew the "T" like the back of my hand. During my last year of riding the "T", there were major upgrades taking place that the "T" hadn't seen for years. They were extending the Orange Line to go right to my home town of Malden, including going right by the end of the street where I lived! But even then, I realized that I wouldn't be riding the "T" by the time they finished these extensions. It seemed like they were giving a facelift to the "T" everywhere. Many of the stations seemed to be under construction and a mess. It seemed to be like that every day for the last couple of years that I rode the "T". It just seemed like a project that would never be finished.
Later in this narrative I'll explain how and why I ended up at Logan airport. But, since none of that involves trains, I'll start from having dropped off my wife at the Jet Blue Terminal, "D", at Logan Airport. Since I once knew the "T" like the back of my hand and even worked at the airport every day, I figured I could navigate my way to my Downtown Boston Hotel using the "T". Once I dropped off my wife, I figured I could just walk out the terminal door and hop on the "T" airport shuttle to the Blue Line Airport Station. I assumed correctly that the airport would rely even more than ever on this "T" station that is right outside the entrance to the airport.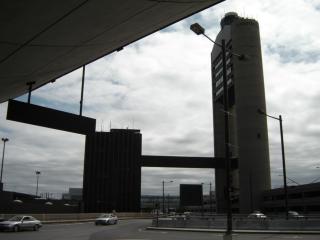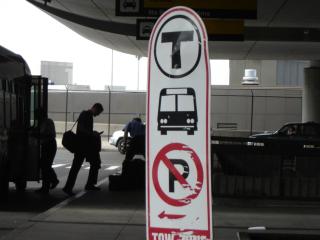 Logan Airport - MBTA "T" Bus Stop
As soon as I walked out of Terminal "D", I found a "T" sign at a waiting bench that was right outside the terminal. After waiting about 40 minutes, I realized that something must be terribly wrong. It wouldn't take an airport shuttle bus 40 minutes to make the airport rounds, even if they only had one bus operating. Also, by now there should be other people waiting for the bus. Suddenly, it occured to me that I was on the Departures level and not the Arrivals level! When I worked at the airport, there was only one level and the shuttle stopped at every terminal. It made sense that a shuttle would only go to a departure terminal if there was a passenger on the bus departing at that particular terminal. So, I went downstairs to the Arrivals level. There were many people waiting for the bus there and the bus arrived in less than 2 minutes! While I was waiting upstairs, I may have missed 10 or 15 of the shuttles downstairs. Back in 1970, the "T" just used a regular bus with regular bus fares. Now, they use a bus similar to those used by the car rental companies. It was still really big, but there was lots of space for luggage. Also, there is no fee to take "T" shuttle bus to the station. There isn't even a fare box.
Once at the "T" Blue Line Airport Station, I could see that everything was totally different than it was in 1970. The station looked quite new. When I found that I could use a credit or debit card to purchase my fare, and saw that it issued a paper ticket, I figured the "T" had probably been upgraded to a system similar to other modern transit systems around the nation. They call it the "Charlie" system. Do any of you remember the song about Charle who rode the MTA forever? Anyway, I later discovered that they had just introduced the "Charlie" system about a month ago and this Airport Station was the ONLY station in the entire system using it as yet! All of the other stations still issue tokens. Some now have machines where you can buy tokens, usually only for cash, and some still have Transit Agents. Fares on most of the lines are $1.25. The token machines that I saw would only take $2 or more in cash and return change. Transit Agents can sell you a token for exactly $1.25 in cash. Tokens have to be purchased. Quarters will not work in the turnstyles.
The Blue Line train was certainly no longer one of the wooden antiques that I had traveled on back in the 1960s and 1970s. But, even back in the early 1970s, they had already started to introduce a few of the modern trains on that line. With my prior knowledge of the "T", I had no problem finding my way to "Charles/MGH", the station that was just a few blocks from my hotel, the Holiday Inn Select. Even without my prior "T" knowledge, it might not have been all that difficult with maps and station names posted by every doorway of every subway car and on the walls of every station. They even changed all the names of the stations where different lines crossed so that both lines used the same name for the same station.
"Charles/MGH" used to be called "Charles Street". MGH is short for "Massachusetts General Hospital", a world renowned medical center that sees visitors from all over the world. I'm sure there are a significan number of those that are used to getting around by subway in their home countries. Although most of the "T" has been made wheelchair accessible, "Charles/MGH" is one of the few stops that isn't wheelchair accesible at all! I thought that was really strange considering the major feature of this stop is the hospital! That proved to be a bit of an inconvenience to me as I had to lug my rolling luggage on the stairs. There was a lot of construction going on next to the station. I just have to assume they are busy adding wheelchair access to the station.
Later that evening, I headed out to an Indian Restaurant for dinner. As I mentioned above, my tastes have changed considerably over the last few years. Whenever I get a chance, I like to discover new Indian Restaurants in the cities that I visit. You can see a list of Indian Restaurants that I have located by visiting IndianRestaurants.US. That is a website that I created to track which restaurants I have been to and which are worth revisiting. I figured out how to get to this restaurant using the Red Line and the Green Line. The restaurant was on Newbury Street in the Back Bay. All the time I was going to college, I had heard of Newbury Street, but had never visited the area. It was a very active area for a Sunday evening with many fine restaurants along the way. This is definitely one of the areas you should check out if you come to Boston. It definitely has a very "Bostonian" air about it.
Before heading home from the restaurant, I decided to navigate my way down to South Station by the "T". Rather than try to figure out how to get to the Amtrak station while lugging my suitcase, I figured I would explore the area while I wasn't carrying anything. Finding South Station is not the problem. Finding how to get from the "T" platform to the Amtrak platform could be a problem. I had no problem navigating my way along the Green Line back to the Red Line and then to South Station. I learned which way I had to go down the platform to get to the "Commuter Trains". I knew the Amtrak trains were in the same station with the commuter trains. That is fortunate since none of the signs said anything about "Amtrak". I had to go up a few escalators, including one that was not operational, to get to the part of South Station where the commuter trains and Amtrak depart. Exploring the station, I was reminded by the sign that there is an Acela Club lounge that I would be entitle to use with my Business Class / Sleeping Car ticket for the Amtrak Lakeshore Limited. I then made my way back to the Red Line. It is only 3 stops from South Station to Charles/MGH Station. That was one of the reasons I picked this particular hotel.
Even though I managed to navigate my way around the "T" without much difficulty, the whole experience seemed like something out of the "Twilight Zone". You have to realize that the last time I was a frequent rider on the "T" was before Amtrak was born! I already mentioned about the subway trains with wooden seats and the streetcars on the Green Line. I remember the Red Line as having trainsets that were much newer than all the other lines. I remember them looking brand new! The trains that are now running on the Red Line didn't impress me as being new at all! They are modern and I'm sure they were purchased many years after the ones that I used to ride. But, it is just the perception that the 1970 trainsets seemed so new back then! I'm sure those subway trains that impressed me as being so new in 1970 are now obsolete and have been discarded long ago. The new trainsets have seen their fair share of wear and tear and, to me, look older than the ones that I used to ride!
I once read an article about the problem that Boston is having with all their lightrail vehicles. The articles were talking about how old the lightrail were and how the time to replace them was long overdue. When I read that, I was confused. I thought they had already replaced all the PCC streetcars years ago. Then I realized, they did replace them years ago, 30 years ago. The article was saying that it was time to replace the replacements of the cars that I used to ride!
Some of the "T" stations did have a brand new feel to them, like the Airport Station. Some others had the look of having been negleted for years. Unfortunately, some of those stations were the ones that had gotten a brand new face lift back in 1970. The last time I saw those stations they looked modern and sparkling new. Now, they look very worn just as stations looked back in 1970.
Stepping back into your past is sometimes hard. When I was growing up, it seemed the stations, the vehicles and the routes had all been there forever. They had been there for as long as I had been alive with very few changes, other than the name going from "MTA" to "MBTA". Coming back to Boston, it seems like it is still all there. Other than a few route additions, everything seems like cosmetic changes. But, the cosmetic changs have made everything look more modern, but not look "new". I'm sure everything did look "new" when the changes were made, but that all happened 30 to 35 years ago. Things can wear a lot in that much time!
June 20, 2005, Monday
I had quite a bit of time to stay in the hotel and work on my computer in the morning. My ticket said that my train would be leaving at 11:40 AM, but the schedule of the Amtrak Lakeshore Limited, train number 449, was changed after my ticket was issued. The departure time listed on the new schedule is 12:35 PM. However, there is a footnote that says the Amtrak Lakeshore Limited will have a different train number, 447, and depart from Boston at 1:00 PM Monday through Friday. The wording on the schedule seemed strange and confusing. Since the Amtrak Lakeshore Limited departs at Train Number 447 at 1:00 PM on most days of the week, except weekends and holidays, then shouldn't that be the published departure time and the weekends and holiday schedule be the footnote exception? In any case, I decided not to leave the hotel until 11 A.M. Since I was already in Downtown Boston and just 3 stops away on the Red Line from South Station, I knew it wouldn't take much time to get there. During the day, most "T" subway trains don't have a headway of more than about 10 minutes.
While I was waiting in line to check out of the hotel, the person in front of me was asking how long it would take to walk to South Station. The hotel clerk said 4 hours. If I were to walk to South Station from the hotel, I doubt it would take me much more than an hour if that, even with luggage. He then asked if there was a taxi or bus he could take to South Station. The hotel clerk said that there were always taxis out front and that a Grey Line Bus also made the trip to South Station. She said that either one would be no more than $25, but that he should still plan on 4 hours. I was estimating that I was going to be at South Station within 20 minutes of checking out. I was going to tell the person to just follow me and he will be there in about 20 minutes for $1.25, but it turns out that he was just making plans for a future date when he will be checking out. Getting there my way does take some walking, some patience, some understanding of finding your way through streets under construction, so I didn't feel comfortable to suggest that he take the subway to get there. It would have been a different story if I could have just taken him with me to South Station.
At the Charles/MGH station, I had to have the Transit Agent let me go through the gate. Right now, most of the "T" still uses token operated turnstyles that are totally unfriendly to wheelchairs, luggage, strollers, etc. That is expected to change over the next two years as all of the stations are upgraded to use the gate operated Charlie System. At the airport, the Charlie System gate let me go right through with my luggage. Next at Charles/MGH, I had to lug my suitcase up a long flight of metal stairs to the elevated platform. The train came along pretty quickly and I took it 3 stops down to South Station. Having already explored the station the previous night, I knew exactly where to go and didn't have to waste any time or steps trying to find my way with my luggage.
I checked into the Acela Club lounge in Boston. There was a good amount of comfortable seating with plenty of coffee, juice and other beverages. I think there were also some breakfast and snack items, but I forgot to check as those items weren't of interest to me. There were also various current newspapers and magazines. The room has a nice view overlooking the main lobby of the station. There are several monitors in the room so that you can keep track of the boarding status of your train.
After powering up my computer, I checked to see if I could get online. There is a HotSpot in the lounge that charges $6.95 per hour or $7.95 for the day. I purchased one day since it was just $1 more than one hour and I figured I could easily be there more than one hour, especially if there were any delays. A monthly plan was also offered, but I certainly wouldn't expect any delay to be quite that long. I guess if you are a frequent traveler between Boston and New York or other east coast cities it would be worth the monthly plan. After paying the fee with my credit card, I was able to get right online with a clear highspeed wireless connection. That gave me a chance to catch up on all my e-mail and a few other things that I can only do online.
When the TV status monitor showed that my train was boarding, I headed out to Gate 10 and got right on board. I had booked a Deluxe Sleeper for as much of my Amtrak journey across the country as I could. I have plenty of Amtrak Guest Reward points and the upgrade from Standard Sleeper to Deluxe Sleeper is not that much when using points. Since I don't get to travel as much by Amtrak as I used to, I want to make the few train travel experiences the best they can be. Unfortunately, there is no Sleeping Car on the Amtrak Lakeshore Limited between Boston and Albany-Rensselaer. Instead, they automatically booked me into Business Class.
There are two sections of the Amtrak Lakeshore Limited. One originates in New York City and the other originates in Boston. Once upon a time, they actually used to connect these two sections together in Albany-Rensselaer and continue as one train to Chicago. They stopped doing that some time ago. Now they have one all coach train that goes back and forth between Boston and Albany-Rensselaer and another very long Amtrak Lakeshore Limited with 3 Sleepers and a Dining Car that comes up from New York City. All passengers have to depart from the Boston - Albany-Rensselaer train in Albany-Rensselaer and wait for the arrival of the New York City - Albany-Rensselaer train before re-boarding. This is a guaranteed connection. So, no matter what delays the train from Boston, the train from New York City will not depart Albany-Rensselaer for Chicago until the train from Boston arrives.
The Business Class of the Boston - Albany-Rensselaer Amtrak Lakeshore Limited train was filled to capacity long before we left Massachusetts. Since every Sleeping Car passenger is put into Business Class, I guess that is what causes it to fill so fast. I'm not exactly sure what makes this Business Class other than a newspaper and free soft drink. The legroom doesn't seem to be any greater than regular coach and there are no electric outlets for notebook computers. There isn't even the 2 and 1 seating that some of the Business Class cars offer. I've really enjoyed traveling in Business Class on some Amtrak trains, but I don't really see what is upgraded about this particular Business Class.
In Albany-Rensselaer, we were offered the choice of going from the platform up to the station by either stairs, escalator or elevator. I took the escalator as that seemed the fastest route up to the station without having to lug my suitcase up the stairs. Quite a waiting line was building for the elevator. The Albany-Rensselaer Amtrak Station is a relatively new station. It wasn't here the last time I changed trains in this city. It is quite an impressive structure. Part of the waiting room is directly over the tracks with big floor to ceiling windows on both sides of the room. You can see the tracks and trains below you right from that waiting area. The main part of the station has places to eat, shop and even a post office.
They are very security consious in Albany-Rensselaer. Once all the passengers from my train from Boston had gone up into the station, they locked all the doors that go back down to the platform. The stairway is locked, the elevator disabled from going down, and the doors are locked at the top of the escalator. They only have one escalator for each platform, so they switch its operation from ascending to descending depending on whether they are loading or unloading passengers from the train. Once the Amtrak Lakeshore Limited Train from New York City arrived, I queued up in the line at the doors to take the escalator. There was already quite a line for the elevator and stairs.
I was in the Deluxe "B" Sleeping Room in Viewliner Sleeping Car 4910 on the Amtrak Lakeshore Limited. I have traveled in the smaller Sleeping Rooms in the Viewliner Sleepers before, but never in the Deluxe Room. The room seemed almost identical to the Deluxe Room in the Superliner Sleeping Cars, except for the second set of windows that are above the first set of windows. During travel, this gave me a view of the passing scenery that I had never experienced from my private room on an Amtrak train. The wall seemed like one huge glass window, from about elbow level all the way up to the ceiling! The ceiling is quite a bit higher in the Viewliner Sleeper than in the Superliner Sleeper. They can do this since it is just a single level car. The main purpose for the second set of windows is so that someone sleeping on the upper bunk can see out the window. It helps relieve the claustrophobia that is a common problem on the Superliner Sleepers where the person on the upper bunk can't see out a window.
I think both segments of the Amtrak Lakeshore Limited arrived into Albany-Rensselaer about on time, so I don't know why we departed from the station so late. The scheduled departure time is 6:05 PM Eastern Time, but we didn't get moving until after 7:00 PM.
One thing that really surprised me was that the Viewliners no longer have TV sets. I don't know if this is system wide or just on the Amtrak Lakeshore Limited. I suspect it is system wide since these cars get moved around a lot between the various lines. My Car Attendant said they were taken out about six months ago and mentioned that it was probably due to the problem of trying to keep them serviced. I can just imagine the problems it causes when someone is in a room with a TV that doesn't work. If you are in a hotel room and the TV doesn't work, what do you expect the hotel to do? Most people would expect the hotel to either fix the TV right away, swap in another one, or give you a different room with a working TV. On the train, they are not going to be able to fix or swap out your TV, and in many cases, they are not going to have any rooms for you to switch to. I don't think most people would be sympathetic to Amtrak not being able to solve this problem and would expect the same resolution they would get in a hotel. Or, if the situation could not be resolved, then expect a significant discount on their ticket. I can see how the most economical way to solve this problem for Amtrak was just to remove the TVs. People don't miss what they are not expecting to have.
June 21, 2005, Tuesday
The Amtrak Lakeshore Limited arrived into Chicago around 10:30 AM Central Time, about an hour behind schedule. Since the Amtrak Southwest Chief doesn't depart Chicago until 3:15 PM, that gave me plenty of time to wander around. The first thing I did was to head over to the Amtrak Metropolitan Lounge, the waiting room for Sleeping Car Passengers, and check in. In 1995, when I first starting riding Amtrak across the country, Amtrak let people place their carry-on luggage on racks in a closet to the right of the check-in counter. Back at that time, there were a lot less people riding the long-distance trains and the Metropolitan Lounge was relatively empty all day. The racks in that closet was enough room for the few people waiting to board the Sleeping Cars at any one time.
As the years went by, two changes caused the Metropolitan Lounge to get much more crowded. Amtrak altered many of the train schedules so that most of the long-distance trains arrived and departed during the primary daytime employee shift in Chicago. That allowed Amtrak to have one prime shift with maximum staffing to handle all the long-distance trains. This seems to be working better than when Amtrak had to spread out their employee shifts around the clock leaving the station understaffed much of the time. While I was in the Metropolitan Lounge, I saw two Amtrak employees working the check-in desk, two working the information booth, two working Passenger Services, one working full-time just doing temporary check-in of carry-on baggage for Sleeping Car Passengers, plus a number of Red Caps that help with luggage. I imagine they have also stepped up the number of Amtrak Ticket Agents and other hidden personnel that work the daytime shift. I can see how this change probably also helps in the yards. Amtrak can employee a peak service crew during the day cleaning and readying each long-distance train as they arrive rather than having long spans of downtime when arrivals and departures were more spread out.
That was the first change. The second change is that ridership on the long-distance trains has been growing every year that I have been riding Amtrak. You often have to make a reservation well in advance, especially for a Sleeping Car Room, in order to be guaranteed that one will be available. So, with the greater ridership and the rescheduling of long-distance trains to all arrive and depart during the main shift in Chicago Union Station, the Amtrak Metropolitan Lounge can get a lot more crowded than it did years ago! Personally, I haven't seen standing room only yet, but you do have to sometimes have to hunt around for a seat in the lounge. When I arrived today, there were already people there waiting for the Amtrak California Zephyr, the Amtrak Texas Eagle, the Amtrak Empire Builder, and the Amtrak Southwest Chief. All of those trains would be departing before 3:30 PM that afternoon.
With the growth in the number of passengers simultaneously using the Amtrak Metropolitan Lounge, they needed a different way to handle the carry-on luggage for the Sleeping Car Passengers. At first, passengers would just take the luggage with them to their seat in the lounge. But with so many people, that got out of hand creating a walking hazard. So, Amtrak created a luggage corral across from the check-in desk. I'm sure that seemed a little worrisom to many since it didn't seem like anyone was guarding the luggage. I'm sure this caused some people to bunch up in the lounge seats near the luggage so they could keep their eye on their bags.
Later, Amtrak opened up a room just outside the Metropolitan Lounge where Sleeping Car Passengers could temporarily check in their carry-on bags. They would give their luggage to a Red Cap who would give the passenger a luggage receipt. The passenger would then return to the room about 15 minutes before boarding time and claim their luggage. This is the same way it was handled today except that the room has been moved to inside the Metropolitan Lounge. As best as I can tell, they appear to have built this room where the old luggage corral used to be. Just looking, I can't tell if they actually built this store room right where the luggage corral was, or if this room was always there but just used for another purpose. I'll have to look at some of my old photographs of the Chicago Amtrak Metropolitan Lounge to see if there actually was a room in that location back in the mid-1990's.
I was going to check in both my roller luggage and my computer case, but there was a sign asking not to check cameras, jewelry or computers. I'm sure it would have been OK there, but I decided to keep it with me just to be on the safe side. My notebook computer is pretty heavy to carry around all day, so I had been hoping to unload it and walk around Chicago without anything weighing me down. I should have checked to see if the lockers in the station were available to the public again. After 9/11, the lockers were closed off to the public. I guess they were afraid that a terrorist could plant a bomb in a locker. The lockers always seemed a good place to temporarily store valuables like computer cases while wandering around Chicago.
By the time I got off the train, walked to the Amtrak Metropolitan Lounge and checked in myself and my carry-on luggage, it was already 11:00 AM. I walked outside the station and flagged down the first taxi. Actually, there is a taxi stand right outside the station with a line of taxis waiting, so that didn't take very long to do. I had the taxi take me to the Indian Garden Restaurant at 247 E. Ontario Street, about 2 miles from Union Station. I had read some good things about this Indian Restaurant on the internet and already checked to see that it was open 11 AM to 2:30 PM, 7 Days A Week. However, it turns out that I should have called first. I found the restaurant easy enough, but it was closed. Thinking that maybe they had changed their hours and might open at noon, I called on my cell phone. I could hear their phone ringing on the other side of their locked door, but nobody answered, not even an answering machine.
Usually I go to Devon Street when I am in Chicago where there are dozens of excellent Indian Restaurants all within a few blocks of each other. But, Devon Street is pretty far from the center of town and there is no easy way to get there quickly by public transportation. A taxi is probably $30 each way. I was determined to explore and find some good Indian Restaurants closer to Downtown Chicago and Union Station, so I brought along a list of backup Indian Restaurants I could try if a situation like this came up. The next one on my list was the Bukhara Restaurant, just down the street at 2 East Ontario Street. I walked a few blocks to the restaurant and found the location. However, instead of finding the Bukhara Restaurant, there was one of the American chain restaurants there, I forgot which one. I tried calling their phone just in case I had the wrong address. But, each time I called, it sounded like someone answered, hit a dialing button, and then hung up. After repeating that 3 times, I gave up on that one.
I still had 3 more Indian Restaurants on my list. I wasn't sure exactly where they were, other than I knew I originally selected 5 restaurants that were all around 2 miles or less from Union Station. But, they could be 2 miles in all different directions from Union Station. I flagged down another taxi and asked him to take me to whichever one was nearest Union Station. The driver studied the list for a minute and then told me that all of these restaurants were in the same area and not far from where we were. I asked if he knew of any good Indian Restaurants in the area, but he said that he really doesn't like spicy food and doesn't ever eat at Indian Restaurants. He told me that the first one on the list, Gaylord India, was a well-known Indian Restaurant and that he would drive me there. This time, I did the smart thing and called first to make sure they were open. The restaurant was just a few blocks away. $5 covered the cab fare and a generous tip.
Gaylord India was a fancy Indian Restaurant with white linen tablecloths and waiters in black suits. It wasn't quite noon yet and they already had quite a crowd in the restaurant. Most Indian Restaurants in Southern California, except for in the Indian community, tend to have pretty sparse patronage for lunch. I think that is just because Indian Food hasn't been widely available in Southern California for as long as it has been on the east coast and in Chicago. The Indian Restaurant in Boston was very crowded when I had dinner there on Sunday evening.
As with most Indian Restaurants, Gaylord India was serving a buffer lunch. I tend to go to Indian Restaurants more often for lunch than for dinner as I am able to sample a larger variety of Indian food at a buffet than when just ordering a single entree. As with Chinese food, going for Indian dinner with a group isn't a problem, but it can be a bit limited going alone. Though, I think the concept of feeling limited by being able to only order one entree at a Chinese or Indian restaurant comes from being spoiled by buffets. After all, would you feel limited if all you could order at an American restaurant was one entree, such as steak and potatoe? You wouldn't feel deprived because it didn't also come with chicken, seafood, pizza and pasta.
As I began to eat dessert, I realized that I had quite some time before my train would leave. I probably had plenty of time to walk back to Union Station, even if it was 2 miles. I wasn't particulary anxious to lug around my computer bag over my shoulder, but I could switch shoulders from time to time. Since I hadn't brought a map with me, I suddenly wished that I had taken my pocket GPS along. But where had I put my pocket GPS? I'd put it in my jacket pocket. So, good! That meant that I did have my GPS with me! But, wait ... where was my jacket? Only my computer bag was with me next to my seat at the Indian Restaurant. It was so hot in Chicago that I didn't think twice about the need for wearing a jacket as I departed the Amtrak Lakeshore Limited. So, I must have left my jacket in the closet in my room on the train! That was not good. Fortunately, I was half way through dessert as it would have ruined the entire meal had I realized that my jacket was missing earlier.
I had to get back to Union Station as soon as possible to try to retrieve my jacket. I knew that time was of the essence, so the best bet would be to call first to get the wheels in motion of locating my jacket. But trying to check out of the restaurant and finding a taxi are not compatible with using the cell phone to work through the maze at Amtrak to find the right people to retrieve my jacket. I wanted to do both at once with the hope that my jacket might already be retrieved by the time I got to the station. So, I did the next best thing. I called my wife who is a genius at working through bureaucratic mazes. By the time I had checked out of the restaurant and flagged down a cab, she had called back and said that Amtrak was looking for my jacket and would have it waiting for me at Amtrak Passenger Services as soon as it was located.
The taxi driver evidently didn't know one Union Station building from another. He droped me off at the Madison Street Union Station entrance. That didn't look familiar to me at all, but the signs did say "Union Station". So I got out of the cab and looked for any information of how to get to the Amtrak area. There wasn't any information about Amtrak, but just a sign that said to use the Main Union Station entrance for a posted list of Metra Trains. I strongly suspected that I was supposed to use the Main Union Station entrance for Amtrak trains, but nothing mentioned Amtrak. There was also a map on the wall which indicated there was a long tunnel from this entrance to the Main Union Station. That was fine with me. I started down the stairs and quickly realized that these stairs lead to the far end of the train platform. I would just be walking all the way from one end of the train platform to the other to enter the Main Union Station. That was fine with me as I could get a close up view of the trains at the platforms in the station. Chicago Union Station is one of those stations where they restrict access to the platforms to just the people that are loading or unloading from the trains. They don't like people hanging out on the platforms and tend to keep people away from any of the platforms that are not actively loading or unloading. Walking down this long platform by myself felt like I was somewhere that I wasn't supposed to be, but I knew this would get me where I wanted to go as long as the doors into the station slid open when I got to the other end.
That path got me into the Main Union Station without a problem. I headed right into Amtrak Passenger Services. They said that they did find my jacket and they had someone bring it over to the Metropolitan Lounge less than two minutes ago. The Metropolitan Lounge was just a few steps away and my jacket was waiting for me right there. All the contents of the jacket had just been moved from one pocket to another, I'm sure in their search for some type of identification. I guess this should teach me to put my name and cell phone number somewhere in my jacket. If the jacket had not shown up, it would have been quite a loss. I had my portable GPS, an MP3 player, and an extra cell phone battery in my jacket pocket. Add to that the value of the jacket and I would have lost almost as much as the value of this free trip that I was taking using Amtrak Guest Rewards points.
In more than 200,000 miles of Amtrak travel, that was only the 3rd time I left something on the train. The first time was years ago when I left an Amtrak Florida umbrella in the Amtrak San Diegan luggage rack after carrying it all across the county on the Amtrak Sunset Limited. That umbrella never found its way to Amtrak's Lost & Found. The second item I left on Amtrak was a very expensive digital camera that I left of the Amtrak Coast Starlight in Portland. It took a while for that to show up. I had checked with Lost & Found and the Metropolitan Lounge in Portland several times, but there was no sign of it. A few weeks later, I got a call from Scott Hurd of Amtrak who works in the Portland Amtrak Station. We knew of each other from the time the Amtrak Historical Society had its annual meeting in Portland and subsequently from the help he gave us when TrainWeb had a webcam in Portland. Scott said he was looking though some of the items in Lost & Found and saw this camera with my name on it. Since he knew how to get in touch with me, he gave me a call. So, getting back 2 out of 3 items that I have left on an Amtrak train isn't too bad, especially when you consider that the recovered items were the 2 most valuable items of the 3. Recovering the jacket certainly avoided there being a darkness that would have been cast over much of the rest of the trip for me.
When the taxi driver had dropped me off at the Madison Street Union Station entrance, I noticed that there was an Osco Drug Store across the street. On and off I'd had a sore throat and stuffy nose for the last couple of days. So, I had wanted to try to find a drug store and have some NyQuil on hand just in case it got worse since there probably wouldn't be anywhere to get any medication while I was on the train. Heading out the Adams Street exit from the Main Union Station, the river is right there. There is a long walkway along the river. Just looking down the walkway I could see the Osco Drug sign while still standing in front of the Union Station entrance. I just walked the few blocks back down to Madison Street and the Osco Drug Store.
I purchased the NyQuil, mouthwash and some extra toothpase. They also had the 4-pack single servings of red wine available for about $5 for the pack and I purchased one of those packs. Amtrak charges about $5 for each single serving bottle, so that is quite a savings over the price in the Amtrak Cafe. But, the bigger benefit to me of bringing my own wine onboard is that I don't have to wait in line in the Cafe and I don't have to walk all the way down to the Cafe just to find the Cafe Attendant on break.
The Amtrak Southwest Chief was scheduled to leave at 3:15 PM and I had been told to return to the carry-on check-in area to reclaim my bag at about 2:45 PM. It was still only about 1:45 PM, so I had a bit of time to kill in the Metropolitan Lounge. Just for the heck of it, I decided to see if there was any wireless internet access in Amtrak's Chicago Metropolitan Lounge. There weren't any signs mentioning internet access in the lounge and I hadn't seen anything on the Amtrak website about internet access. But, I figured it would be worth a try to see if there were any HotSpots within range.
After powering up my computer, I found there were 2 wireless networks within range. The first one that I tried was obviously a private network that required access codes. The second network was called "Layer 1 HotSpot" and presented me with a logon screen with the title "Snuggery". The bottom of the screen instructed me to type in the Access Codes from the Receipt that I had received from my server. I had to guess at this one. I knew that HotSpot wireless internet signals don't travel very far, especially inside buildings. I knew there were a lot of restaurants on the floor above the Amtrak Metropolitan Lounge and figured there had to be one offering this HotSpot right above the lounge. I headed out the door and tried my best to find my way to the spot directly above where I was sitting in the lounge. Sure enough, there was a restaurant bar right there called "Snuggery!" However, I still couldn't find any mention anywhere of internet access. But I knew this had to be it. I sat at the bar and ordered a glass of red wine. I asked the bar tender how I could get access to their HotSpot. She knew right away what I was talking about and said that I could purchase time for $3 per half hour. I purchased one hour of time figuring that would take me until the time I was supposed to get my bag out of the carry-on luggage area. Sure enough, the receipt had access codes on it! Excited to see if I could access the HotSpot from within the Amtrak Metropolitan Lounge, I gulped down my wine and headed back to the lounge.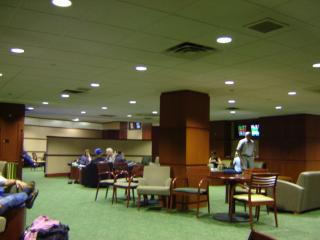 Once again in the Amtrak Metropolitan Lounge, I went back to the round table by the fireplace and set up my computer. I remember years ago spending almost an entire day at this table. Back then, I had a long wait between trains and had planned to do a lot of computer work all day while waiting. There is an electric outlet right by that table and the location gave me a birds-eye view of the entire lounge and the check-in area as well as convenient access to the free beverages, snacks, and restroom. Back in those days, I don't think wireless internet access was available anywhere, but they did have dial-up access available. This time I was able to log-in at the Layer 1 HotSpot with the access codes on my receipt from Snuggery. It was a pretty good connection and I was able to catch up on all of my e-mail.
All the Sleeping Car Passengers waiting to board their long-distance Amtrak trains: the Amtrak California Zephyr, the Amtrak Empire Builder, the Amtrak Texas Eagle and the Amtrak Southwest Chief were still there, so the room was pretty full. Quite soon, however, they started boarding calls for each of the trains. First they called for everyone taking the Amtrak California Zephyr that needed Red Cap assistance to the train. People that wanted Red Cap assistance would gather at the front of the lounge. After claiming their carry-on luggage from the temporary check-in area, a Red Cap would take their bags to the train for them. Then there was a call for all the Amtrak California Zephyr passengers that didn't need assistance with their bags. They were assembled at the rear of the lounge. The Amtrak staff made several passes through the Metropolitan Lounge making sure everyone heard the call for the train. This is quite different than the old days when you were never quite sure if boarding for your train had been called yet or not. Once the passengers had assembled at the rear of the lounge, they were directed out a rear door directly to the platform and their train. Over the next hour, this procedure was repeated over and over again for each train until only the passengers for my train, the Amtrak Southwest Chief remained in the lounge.
Just about 3:00 PM I had finished with my e-mail and was starting to just look around the web a bit when my access time ran out. There was some word among the Amtrak staff that they had already loaded the Coach Passengers on the train and were expecting a call to load the Sleeping Car Passengers any time now. So, I figured it was a good time to close up my computer anyway and retrieve my carry-on bag from the temporary check-in area. The Sleeping Car that I would have been riding in had a bad air conditioner and it could not be repaired in time for departure. Thus, they had to take that car out of the consist and switch in a different Sleeping Car. That caused them to delay the boarding of my train by about 45 minutes. The Sleeping Car passengers didn't get to board the train until around 3:30 PM or so, and the train finally departed at 4:08 PM.
Shortly after getting under way, I was typing at my computer when I heard a sliding noise and then a lound "bang" behind me. I turned around and didn't see anything. A short while later, this same sequence of sounds repeated. Again I turned around and didn't see anything. Then, I suspected what was causing the sound. I got up and attempted to slide the partition that divides my Deluxe Room "B" from Deluxe Room "C". Sure enough, the partition would slide open easily. Evidently, whenever the train tilted a little to one side, the door was sliding open and then would slam shut with a "bang" when the train tilted the other way. The Deluxe Rooms are designed this way so that two rooms can be combined into a Deluxe Suite. The Car Attendant carries a tool to open or tighten the mechanism that holds the door shut. It would just need a little tightening to fix the problem, so I rang for the Car Attendant. In the meantime, I shoved a stack of my business cards into the crack where the door slides inside the wall. That would temporarily prevent the door from moving at all. A short while later, the Car Attendant came by, saw the problem, and fixed it with the tool. Actually, he had to work on the sliding door from the other side and had to go into Deluxe Room "C" to tighten down the door. Just to be on the safe side, I left my business cards in place for the rest of the trip.
While I was sitting and typing, the restroom/shower door would open up and swing towards me about once an hour. The latch mechanism on the restroom/shower door was half worn out. It would catch, but the spring lock mechanism wasn't working at all. After enough bumping and shaking of the train, the latch would work its way open and the restroom/shower door would swing wide open. Fortunately, the door is within arm's length of where I am sitting, so I just push the door closed and re-secure the lock each time this happens. It isn't too annoying as it only swings open about once per hour and I can re-latch the door without even getting out of my seat.
Another problem with this room is the sink faucets. They seem to leak as much water to the side as they spray into the sink. Both the hot and cold faucets do this. The faucets would flood the entire sink counter area everytime I used the faucets. There was a quick solution to this also. The Car Attendant had left plenty of clean wash cloths in the cabinet under the sink. I just placed one of the folded wash cloths on the sink counter beside the faucets. This wash cloth would absorb all the water leaking from the faucets before the water spread all over the counter. The wash cloth was so soaked by the end of the day that I did have to replace it with a dry one, but I think there is enough supply of dry wash cloths to carry me till the end of the trip.
Despite these few minor inconveniences, the trip has been quite pleasant and without incident so far. So far, I most of the Amtrak staff that I have encountered have been very friendly and helpful. That is a good sign. My experience with Amtrak over the last 10 years is that the quality of their employees varies considerably. Some will give you the shirt off their back if that is what it takes to provide you with an enjoyable trip. But, I've also run into others who didn't care about your enjoyment of the trip and even some that became difficult if you expected them to handle any difficulty you may be having. On this trip, every Amtrak employee seemed ready to go out of their way to help me in any way they could. If this is Amtrak's latest attempt to try to put all their employee's through Charm School, I hope they keep it up because it is working. With the difficult financial and political times that Amtrak is going through, they don't need to make enemies out of more of their passengers.
June 22, 2005, Wednesday
So far, my potential cold seems to be staying at bay. Hardly any of my sore throat remains and my stuffy and runny nose problems have been minor even though I haven't taken any of the NyQuil yet. I did drink one of the single servings of wine yesterday evening, but I don't think that did anything to help the cold. It sure does make living with the symptoms easier though! I think that is why Alcohol is listed as the first item on the ingredients list of NyQuil.
The Indian food was all that I ate all day yesterday. I wasn't too hungry yesterday and I'm trying to make up for all the eating I did while visiting relatives in Maine for the past few days. I think I did enough eating for a week during the four days that I spent in Maine! It isn't hard for me to skip meals on the train. With my new tastes in food, none of the meals they serve on the train are all that tempting anymore. I always go for the salmon at dinner when they have that, but they are serving Catfish as the seafood selection for both evenings on this train. As I mentioned before, I rarely every eat meat, so none of the beef or chicken selections interest me. And, unfortunately, the vegetarian selections on the train are very unimaginative. Usually it consists of pasta with a cheese filling and tastes like something that was dumped out of a can of spaghetti. I can no longer personally attest to whether Amtrak has maintained their high standards of well prepared steaks and chicken, but I never hear any of my other table mates mention that the food is something to write home about. I can honestly say that in years past, I had the best steak of my life on an Amtrak train and I used to get the most imaginative and delicious vegetarian items on the Amtrak Coast Starlight! You can't really blame the crew. In order to save expenses, which Amtrak needs to do to survive, Amtrak has gone away from unique regional cooking that related to the route of each train to a standardized national menu that doesn't even change from day to day. This has taken away most of the creativity and flexibility of individual cooks on each train.
I did go for Breakfast in the Dining Car today. I got my usual Continental Breakfast which includes a bowl of cereal with milk, a croissant, a cup of yogurt, a bowl of fruit, and a cup of coffee. Actually, the bowl of cereal with milk and the cup of coffee is plenty for me. I'd really be stuffed if I ate any of the other items that are included. For now, I'm crossing my fingers and hoping that I can still purchase one of those famous southwest burritos from the truck when I get to Albuquerque, New Mexico, where the train will lay over and be serviced for almost an hour around 4 PM today!
I was able to get online for a few minutes at two of our smoking stops so far today. The first was at La Junta, Colorado. Actually, it took quite some time before I established a successful connection in La Junta. The connection was very poor and slow, but I was able to read a few e-mails before we departed. I was able to get a much better wireless connection in Raton, New Mexico. I was able to connect immediately when the train arrived into the station and was able to go through quite a bit of e-mail and even send out a few e-mails during our brief 5 to 10 minute stop at that location. In both places where I was able to get online, I just stayed in my room and was able to connect directly to the internet while in the train.
Up until 1:10 PM our Amtrak Southwest Chief was right on schedule. We arrived into every station a bit early and had to wait for the published departure time before we could leave. However, at about 1:10 PM a medical emergency was announced on the train. Over the Public Address (P.A.) System a call was made for the Conductor and any doctor, nurse, or paramedic to come to the Cafe Car. They announced "Emergency 1" several times. In the corridors, somebody mentioned something about a seizure. They also announced over the P.A. that the medical emergency was the reason the train was stopped. A call again was made for a medical person to go to the Cafe Car and they even said over the P.A.: "I believe we have a doctor in the Sleeping Cars. Would that doctor please go to the Cafe Car to help with the medical emergency." We didn't stay stopped for very long, only about 5 minutes before we were moving again. I think that someone with medical experience must have shown up to at least stabalize whatever the situation was. There were a few remote homes and a small road outside the train where we stopped, but according to my GPS, there is a major interstate near by.
The train continued moving until 1:46 PM when it stopped at the intersection of the railroad tracks and New Mexico Route 3 and some smaller roads. I think the smaller routes are CR-B41E and CR-B41F. CR probably stands for County Route. They said we were stopping here for the paramedics. I don't know whether they are waiting for the paramedics to come on board to treat the passenger or whether they are planning to take the passenger off to transport him or her to a local hospital. They also announced over the P.A. that the Cafe Car would be closed until the medical emergency has been resolved. The train resumed travel again at 2:25 PM, having stayed for 39 minutes where we were stopped for help from paramedics. My guess is that we'll make up most of this lost time in Albuquerque, New Mexico, as it only takes about 20 minutes to service the train.
I apologize that I can't give you and more information as far as conversations between the Conductor, Engineer and Dispatcher. I'm sure those conversations would have provided a lot of insight into the situation. But, unfortunately, I forgot to bring a railroad radio scanner along on this trip! I almost always bring it along even when I don't plan to turn it on. It is just a great thing to have along to keep informed even if it is only turned on in situations like this. But, it has been so long that I have used a railroad radio scanner while traveling that I just forgot to bring one along.
We arrived into Albuquerque, New Mexico, at 4:50 PM, almost an hour behind schedule. I got off the train and did end up purchasing one of those famous home-cooked southwestern burritos. There isn't a truck there anymore as there is no place to park it anymore. But there is a stand on the platform with a big "Burritos" sign. That burrito, along with two glasses of red wine, was lunch and dinner for me! If you like burritos, I'd suggest giving them a try for dinner on your westbound journey or lunch on your eastbound journey. Or, if you are a hearty eater, buy them to save for a snack later on your trip. Each burrito comes wrapped in tin foil and celophane over the tin foil. That keeps them pretty warm for quite some time. They are worth the stop in Albuquerque! We departed from Albuquerque at 5:35 PM, 50 minutes behind schedule. So, we didn't make up as much time in Albuquerque as I had expected. Actually, we only made up about 5 minutes. I'm not sure why that is the case. Over the P.A. they even warned the passengers to stay close to the train as we would be leaving as soon as the train was services. They even estimated that it should take no more than 20 to 30 minutes to service the train. Instead, we were in the station for 45 minutes. I don't know about the other passengers, but that is actually OK with me. I'd rather arrive into Fullerton after 7:30 AM tomorrow morning than around 6:30 AM anyway.
I was just about to shut down my computer for the evening, but just when you think nothing else unusual is likely to happen, the fire alarm goes off in my Sleeping Car at exaclty 7:00 PM ! Actually, I don't know if this was an alarm throughout the train or just in this car. I suspect it was just in this car as the alarm said something like: "Fire Alarm Activated. Evacuate The Car Immediately." Just in case, I quickly switched from shorts to my pants (which has a lot of things important to me in the pockets) and put on my shoes. No sooner had I done that than the Car Attendant got on the P.A. and said it was a false alarm. He also called the Conductor to the car. It was then that I noticed that the electric power was also out. Maybe someone was smoking in one of the restrooms? I know there are smoke detectors in various places in the car, especially in the restrooms to catch anyone smoking in a restroom, but I'm not sure how the smoke detector reacts when it is set off. Maybe what I heard is exactly what it does, that is, tell everyone to immediately evacuate the car! The Smoke Detector alarm announcement was reset by 7:03 PM and power was restored by 7:06 PM. All is well!
June 23, 2005, Thursday
I went to bed a bit early last night, around 8:00 or 8:30 PM Mountain Time. After a really good nights rest, I woke up about 5:30 AM Pacific Time. If I'm calculating right, I think that gave my about 10 hours of sleep. My cold is still keeping at bay and I still haven't felt the need to take any medication to treat the symptoms.
I really enjoy traveling in the Deluxe Room instead of the Standard Room. The most enjoyable feature to me of the Deluxe Room is the orientation of the bed. In the Standard Room, the bed is parallel with the windows. In the Deluxe Room, the bed is perpendicular to the windows. You have the same amount of window space in both the Standard Room and Deluxe Room, but the way one is oriented to the windows, especially when laying down in bed, makes a big difference to me. In the Standard Room, you are lying down with your head right below the window. Unless you prop yourself up pretty high in bed, you will be looking up at the window and will be seeing just the sky and tops of buildings and trees going by. In the Deluxe Room, I always have the bed set up so that my head is away from the windows and near the door. Thus, I am facing the big double window all night. I make sure that the curtains are tied up tight on each side to provide the greatest amount of clear window space. Just laying in bed at night with my head on a pillow or two and all the lights in the room turned off, I can see a great deal of scenery flowing by the window. That is a much more enjoyable way for me to fall asleep at night on the train than just watching tree branches and clouds go by!
We just left San Bernardino at 7:13 AM Pacific Time, running about one and three quarter hours behind schedule. I should arrive into Fullerton, California, around 8:15 AM, just about one hour from now. There is quite a bit of padding in the schedule between Fullerton and Los Angeles, so the train should only be about 30 minutes behind schedule by the time it reaches Los Angeles, assuming no further delays.
Since the TrainWeb office is just a couple of blocks down from the Amtrak Station in Fullerton, I plan to head over there this morning right from the train. I'll be there just in time for the start of the work day!
At the moment, I do not have reservations for any future Amtrak travel. That is rare for me. Even when I am not doing much Amtrak travel, I usually have Amtrak tickets in hand, even if it is for a trip that is six or nine months away. Right now, I don't have any specific travel plans. I will be going to Las Vegas, Nevada, early next month for a few days for a conference. Since Amtrak doesn't have a train to Las Vegas anymore, I won't be going by Amtrak. Amtrak does have a bus connection out of Los Angeles to Las Vegas, but I've opted to try something different. There is a luxury bus service that goes directly between Anaheim, my home city, and Las Vegas. So, I thought I would give that a try. It sounds like it will be more relaxing than driving there and better than the buses provided by Amtrak or Greyhound. There are tentative plans of a family gathering in Orlando, Florida in December of this year. If that comes together, then I'll once again see if I can fly out there on Jet Blue and return on the Amtrak Sunset Limited as I did on my last trip to Florida.
It is now 7:30 AM Pacific Time and we are getting close to pulling into the Amtrak Riverside Station. This is the last stop before my stop at Fullerton, just 40 minutes from now. So, I'm going to go ahead and pack up the computer and do a few last minute things to get ready to leave the train. I've already packed my jacket into my suitcase and checked every nook and cranny of the room to make sure that I'm not leaving anything behind this time!
Purpose Of This Trip
By now, you may be wondering how I got to Boston, if not by train, and why I went there. I flew to Boston on Jet Blue out of Long Beach Airport in California. Jet Blue has a red eye direct flight that leaves Long Beach every night at 9 PM Pacific Time and arrives into Boston about 5:30 AM Eastern Time. Since 2003, I've made this trip many times. This is just the first trip that I'm going back to California by train. Most of the other trips have been round-trip by Jet Blue.
My actual destination has usually been Lewiston-Auburn, Maine, which is about 30 miles north of Portland, Maine. The Amtrak Downeaster train times don't match well with my flight times, so I usually just rent a car at Logan Airport in Boston and drive the rest of the way. We usually arrive into Lewiston-Auburn, Maine, about 8 AM, long before any Amtrak Downeaster would get us there. However, while I was in Maine on one of my trips, I did get a chance to take a bus down to Boston and then return to Portland by taking the last Amtrak Downeaster out of North Station.
The reason I have made so many trips to Maine since 2003 is to visit with my family that I had not met prior to 2003. I was adopted when I was just 8 days old in 1951. I learned of my adoption when I was about 8 years old. However, it wasn't until 2003 that I learned the identity of my biological parents and found that I had many half-siblings on both sides of my family. That came as quite a shock to someone that grew up as an only child! This is also another reason why I have not been able to do as much traveling by train as I used to. Visiting with my birth family has taken priority over spending time traveling around the country by train.
Recently, I have started to try to work the two in together: visiting with my birth family and doing some travel by train. I can no longer afford the time off to travel round-trip by train, especially if the purpose of the trip is to visit my family all the way on the other coast! So, for the last couple of trips, I have traveled by air to visit my family and then returned by Amtrak. I also did this last fall when my family gathered in Florida. I flew to Florida, but then returned to California on the Amtrak Sunset Limited taking the train for its entire route from Orlando, Florida, to Los Angeles, California.
If you would like to read the entire story about how I found my birth family and my reunion with them after 52 years of not even knowing they existed, click here.
While in Maine, we did need to rent a vehicle that was capable of accommodating a person in a wheelchair. We discovered a national franchise called "Wheelchair Getaways". Although the nearest one to Logan Airport in Boston was about 20 miles south of the airport, for a reasonable charge they are happy to meet you at the airport with the vehicle. Their vehicles are converted Toyota Siennas and Dodge Grand Caravans that allow a wheelchair to be brought up on a ramp and locked down once inside. The ramp was extremely easy to operate. You just push a button and the side door slides open and the ramp extends itself out. My Dad, who has a motorized wheelchair, just drove himself right into the vehicle and spun himself around into locking position.
The particular vehicle that we rented was a Dodge Grand Caravan that had also been converted to allow a wheelchair bound person drive the vehicle themselves using hand controls. While driving, I couldn't help but play with the hand controls. Pulling on the hand control would accelerate the vehicle and pushing on it would apply the brakes. It did take a little getting used to as I almost pulled a wheely by pulling back on the hand control too quickly at a red light. Within a short time, I pretty much had gotten used to the hand controls. However, I am happy they had both the regular foot controls and the hand controls as I think it would have been a bit unnerving trying to control the vehicle with just the hand controls without having had a lot of practice at it. I did notice that they had removed the knob that allows the vehicle to be steered with just one hand. Leaving that in would be extremely dangerous. Unconsiously, you know how little movement of the wheel it takes to steer on the freeways. But, if you just had a knob to turn, I can see how easy it might be to oversteer and flip the vehicle over without adequate training and practice. If you ever need to transport someone that is in a wheelchair, you might want to consider renting a vehicle from "Wheelchair Getaways". They have franchises all across the nation.
Additional Photographs:
Set #1 / Set #2 / Set #3 / Set #4 / Set #5 / Set #6
CLICK HERE
To Read More Rail Travelogues
And View More Photos Of Rail Travel!

Are you interested in rail travel along some or all of this journey yourself? There are very few travel agents that have the necessary knowledge and experience of rail travel to answer your questions and to book a journey that you will remember for a lifetime. TrainWeb has sought out those travel agencies and rail tourism companies that not only have the knowledge to book your travel, but have gained the required experience through extensive rail travel themselves! Click here or visit RAILagencies.com or RAILexcursions.com for a list of these rail travel providers!
Visit our Rail Magazine promotion trading partners:
Click here to add your print rail magazine.