Amtrak Sunset Limited
My Last Transcontinental Trip On This Route
From Orlando,FL to Los Angeles,CA
November 14 - 17, 2004
Before Hurricane Katrina
Took Out The Tracks in August 2005
These notes about this Amtrak Sunset Limited rail trip were posted on July 31, 2010, almost six years after this trip was actually taken. No rail travelogue was written of this experience. The photos were actually burried in the photo archives of TrainWeb.com in the All Photos At TrainWeb Taken In 2004 Arranged By Date section with no other links to them until now.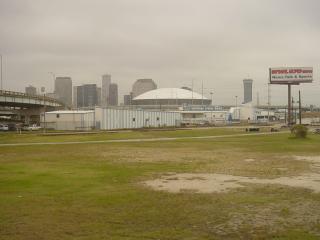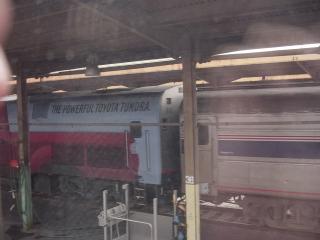 Left: New Orleans Dome Before Katrina? - Right: Amtrak Powerful Genesis Toyota Tundra?
Little did I know at the time that this was the last transcontinental trip I would ever take on the Amtrak Sunset Limited since Hurricane Katrina would wipe out the section of tracks between New Orleans and Florida in August 2005. If I could have known that in advance I might have made sure to write a travelogue and provide comments with the photos taken along the route that is currently no longer open to passenger rail travel.
However, I did take quite a few photos and many are posted in higher resolution than I normally post photos to the web. Because the resolution of the photos is higher than what I normally post, when you click on each thumbnail to display the full size image you might find it doesn't fit on your screen without scrolling up and down and right and left unless you have a really big screen. Enjoy!
Click on each link below for photos.
Note: Once each page of photos comes up, you can then click on
any individual photo for a higher resolution copy of that photo.
I traveled alone on this trip in a Deluxe Room in a Sleeping Car on the Amtrak Sunset Limited Train #1 all the way from the origin point of this train in Orlando, Floria, to the final point of this train in Los Angeles, California. I made this trip using Amtrak Guest Reward points. From Los Angeles I traveled in Coach to Fullerton.
The reason I did not write a travelogue on this trip is that I was on the way back from just having met my birth mother for the first time in my life in person, as well as returning from a birthday celebration for two of my birth sisters where many members of my birth family were in attendance. So, I kind of had a lot of other stuff to think about and work out in my mind at the time. That reunion was much of the reason why I had decided to take this long train trip home. I figured it would give me time to integrate some of the reunion experiences from the past few days. If you'd like to read more about my adoption and reunion story, please click here to visit www.trainweb.com/travelogues/stevegrande/sgbiog01.html
CLICK HERE
for more Amtrak Sunset Limited travelogues and other info.
CLICK HERE
for other rail travelogues and photos from Steve Grande.
CLICK HERE
for rail travelogues and photos from many others.
Visit our Rail Magazine promotion trading partners:
Click here to add your print rail magazine.