Amtrak Coast Starlight Tuesday, April 15-18, 2003
http://www.trainweb.com/travelogues/stevegrande/2003d15a.html
April 15, 2003, Tuesday
Ray and I headed off on an attempt to travel on the detour route over the Feather River on the Amtrak Coast Starlight. I first heard about the plans to detour the Amtrak Coast Starlight almost a month ago on March 13, 2003. Because of track work between Roseville and Dunsmuir on Union Pacific's former SP line, the plan was to detour the Amtrak Coast Starlight March 15-24, March 31 - April 9, April 15-22, and April 26 - May 7. The detour would have the Amtrak Coast Starlight traveling between Sacramento and Klamath Falls via the former Western Pacific's Feather River Canyon (now UP) to Keddie and the former WP-GN Inside Gateway (now BNSF).
Not yet having any plans for train travel this year, this would be a good excuse for me to use up some of my Amtrak Guest Rewards and get out on the rails for a few days. I probably would not have even thought of taking this trip if one of my daughters wasn't on Spring Break. I do most of the driving of taking my daughters to and from school. When one of them is off from school, that is less driving that my wife has to do when I'm out of town.
I have a good amount of Amtrak Guest Rewards and Alaska Airline Miles saved up. I calculated that the best way to try for this detour would be to just go up from Los Angeles to Klamath Falls and back. That would only be 3 days. It would take from Tuesday morning until Wednesday morning to get to Klamath Falls, then we could catch a train Wednesday night and return by Thursday night. Since the trip would just be in one region, it would only cost 15,000 Amtrak Guest Rewards points for the two of us in a Standard Bedroom. A Deluxe Room was just 5,000 more points, so that was the way we decided to go, 20,000 points for a Deluxe Room round trip to Klamath Falls and back for the two of us.
Unfortunately, Amtrak and the Union Pacific made some changes to these detour plans. They managed to figure out that they could avoid detouring the Coast Starlight unless it was more than an hour late northbound into Sacramento and more than five hours late southbound into Klamath Falls! Thus, our train was unlikely to be detoured unless it ran into some serious delays. These changes were made too soon to our departure date for us to consider making changes to our plans. Thus, we decided to just cross our fingers and see how things turned out. If we didn't go on the detour, at least we'd have a fun train ride up and down the west coast and through the mountains!
Other TrainWeb writers have also attempted to experience this detour on the Coast Starlight. Chris Guenzler managed to catch it in one direction. Matt Melzer attempted it, but didn't get the detour in either direction. I don't mean to get ahead of myself, but I don't want to raise your expectations; we didn't get to travel on the detour in either direction on this trip either. You will have to read Chris Guenzler's travelogue to read anything about a trip over the detour.
The northbound Amtrak Pacific Surfliner came through Fullerton right on time at 8:16 A.M. As usual, the train was very, very full. Amtrak and Metrolink have a new "Rail 2 Rail" program that allows passengers holding Amtrak tickets to ride Metrolink trains, and monthly Metrolink pass holders to ride Amtrak trains. This program may have taken some of the usual Amtrak passenger load off this 8:16 A.M. train, but I think they have been replaced by just as many Metrolink monthly pass holders. Ray and I have sometimes had to stand the entire way from Fullerton to Los Angeles on this morning train. That is one of the reasons why Ray and I often take Metrolink or just drive from Fullerton to Los Angeles. We both got seats on the train today, but Ray had to sit with someone at one end of a car and I had to sit with someone else at the other end of that car.
Don't let that discourage you from riding the Amtrak Pacific Surfliners! It is only the rush hour trains that get that full. Most Surfliner trains during the day have plenty of room for everyone! Although most of the Surfliners don't run the entire route, you can take a Pacific Surfliner all the way from San Diego to San Luis Obispo, California. That route travels along some of the most beautiful coastline in the nation!
The train pulled into Los Angeles on time at 8:50 A.M. The Amtrak Coast Starlight was not yet in the station. We actually saw the Amtrak Coast Starlight when we passed the Amtrak Yard a few miles back. I noticed that Dean McCormick's Scottish Thistle private railcar was on the end of the Coast Starlight. (See: www.ScottishThistle.com).
While waiting on the platform, the northbound Pacific Surfliner that we took to Los Angeles pulled out and the southbound Pacific Surfliner came and went. A number of Metrolink commuter trains also arrived and departed. The MetroRail Gold Line is still under construction and has not opened yet, but the Los Angeles station for it seems to almost be completed. Some construction workers were on the platform using high pressure water to hose down the side of the ramp of the Gold Line that leads out of the station. There were two Gold Line trainsets sitting up on the ramp by a signal. A number of baggage carts ran up and down the platforms while we were waiting. We had to move our luggage and stand in the center of the platform to avoid being in the way of these electric carts.
The Amtrak Coast Starlight backed into the station at about 9:35 A.M. Dean's car was still at the rear of the train and thus was leading the train as it backed into the station. The Conductor was out on the open platform at the rear of the Scottish Thistle private railcar talking to the Engineer over the radio to guide the train back into the station. Dean McCormick was also out on the open platform. We caught his attention and exchanged greetings as he rolled by.
We knew that our Sleeping Car (Loading Number 1132) would be pretty close to the front of the train, so we started to walk further down the platform to approximately where we expected it to stop. Nate is our Sleeping Car Attendant and he stepped off the train almost before it came to a stop. I like it when the Car Attendant boards the passengers promptly and we don't have to stand in front of a closed door for several minutes. Nate boarded us right away with a smile!
We went upstairs to our room, Deluxe Room #C. Since it was only 9:45 A.M. and the train wouldn't depart until 10:15 A.M., we thought that 30 minutes would be plenty of time to go visit Dean McCormick in the Scottish Thistle private railcar that had been attached to the end of our Amtrak Coast Starlight. We quickly walked down to the end of the train. Dean invited us onboard and we said hello to some of his guests. We talked with them a little about the wonderful previous trip that Ray and I had experienced onboard the Scottish Thistle when we traveled in it all the way from Los Angeles to Oakland, CA.
Dean pretty much had a full car of people that he was taking up to Oakland, but he invited us to come back to his car for the segment of the trip between San Luis Obispo and Paso Robles where the train travels through "horseshoe curve" as it climbs up the mountains. Even if this train didn't take the detour, this unique segment of our trip in Dean's private car would certainly make this trip worthwhile!
As we walked back to our Sleeping Car, we ran into Jack Wilson and Charles Roebuck III, two Amtrak managers that oversee the Amtrak trains in Southern California. We hadn't seem them in quite some time. After a little bit of small talk, we explained to them why we were on the train and that we were just hoping for a delay so that the train would take the alternate route up to Klamath Falls. With a roll of their eyes and some sputtering they indicated that they were certainly hoping that the train would run on time and that they did not have to deal with any of the difficulties created by a late train, but they jokingly said they would see what they could do to get this train onto the detour! It goes to show you how much the Amtrak staff goes out of their way to satisfy their passengers.
Roger Keilbach was the Sleeping Car Attendant on another car in this trainset. We've known Roger from way back because of our many travels on the Amtrak Coast Starlight. Roger had marked up a number of road maps of California and Oregon/Washington to show both the normal route of the Amtrak Coast Starlight and the route it takes when it is detoured over Feather River. Roger gave us one copy of each of these maps. Although we never did get to travel the detour, these maps did come in handy for a reason that I will explain later.
Originally, I didn't intend to write a travelogue about this trip at all unless we ended up on the detour, but the number of unique events on this travel was piling up too fast to not write about it!
Ray and I went down to the Pacific Parlour Car about 11:30 A.M. so that we could make the first call for lunch. There had already been an announcement that the Dining Car would open up about 11:45 A.M. for lunch. On our way down to the Parlour Car, we ran into our Sleeping Car Attendant. We asked him to get Dinner Reservations for us for around 5 P.M or 5:30 P.M. when the Dining Car Steward came around handing out reservations. We explained that we would probably be in the private railcar at the rear of the train while the Dining Car steward was handing them out and we wanted to eat early. Nate said he would be more than happy to do this for us!
The name of the attendant in the Pacific Parlour Car is William Corley (Lead Service Attendant). William was very friendly and seemed to be taking good care of the passengers in the parlor car. If you are traveling in the Sleeping Cars and want to make the first call for lunch, you really need to be in the parlor car before that first call is made. If you are in the coach cars, you need to be waiting in the Sightseer Lounge Car as close to the Dining Car door as possible. When first call is made for lunch, usually everyone in the Pacific Parlour Car can be accommodated as well as many people waiting in the Sightseer Lounge Car. The Dining Car usually gets filled from just those people. Everyone else has to place their name on a waiting list. It usually takes about another hour or so before they start with second call and are able to accommodate most of the people on the waiting list. Normally, lunch runs until around 2 P.M. and the Dining Car staff is usually able to accommodate everyone by that time.
Unfortunately, I'd miss the wine tasting as that is usually held right after departure from San Luis Obispo. But, I can attend the wine tasting anytime that I ride the Coast Starlight. It is only once in a very rare while that I get invited to ride on the open platform of a private car! (Though, by a strange coincidence, the last time I rode on an open platform was just 4 days ago!). But, I wouldn't miss the wine altogether. I decided to order a half-bottle of wine with my lunch to make up for the wine I'd be missing at the afternoon wine tasting!
Ray and I were on the Coast Starlight heading southbound just last Saturday, but they had already changed the menus! We both had the vegetarian item, the quiche. The quiche was pretty small and was served with a side salad and a roll. Our server didn't know that the chef would be placing the side salad on our plate and she had already brought us each the regular dinner salads with dressing. So, we each ended up with two salads! But that was OK. The server brought us a salad with mostly iceberg lettuce, which I know isn't very nutritious, but I like it! The quiche was served with a much greener salad. That is much more nutritious, but I don't like the taste or texture of it. I gave mine to Ray, which he really likes. Ray doesn't go much for iceberg lettuce, but he really likes the dark green salad leaves.
The quiche that was served was one of the smallest I'd ever seen! But, I was trying to cut down anyway so I certainly didn't mind. It was quite good, but just could not compare to the gourmet meals that used to be prepared on the Amtrak Coast Starlight. In the old days, you used to be able to order soup or salad with any lunch item. Now, salad comes with some of the items and soup is not offered at all! Another change is, if you want wine with your meal, youy have to order an $8.00 half bottle of wine. They no longer sell wine by the glass. I noticed that on the train that I took south on Saturday. This change was so new, that our Dining Car Attendant wasn't even aware of it yet! However, if you can't finish the half bottle with your meal, you can take the rest of it back to your Sleeping Car room. If you are traveling in Coach Class, I'm not sure you can take the remainder of the bottle back to your seat, but I can't see why not. You can purchase wine from the Cafe Car to take to your seat, so I can't imagine there being a restriction on taking wine from the Dining Car back to your seat.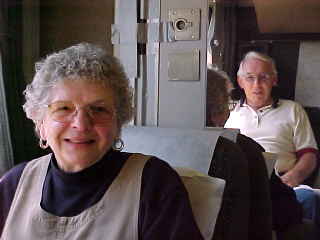 At lunch, we met a couple that has done a lot of Amtrak travel over the last 20 years. They said they have traveled on everthing west of Chicago on Amtrak except for the Amtrak Pioneer that was discontinued in 1996. We had such an interesting conversation over lunch, that we were asked if we could leave soon to make room for others. I enjoy my lunchtime conversations, but they usually aren't enjoyable that we are still there when it is about time for us to leavel. I didn't realize it was so late since the people across from us were also still at their table and they had started quite a bit before us. But, we didn't mind leaving and making room for others. We headed back to the Sleeping Cars and continued our conversation in their Deluxe Room.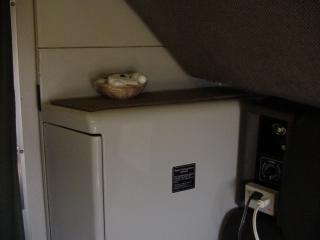 Here is a bit of a hint so that you will avoid crushing any of your valuables if you happen to reserve a Deluxe Room in the Sleeping Car. There is a nice shelf in the Deluxe Room right near the door. But, be careful what you put on that shelf! If you forget it is there and you lower the upper bunk, it will be crushed! I once forgot that I had placed a portable alarm clock up there and crushed it really good when I put down the upper bunk. The shelf is very convenient, but the design also makes it a wonderfully leveraged press for anything that you might not want crushed!
At San Luis Obispo, Ray and I stepped off onto the platform and headed down to the Scottish Thistle at the rear of our train. Nate, our Sleeping Car Attendant, said he would let the Conductor know that we would be on the private car and would be heading back to our car at Paso Robles. We stepped aboard the Scottish Thistle and greeted Dean McCormick and the other passengers in his private car. From San Luis Obispo to Paso Robles, Ray spent most of his time in the Scottish Thistle socializing with the other passengers while I stayed out on the open platform taking photographs.
Click here for photos of the Scottish Thistle passengers!
Dean invited us to stay with his car all the way to Oakland. Ray and I both told him that we appreciated the offer, but there was a lot that we expected to get done on the computer in our room and we had made a dinner engagement with Ray and Irene Bridich of La Mirada, California, the couple that we had lunch with. I took a number of photos from the open platform and Ray mostly took photos of the passengers in the Scottish Thistle, which consisted of David and Carolyn Felando of Westminster, Jerome Burley of Woodinville, WA, Marcia Munson of Belview, WA, Della and Glen Haug, also of Woodenville, WA, and of course, Dean McCormick and his staff. I found out that Dean's uncle was a Dean of a law school and later President of the University of Arizona. Interesting!
At Paso Robles, we thanked Dean McCormick and headed back up the train. Paso Robles is not a very long stop, so we hopped into one of the Coach Cars and headed back towards our sleeping car inside the train. When we got to the Pacific Parlour Car, we noticed that they were just finishing up the wine tasting. I asked William Coley, the Pacific Parlour Car Attendant, if we were still in time for any wine. He said that all they had left was red, but that was fine with me as that was what I preferred! So, I was able to enjoy a glass of wine before dinner! It was already 4:55 P.M., so Ray and I would be heading off to dinner in just 5 minutes! Of course we sat with Ray and Irene Bridich, and again continued our ever ongoing interesting conversation of everything.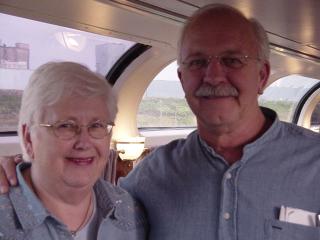 On our way back from dinner, we met Wayne Alberda and his wife, Marty, in the Pacific Parlour Car. He is with the 3751 crew. The 3751 is a 4-8-4 operating steam engine. That means that it is a very large steam engine. It will be shown on May 3 and 4 of this year at the Fullerton, CA, train station at the festivities called the "Fullerton Railroad Days." Entrance is free and a crowd of 40,000 happy faces are expected to attend the festivities. Lots of fun and lots of trains of all sizes. We had a short but interesting conversation and we invited him to come up and visit the TrainWeb office the next time he was in Fullerton. Our conversation ended sooner than expected as his time for dinner was called.
The Car Attendant came into our room and attempted to tighten up the sliding partition between our Deluxe Room "C" and the next Deluxe Room "B". On Amtrak Sleeping Cars, Deluxe Rooms B and C and Deluxe Rooms D and E can each be combined to create Deluxe Suites. This is done by opening up the sliding door between the rooms. Sometimes, but very rarely, there is a problem with the sliding door and it just slides open by itself. Ray and I noticed that our sliding door had a lot of duct tape on it to keep it closed. The Car Attendant used a tool to try to tighten up the sliding door. When that didn't work very well, he used sealing tape to reinforce the duct tape that was already on the door. He wanted to make sure that the sliding door would not open up in the middle of the night.
Ray and I had Nate, our Car Attendant, make up our beds as we departed from San Jose. We both dozed off sometime after Oakland - Jack London Square. We were awake at the Oakland Station stop as we remember them turning off the power on the train so that they could remove the Scottish Thistle private car from the end of the train. Neither of us remember much beyond that, but we were running just 43 minutes behind schedule as we departed from Oakland at 10:30 P.M. That would not be enough to make us late out of Sacramento since there is a lot of slack built into the schedule between Oakland and Sacramento.
April 16, 2003, Wednesday
We got up around 7:00 A.M. and had a Continental Breakfast in the Pacific Parlour Car: cereal, juice and coffee. A full breakfast menu is featured in the Dining Car, which is free to Sleeping Car passengers, but neither Ray nor I like a heavy breakfast. The train arrived into Klamath Falls just 5 minutes behind its scheduled departure time of 8:25 A.M. We took a few photos around the station and jotted down the car numbers. Then we headed north down Spring Street on our way to our hotel.
As we took a left onto Main Street, we noticed the Klamath County Museum at the corner of Spring and Main Streets. That museum would certainly deserve further investigation by us after we checked into the hotel.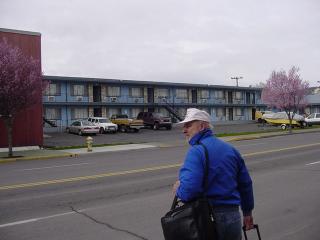 Our reservations were at the Maverick Motel at 1220 Main Street, Klamath Falls, OR 97601, 541-882-6688. This hotel is only about a 2000 foot walk (less than one half mile) from the Amtrak Station. It was a pretty easy walk in the fresh clear morning air, even though it was a bit cold out. The hotel featured a room with two queen beds for about $45. The Maverick Motel is not a luxury hotel, but it is a very clean and friendly place to stay. Not only was the room a pretty good size, but it also had a microwave oven, small refrigerator, and a small table with two comfortable chairs. Maybe most important, it had a desk with a phone and nearby electric outlet. This phone was in addition to the phone on the night table. That made it very easy to set up my computer and dial-up to the internet. Curiously, the one thing the room was missing was a clock radio. There isn't even an alarm clock in the room, but they did offer to provide a wake-up call or to loan us an alarm clock at the main office when we checked in. The best feature of this hotel is that it is certainly convenient to both the Amtrak Station and downtown Klamath Falls. There are over 20 restaurants within walking distance of the hotel and there is local transit service nearby.
Both SBC Global and Earthlink have local dial-up numbers in Klamath Falls. After a bit of struggle, I was eventually able to get online. After catching up on some online work, Ray and I took a taxi over to the Mazatlan Grill Family Mexican Restaurant that features "Authentic Mexican Food." The atmosphere and the food were quite good. Unfortunately, this was not one of the 20 restaurants within walking distance of the hotel and cost us about $16 plus tip for round trip taxi fare.
On the way back, we had the taxi drop us off down the block at the Klamath County Museum. The museum features the history of the area, especially artifacts of the Native American population and battles that took place during the early settlement of the area by the pioneers. There were also a lot of World War II artifacts as well as information about local veterans.
As we were walking back to the hotel from the museum, we saw a custom T-Shirt shop, Trekker Designs, Inc. (www.TrekkerDesigns.com). Since we are currently in the process of seeking bids to obtain more TrainWeb T-Shirts, we decided to stop in and get a quote. Russ Wood was the person behind the counter that gave us a quote. It turns out that Russ often visits the Fullerton RAILcams and is a big train fan! He gave us some hints of great places in the area to take photographs or rail activity and equipment. He is heavily involved with "Train Mountain" (See: www.TrainMountain.org). Russ invited us to contact him the next time we plan to be in this area and he'd close up early to show us "Train Mountain" and some interesting railroad spots. We thanked Russ for the invitation and told him that we would be sure to do that next time we were up this way!
After stopping by a Safeway supermarket a couple of blocks down the street, we headed back to the hotel to catch up on some more online work.
At dinner time, we called Antonio's Cucina Italiana, "Tony's Italian Kitchen", and ordered a couple of small pizzas to be delivered (Phone Number 541-850-4500). They deliver every day between 5pm and 9pm with no minimum order. The restaurant itself is just a couple of blocks from the hotel and also serves pastas and Italian specialties. We decided to order in rather than go to the restaurant so that more work could get done (and we were in the middle of watching a movie on TV at the same time!). The pizzas arrived in less than 30 minutes by a very friendly delivery person and were still too hot for me to eat!
At 9:00 P.M., I did my last check on the status of our train. The Amtrak status web page showed that our train was running 28 minutes late out of Chemult, Oregon, but was still expected to arrive on-time into Klamath Falls at 9:50 P.M. Since Amtrak and the Union Pacific would only consider sending the southbound Amtrak Coast Starlight over the detour if the train departed Klamath Falls at least five hours late, this train was definitely not going to take the detour. Thus went our last chance to travel over the detour on this trip!
Ray and I packed up, checked out of the hotel, and started on our walk for the train station. It only took us about 15 minutes to walk to the train station. The air was cool, but fresh and comfortable. When we got to the station, we stayed outside in the cooler air.
At one point, I went inside the station to see if they had any schedules or other useful information. The station agent at Klamath Falls seems to always keep his station well stocked with local and national timetables, Alaska Airline Mileage Claim Forms, and other literature that is sometimes hard to find at other stations. When I approached the counter to see what literature was available, the station agent asked me if I was booked on the train. When I answered affirmatively, he asked to see tickets and identification for both Ray and I. He checked something in his computer, but he did not take any part of our tickets. A few minutes later, the Conductor did come through the station to each person waiting and did take the tickets and issue seat checks.
The southbound Amtrak Coast Starlight arrived into the station around 10:05 P.M., about 15 minutes behind schedule. When we boarded the train, our Sleeping Car Attendant told us that the beds were already set up for us in our room. That was good, as we were ready to hit the sack!
I read for a while in bed, but then noticed about 11:15 PM that the train had stopped. My GPS showed that we were just 33 miles south of Klamath Falls. Ray had already fallen asleep. After a few minutes, the power went out on the train. At that point I decided it would be a good idea to get my railroad radio scanner out to find out what was going on. There was a problem with the lead locomotive. They tried to power it down and up several times and could not get it working. There was some talk about it being a computer problem.
There were two Genesis locomotives on this train. The lead one is used to pull the train and the second one is used to provide the electricity on the train that is used for everything including lighting, cooking and refrigeration in the galley, air conditioning and heating throughout the train, power to operate the retention toilets, the electric sliding doors between cars, and anything else on the train that needs electric power. Each time they shut down the engines, most of the electrically powered items on the train stop working. The lighting goes out, air conditioning and heating stop working, toilets stop flushing, and food can not be cooked in the galley. There are a few systems that are powered by backup batteries. These include low level emergency lighting and the ability for the electrically operated sliding doors between cars to still work.
Normally the two locomotives on the Amtrak Coast Starlight both face the same direction, forward. When one engine fails, they can usually use the other engine to both pull the train and provide electricity. There will be less power for getting the train up to speed, but it can be done in emergency situations. However, the Conductor or Engineer was discussing with the Dispatcher that this could not be done on this train since the Genesis locomotives had been configured back to back instead of both facing forward. So, several more attempts were made to get the faulty locomotive working.
I couldn't make out every detail of the conversation over the radio, but it did seem at one point a suggestion was made to have the train brought back to Klamath Falls. That would be the only chance that we would have of still traveling over the detour as I think we were already past the point where the normal Coast Starlight route split from the detour route.
April 17, 2003, Thursday
Eventually, after many failed attempts to get things working, the Union Pacific loaned a freight engine to pull our train. This Union Pacific freight engine would end up pulling us all the way to Los Angeles. However, it took until 2 A.M. before we were moving again. That delay put us about 3 and one half hours behind schedule. A short while later, we had to wait another 45 minutes for three northbound Union Pacific freight trains to pass us. The dispatcher was trying to get as many trains through as possible before the work crews closed the track for an 8 hour work period. That was the work area that Ray and I were hoping that we would be detoured around over the Feather River. But, the dispatcher managed to get us all through before closing the track for the day.
Because of the delay, we were able to experience some of the beautiful scenery that the southbound Amtrak Coast Starlight normally only goes through in the middle of the night in darkness. Using my GPS to find out when we were about to go by a lake or river, I was able to get my camera ready to take photos before we arrived at each scenic spot.
In Sacramento, Ray and I walked up to the front of the train and took a few photos of the Union Pacific locomotive pulling this train as well as a number of photos of the trains at the platforms. I also took down all the numbers of the cars in the consist. When we got down to the tail end of the train, we ran into one of the members of WashARP who hosts their website at TrainWeb.org (See: www.trainweb.org/washarp/). He was also riding this train south.
By the time we departed from Sacramento at 11:13 A.M., we were running almost five hours late. We departed from Oakland, California, 5 hours and 25 minutes late. That would probably have gotten our train onto the detour if the train was running that late before it got to Klammath Falls, Oregon. So, by the time we get to Los Angeles, we'll get to experience all the inconvenience of the delay and none of the benefits! Don't get me wrong. I like getting a chance to view the scenery of the mountains of northern California during daylight where the Coast Starlight normally travels in the darkness of night. The only part that I really don't like is having to be bussed from Los Angeles to Fullerton. It often takes almost an hour to transfer the passengers from the train to the bus and then another 30 minutes for the bus to travel to Fullerton.
At breakfast, we met someone that was traveling for the first time by Amtrak. They were traveling in Coach Class and were very happy with their experience. They expected to take many trips in the future by Amtrak. Ray and I explained to them all about what they get when traveling in the Sleeping Cars. We then took him back to the Sleeping Cars and gave them a personal tour of the Pacific Parlour Car, including the downstairs theater, and gave them a complete tour of the Sleeping Car, including both Deluxe and Standard accommodations. He assured us that he will be traveling again on Amtrak as a Sleeping Car passenger in the future!
During this trip, many people saw the TrainWeb.com logo on our hats or shirts and asked us about TrainWeb. We were more than happy to tell them about TrainWeb and give them one of our cards so they could learn more about TrainWeb.com when they got home.
Heading down the corridor to return some newspapers to the Pacific Parlour Car, I ran into Chris Bundy who was traveling in the same Sleeping Car as Ray and I. He caught my attention because he was carrying a Sony Mavica digital camera similar to the ones we have been using at TrainWeb for years. Not too many people use those cameras since they tend to be a bit large in order to accommodate the computer diskettes they use instead of memory sticks or chips. For our purposes, they have worked our real well. Chris and I had exchanged some e-mail about his trip on the Amtrak Coast Starlight about a week ago, but I guess I didn't realize that he would be on this train. Chris was on his way back from Seattle and also didn't get a chance to experience the detour north or south. Other than that, Chris seemed to be enjoying this trip as much as we were!
April 18, 2003, Friday
Due to further delays, we did not arrive into Los Angeles until after 2 A.M. By the time the Amtrak thruway bus departed Los Angeles, we didn't arrive into Fullerton until after 3 A.M. Ray drove me over to my car which was parked in a garage further from the station. We drove off in opposite directions, but were probably both home around 4 A.M. Overall, the trip was worth taking. It was just too bad that our train ended up with more than a 5 hour delay after Klamath Falls instead of before Klamath Falls, which would have caused our train to head over the detour!
Click on the below links to view each set of Ray's photos:
Set #01 / Set #02 / Set #03 / Set #05 / Set #06
Click on the below links to view each set of Steve's photos:
Set #07 / Set #08 / Set #09 / Set #10 / Set #11
Northbound Amtrak Coast Starlight (#14) Consist:

120 Genesis Locomotive
113 Genesis Locomotive
1244 Baggage Car
39009 1410 Superliner 2 Transition Sleeper
32082 1432 Superliner 2 Sleeping Car (IN)
32110 1431 Superliner 2 Sleeping Car (TN)
32117 1430 Superliner 2 Sleeping Car (WI)
39973 .... Pacific Parlour Car
38058 .... Dining Car
33037 .... Superliner Sightseer Lounge/Cafe Car
34111 1411 Superliner 1 Coach Car
34504 1412 Superliner 2 Coach Car
34134 1413 Superliner 2 Coach Car
34016 1414 Superliner 1 Coach Car
34065 1415 Superliner 1 Coach Car
Scottish Thistle Private Railcar (LAX-OKJ)
Southbound Amtrak Coast Starlight (#11) Consist:

4363 Union Pacific Freight Locomotive (Added 33 miles south of Klamath Falls, Oregon)
114 Genesis Locomotive
112 Genesis Locomotive (Reverse Facing)
1237 Baggage Car
39041 1110 Superliner 2 Transition Sleeper
32097 1132 Superliner 2 Sleeping Car (NH)
32091 1131 Superliner 2 Sleeping Car (MN)
32111 1130 Superliner 2 Sleeping Car (TX)
39974 .... Pacific Parlour Car
38068 .... Dining Car
33027 .... Superliner Sightseer Lounge/Cafe Car
34098 1111 Superliner 1 Coach Car
34515 1112 Superliner 2 Coach Car
34102 1113 Superliner 2 Coach Car
31044 1114 Superliner 1 Coach Baggage Car
CLICK HERE
To Read More Rail Travelogues
And View More Photos Of Rail Travel!

Are you interested in rail travel along some or all of this journey yourself? There are very few travel agents that have the necessary knowledge and experience of rail travel to answer your questions and to book a journey that you will remember for a lifetime. TrainWeb has sought out those travel agencies and rail tourism companies that not only have the knowledge to book your travel, but have gained the required experience through extensive rail travel themselves! Click here or visit RAILagencies.com or RAILexcursions.com for a list of these rail travel providers!