Coast Starlight Rail Travelogue
Between Southern California
and Seattle, Washington
By Steve Grande Of TrainWeb.com


I decided to tag along with Ray Burns as far as Seattle as he headed off on his 7-week rail journey across Canada and to the remote northern VIA Rail station of Churchill on the Hudson Bay. Click here if you would like to read Ray's travelogue and see those photos now.
Most of the cost of Ray's journey would be covered by VIA Rail, but we had to cover the cost of getting to Canada. We've done assignments for Amtrak before where Amtrak covered most expenses, but this was not one of those trips. I had already obtained the tickets to get Ray from Fullerton, California, up to Vancouver, British Columbia, Canada and back. It was close to a last minute decision on my part to travel with Ray as far as Seattle and then return. From past experience, I've found that the best way to do that was just to purchase a Coach ticket and then board the train with the person that already has reserved a room in the Sleeping Car. So, I purchased a Coach ticket from Fullerton up to Seattle and then reserved a Standard (Economy) Room for my return trip from Seattle.
Fortunately, I had a $400 Amtrak credit which was able to cover all but $37 of my fare for this trip, including my room in the Sleeping Car for the return segment! I got the $400 credit from Amtrak without even asking for it on my return trip from the Amtrak Historical Society Conference last year. Ray and I were supposed to take the Amtrak Capitol Limited from Washington,D.C. to Chicago,IL and then the Amtrak Southwest Chief from Chicago,IL to Fullerton,CA. But, there was a freight train derailment between Washington,DC and Chicago,IL and Amtrak was not able to operate the Capitol Limited that day. Instead, Amtrak arranged flights and buses for everyone that was supposed to be on that train, or gave refunds to those that did not want to take a plane or a bus. Amtrak paid for our flight from Washington,DC to Chicago, paid for our dinner that night, paid for a hotel, paid for breakfast and lunch the next day, AND sent us a $400 credit! We were still able to board the Southwest Chief connecting train and take it from Chicago to Fullerton as scheduled. So, I used that $400 credit and $37 out of pocket to cover the cost of my round-trip to Seattle.
This worked out well for Ray and I also. We have opposite preferences in rail travel. Ray prefers to travel with someone and I prefer to travel alone. Thus, Ray got a traveling companion as far as Seattle and I got to take a rail journey alone from Seattle back to Fullerton. Ray appreciated that I was along for this segment as he will be traveling alone for quite a few days until he gets to Ontario and joins up with his brother for most of the rest of the journey. I don't mind traveling with Ray, but I'm a loner by nature and treasure having a day here and there when I can get away from everyone.
Another problem is that I find it extremely difficult to write a travelogue unless I am totally alone. Having long periods of nothing to do but watch the scenery out the window seems to have a motivating effect on me to write down my thoughts and experiences. When someone is traveling with me, I tend to converse instead of thinking and writing. If you look over my rail mileage page, you may be surprised to find how many long distance rail trips that I have taken for which no travelogue is listed in my page of rail travelogues. I used to list my rail travels on my rail travelogue page even when I didn't write a travelogue. But, after I got a pile of e-mail from people asking me what happened to my travelogue, I just stopped listing those trips for which I did not write a travelogue. Thus, if I want to end up writing anything at all from my trip, I know I have to travel alone. The perfect example of this is that you will find little information on this page about my trip up to Seattle. All the writing was done while I was alone in Seattle and alone on the Coast Starlight heading south.
Ray is a "people" person and likes to take photographs of the staff and other passengers on the train. I'm not a "people" person at all and tend to confine my photographs to the scenery along the route, photographs of the accommodations, photographs of the train itself and of other equipment. Thus, when I travel alone, you will find very few photographs of people attached to my travelogues. Ray, on the other hand, takes a lot of photographs of people! That means, along with others, photographs of me get posted to the web when Ray and I travel together. Unfortunately, most of these are candid and he catches me when I least expect it!
Since you will never find a photograph of me when I travel alone, I've decided to post all the photographs that Ray took of me on our northbound trip on the Amtrak Coast Starlight. If you have been a regular TrainWeb visitor since 1996, then you have never seen so many photographs of me in one place and probably never will again!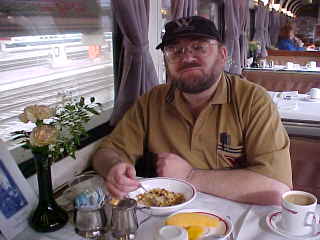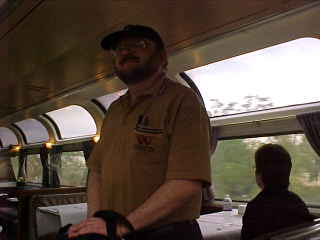 Left: Obviously I am not quite awake yet as I appear to be having some breakfast in the Pacific Parlour Car with my eyes closed! Right: Still in the Pacific Parlour Car, I've gotten out of my seat, but I'm not sure if I've woken up and opened by eyes yet. I guess you could say that I've taken this train enough times to know it in my sleep!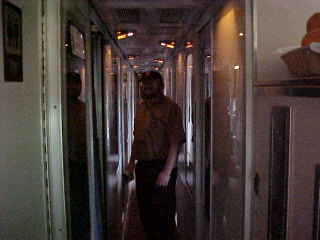 Every time I turn around, Ray seems to be there with the camera!
Left: Stairwell in the Sleeping Car. Right: Hallway in the Sleeping Car.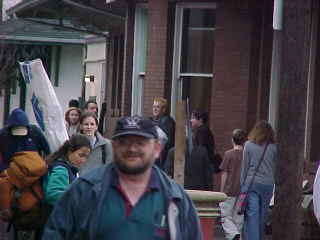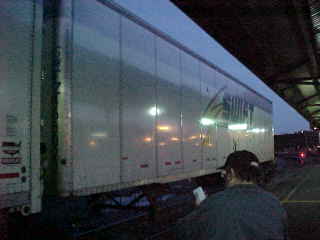 Left: Outside an Amtrak Station. Right: I'm getting numbers off the cars for Ray's travelogue for you railfans that like to keep track of car numbers.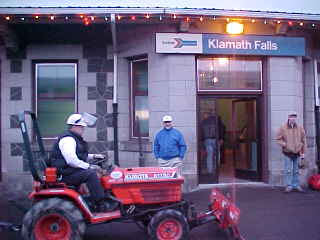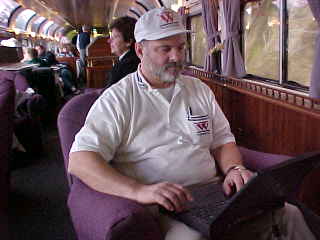 Then I realized that I better get some photos of Ray or
he won't have any photos of himself in his own travelogue!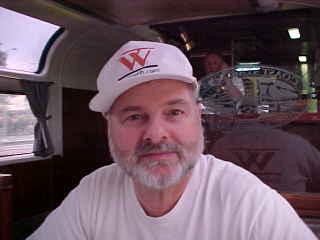 Well, at least Ray appears to be awake.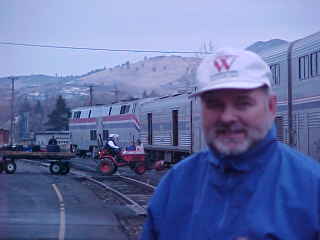 Here is Ray freezing outside at Klamath Falls. It really wasn't all that cold. I don't know how he is going to survive when he gets to Churchill and the frozen north!
I'm traveling from Seattle back to Fullerton all by myself, so that is probably all that your going to see of me, Ray, or anyone else for the rest of my travelogue. I'm sure you will see lots more people in the rest of Ray's travelogue to Churchill and back.
I helped Ray get his luggage from the Seattle Amtrak Station to the connecting bus for Vancouver, British Columbia, Canada. The bus is a guaranteed connection, so it doesn't matter how late the Coast Starlight arrives into Seattle. We arrived only about 40 minutes late, which is not unusual. The bus itself was a Trailways Bus, and I believe Trailways was taken over by Greyhound some time ago. I think this is an Amtrak Bus route and they are subcontracting to Greyhound/Trailways, with everyone on the bus traveling with Amtrak Connecting Bus tickets. Nobody on the bus has booked through Greyhound/Trailways.
The bus was parked right outside the station. The bus waits until all the baggage has been removed from the Coast Starlight and all passengers have had a chance to move their claimed baggage to the bus. It is possible to take an Amtrak train from Seattle to Vancouver, but to do that, you would have to spend a night in Seattle. The Amtrak Cascades Talgo train to Vancouver leaves at 7:45 A.M. each morning. On his way back, Ray will be spending a night in Vancouver and will get a chance to take the Amtrak Cascades Talgo train from Vancouver to Seattle. Both Ray and I have taken the train between Seattle and Vancouver multiple times before.
After wishing Ray a good journey and saying goodbye, I took a taxi from the station to the Pioneer Square Hotel. The Seattle Amtrak Station is close enough to the hotel that you can walk the distance, but having ruined a piece of rolling luggage by pulling it along public sidewalks on previous trips, I decided it would be easier on the luggage to take a taxi.
If the taxi driver takes the shortest distance from the station to the hotel, the fare should be about $3. Both coming and going the taxi drivers on this trip appeared to take the shortest route possible. That resulted in a fare to the hotel of $3.40 and a return fare of $2.80. I think the difference mostly had to do with not being able to take the very shortest route on the way to the hotel due to one-way steets. Both coming from the train station and two days later returning to the train station, I gave each of the taxi drivers $6 and let them keep the change. I tend to give a $3 tip on really short taxi rides. I know that taxi drivers hate it when they go out on a call, or have to wait for their turn in a really long line of taxis, just to end up with a passenger that is only going a few blocks.
The next morning, I actually went for a walk from the hotel back to the train station. I wanted to see just how hard it would be to walk. It didn't take me too long and I enjoyed the scenery along the way. I was able to take a few photos of the Amtrak King Street Station from different distances as I approached the station. You can see those photos in one of the photo sets below. However, I was glad that I took a taxi when I had my luggage. I would not want to have taken the same walk while pulling my luggage along. Also, I tend to avoid walking down dark, deserted streets in the middle of the night.
I stayed in the Pioneer Square Hotel, which is where I almost always stay when I am in Seattle. You can see my notebook computer set up on the desk in the photo on the above right which is where I am sitting right now as I type this travelogue!
Above is the view that I have out the window while I'm sitting at the above desk. Left: A small part of the Seattle skyline. Right: A small part of Pioneer Square.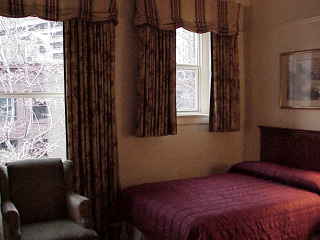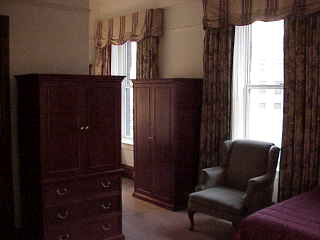 The above photographs give a good idea of what my hotel room looks like.
The Pioneer Square Hotel is one of the oldest hotels in Seattle, but has all of the amenities that you would expect of a high-quality hotel. It has been tastefully decorated to reflect the original time period of the hotel as you can tell from these photographs. Though the room looks turn of the century, the facilities are modern and the phone even features voice mail and a dataport (which I'm using right now to be on the internet!). I think the reason that I like this hotel so much is because it matches the atmosphere of Pioneer Square, which in my mind, represents the best that Seattle has to offer. But then, I tend to be a bit of a history buff and enjoy locations that retain a flavor of that history.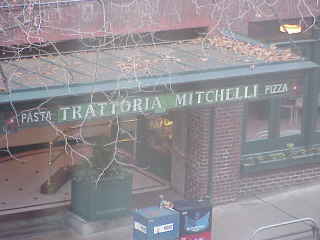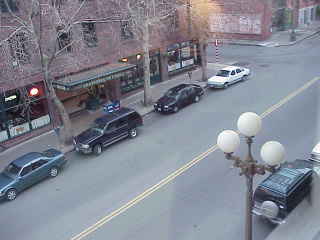 Above are two additional photos taken from the window of my hotel room.
Click here for all of the photos taken from my hotel room. Keep in mind that I did not have to step out of my room to take any of these photos. They were all taken while standing in my room. If you decide to stay at the Pioneer Square Hotel sometime, be sure to ask for a city view room. They usually charge extra for these rooms, but I think it is well worth the extra expense! Some of the rooms even have an outdoor balcony.
In the morning, the Pioneer Square Hotel has a continental breakfast available from about 7 AM to 10 AM. As you can see from the above photos, this Continental Breakfast is more than just a pastry and a cup of coffee that is featured at many motels! They have bagels, cereal, and toast as well as a selection of pastries. They also feature 3 different flavors of Gourmet Coffee as well as both fresh orange and apple juice.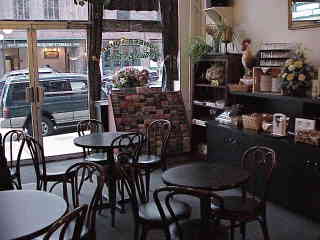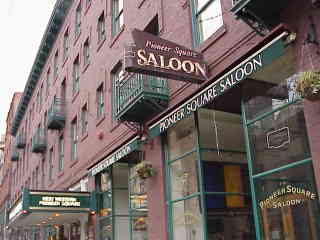 Left: The seating area for the Pioneer Square Hotel Continental Breakfast. Right: The Pioneer Square Saloon downstairs next to the hotel.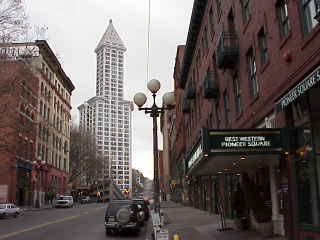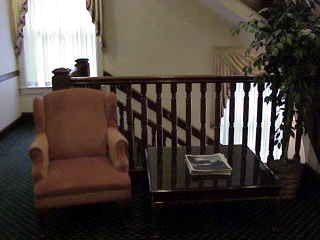 Left: Front of the Pioneer Square Hotel. Notice the Balconies. Right: Hotel Stairway. There is also an elevator.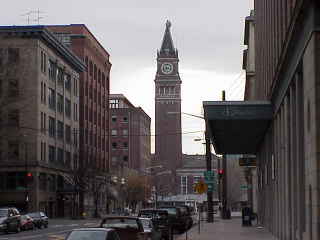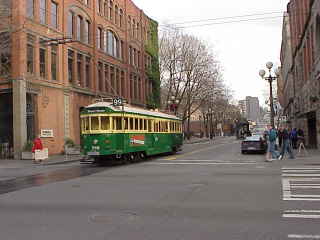 Left: Amtrak King Street Station. Right: Waterfront Trolly. You can catch it just a block or two from the hotel.
Click here to go to www.PioneerSquare.com for more information about Pioneer Square and the Pioneer Square Hotel. There was quite a bit of information about the history of the Pioneer Square Hotel in the quick guide to services provided by the hotel in each room which I did not find posted to their website. For your benefit, I have taken the liberty to post that information to TrainWeb. Click here to read about the history of Pioneer Square and the hotel.
Monday, January 8, 2001, 10:15 AM Pacific Time
I have the CD-ROM Digital versions of all the Thomas Guide Maps where I visit often. I've been able to follow much of our journey south out of Seattle using the "Puget Sound Metro 2001" Edition. I just click south from one map to the next and can use street names, golf courses, rivers, road crossings, towns and other major landmarks to confirm the position of our train. Of course, the next step would be to purchase a GPS receiver. The Thomas Guide does allow input from a GPS receiver. The maps on my screen are identical to the maps that you see in the printed Thomas Guide Map books. The page numbers and grid letters and numbers correspond exactly to the book. Their are many advantages to the computer version. One is that I can just type in an address and the software will take me right to the page and mark the location. Another big advantage is that I can scroll in any direction on the map without going over the edge of a page! One of the most useful features while traveling on a train is that I can tell when a bridge, lake or other possible scenic view will be coming up! That gives me time to get my camera ready before we get there.
Monday, January 8, 2001, 10:51 AM Pacific Time
We just departed the Amtrak Tacoma, Washington station. Looking at the map, it is interesting how we approach the station from the east and then head north after leaving the station. We took a sharp turn and I was able to see that we have what looks like a complete set of Amtrak Horizon passenger cars deadheading at the end of this train.
Monday, January 8, 2001, 12:54 PM Pacific Time
Just got back from lunch. I had the Vegetarian Buritto. A couple that I sat with each had the Salmon Sandwich. Both selections were excellent! I am definitely going to chance the Portobello Steak for dinner. When a Portobello Steak is made by a chef that knows what he is doing, it tastes great. I've had this selection many times on the Amtrak Coast Starlight and it has been great every time, except once. That one time the chef did not know how to properly prepare this dish and it just tasted like a big mushroom (which is what it is!).
Monday, January 8, 2001, 1:53 PM Pacific Time
The Conductor has just asked if there is a Doctor or Nurse onboard and has asked them to please see the Car Attendant in the 1131 car. That is my car! It was soon announced that it was not an emergency. Eventually, an Emergency Medical Technician came forward when a doctor or nurse could not be found.
Monday, January 8, 2001, 4:41 PM Pacific Time
I just returned from the wine tasting. Two white wines and two red wines were served today. Often they only serve 3 different wines, but I always like it a little better when then serve four. On top of that, they then served everyone an extra glass of whichever of the 4 wines they liked best. They don't always do that at every wine tasting. Today is Nanette Williams' birthday. She is our Pacific Parlour Car Attendant. Everyone sang Happy Birthday to her at the end of the wine tasting. Nanette makes the best Bloody Marys that I have ever had on the Coast Starlight, so if you like Bloody Marys, be sure to order one from her if you have her as your Parlour Car Attendant!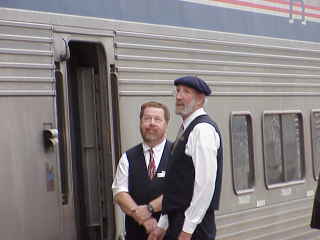 Gary Keller, Sleeping Car Attendant, is on the above right.
I noticed that Nanette Williams, the Pacific Parlour Car Attendant, and Gary Keller, my Sleeping Car Attendent, were featured as the "Amtrak Faces" of the month on page 11 of the January 2001 issue of "The Tourist". Photographs and a little biography were presented for each of them. Dave Fleming was also featured as the Chief of On-Board Services. There isn't a Chief of On-Board Services on this run. There may have been a little misunderstanding with the scheduling and a replacement wasn't found in time. Thus, no Chief of On-Board Services for this run. Fortunately, there haven't been any problems on this run and everything has gone smoothly so far. "The Tourist" is the official magazine of Amtrak's West Coast Passenger Lines. You can usually find it at every seat and the lounge cars of the Amtrak Cascades, Coast Starlight, Pacific Surfliner, Capitol Corridor, and San Joaquins. "The Tourist" has also recently been made the official onboard magazine of the Amtrak California Zephyr. It is possible for you to subscribe to this publication and have it mailed to your home. For more information, click here to go to their website.
Which side of the train has the better view? That is the age old question on the Amtrak Coast Starlight. If you spend most of your journey in the Pacific Parlour Car, it really won't matter. But, if you plan to spend most of your trip in your Sleeping Car Room, then it may matter to you. For myself, I've absolutely determined that one side of the train has a better view than the other. The jingle that I use to remember this is: Even Up, Odd Down. In other words, get an even numbered Standard Room (or a Deluxe Room) when heading North and get an odd numbered Standard Room when heading South. That will put you on the ocean side on the way up and the way down. I've heard some people argue that the other side is the better side when traveling through the mountains. That may be, but for the majority of the trip, you will get the best views on the West side of the car. You can always go to the Pacific Parlour Car or the Sightseer Lounge Car for those segments when the train is going through the mountains and the better view is on the East side of the train. If you try to book through Amtrak, they will usually tell you that the orientation of the Sleeping Car is a 50/50 proposition. Don't believe that! When traveling North on the Amtrak Coast Starlight, the even numbered rooms are almost always on the West side of the train and the odd numbered rooms are on the East side of the train. Heading South, it is the reverse, with the odd number rooms on the West side and the even numbered rooms on the East side. It is true, that once in a great while one of the sleeping cars will have an orientation that is the reverse of this, but that is rare. The orientation of the Sleeping Cars is so consistent that I have to assume that the orientation is a policy of Amtrak West and that they intentionally fix the mis-orientation of any Sleeping Cars at the first opportunity in either Los Angeles or Seattle. On the way up on this trip, one of the Sleeping Cars did have a backwards orientation, but I have found that to be fairly rare. When Amtrak tells you that they cannot assign you to a particular room, don't believe that either. Actually, your problem is that you should not be booking your travel directly with Amtrak but should instead be booking it through one of the rail travel agencies that is a TrainWeb Sponsor. They will have no problem getting you an even or odd numbered room as long as they are available. Click here for a list of links to those agencies.
Monday, January 8, 2001, 7:20 PM Pacific Time
I just heard "Mile Post 561.6 Defect Detected" and then a few seconds later "Mile Post 561.6 First Dragging Equipment Detected". After a brief discussion between our train and a freight train going the other way, it was concluded that it was the freight train that set of the Defect Detector. We did not stop for the detector and I don't think we even slowed down because of it.
We've been running 30 minutes behind schedule ever since Centralia, Washington. When we left Eugene, Oregon, at 5:45 PM, we were exactly 30 minutes behind schedule. I don't think we've lost or gained any time since then.
As I was heading downstairs to the restrooms, Gary, the Car Attendant, asked me if I was in the 1132 or the 1131 car. I told him that I was in 1131, this car. He seemed surprised, but I didn't blame him for not knowing I was in his car. Gary only saw me for a second as I boarded in Seattle and headed straight for Room 7. Since then, except for meals and the wine tasting, I had pretty much stayed in my room with the curtain closed. I had everything I needed in my room! My room, Odd Number 7, is on the coast side so I had a great view of the water most of the way from Seattle to Portland. Along with my computer and my scanner, there was little reason to leave my room!
A few minutes later, I pushed the "PUSH TO CALL" button. Gary responded very promptly and set up my bed for the night. I often do this for myself just for practice, but I wasn't looking forward to this task this time. I think I pulled a muscle in my left arm when I tried to open a window in the hotel in Seattle to let in some fresh air. The window was not hard to open, but something happened when I tried to open it and my left arm has not been able to lift much without pain since. I can tell that it is getting better and I am trying to keep it in use to avoid having it stiffen up. But, I don't want to put the strain on it that turning the chairs into a bed could do.
Tuesday, January 9, 2001, 9:08 AM Pacific Time
Our train is now sitting in the Oakland Yard. That deadheading set of Horizon Cars is being dropped off here for use on the Reno Fun Train. Someone had the switches all lined up for our train, but a Union Pacific train had gone ahead of us and the switches became realigned for that train. The Amtrak people did not have the keys to some of those switches, so there was a bit of a delay while they waited for a flagman to help get the switches lined up again. It wasn't a very long delay. The Horizon Cars were dropped off and we were on our way!
I got a pretty good amount of sleep last night. Thinking that I might be able to wake up before Sacramento and wander around the station in the morning, I decided to get to bed early. I fell asleep around 9 P.M. I woke up a few times during the night. There was a full moon and it was really easy to see out the window at night with all the lights turned off in my room. I could see the trees and the snow on the hillsides. I could even see the outline of the mountains in the distance in the middle of the night! Sometime during the night, I saw a huge mountain covered with snow from top to bottom! Actually, it looked like a double mountain with the one on the left higher than the one on the right. In the dark, the white mountain looked like a ghost. At first, it was on my side of the train. As we continued south, the train turned more westerly and the mountain switched to the other side of the train. If I wanted to stay up all night, I think it would not have been very hard to enjoy the scenery all night long as we headed over the mountains of Oregon and Northern California. The full moon and the snow made it possible to easily see the night scenery.
I woke up at 6:15 A.M. when the train was already in Sacramento. Since the train was scheduled to depart at 6:30 A.M., I wouldn't have much time to walk around the station once I got dressed to go out. So, I decided to just stay in bed. I fell back to sleep and did not wake up until we were almost to Martinez. Knowing that we would be spending a little time in Emeryville unloading and loading passengers, I did get up and get dressed.
The train departed from Martinez at 7:55 A.M., running about 17 minutes late. Although a full breakfast was being served in the Dining Car, I just wanted something light to tie me over until lunch time. So, I went to the Pacific Parlour Car to see if they had some cereal. The Parlour Car was almost empty. There was one family sitting in the area of the large swivel seats, but there wasn't anyone else in there. Even the Pacific Parlour Car Attendant was on a break and nowhere to be seen. Along with all the danish, muffins and fruit set out, they also had 3 types of cereal and milk available. I poured myself a bowl of cereal. There were a number of glasses of various kinds of fruit juices on the bar and I took one of the glasses of orange juice. Since there wasn't anyone manning the bar at the moment, I went behind the bar and poured myself a cup of coffee from the carafe. Milk and sweetener were already on the table. The Dining Car was already full and they were calling names off the waiting list, but I was able to enjoy my Continental Breakfast without any wait! While having breakfast, I read the "San Francisco Chronicle" that had been slipped under the door to my room in the Sleeping Car during the night.
When the train arrived into Emeryville, I got off and headed to the rear of the train. I made it as far as the very last coach car, marked down the number of the one roadrailer truck that was behind that car, then headed forward to get the rest of the numbers of the cars. The Horizon Cars were still on the end of our train at that point, but I didn't dare walk any further down the platform. Most of the passengers from Emerville had already been boarded and I didn't want to be too far from an open door when the "All Aboard!" signal came. I was able to make it back to the first Sleeping Car past the Pacific Parlour Car when the call came and I boarded through that door. At the Amtrak Oakland / Jack London Square Station I was able to walk to the head of the train and get the rest of the numbers from that end. However, I never did get the numbers of the Horizon Cars since those were taken off in the Oakland Yard.
Tuesday, January 9, 2001, 9:47 AM Pacific Time
I find it fascinating being able to follow the exact position of the train using the CD-ROM Digital version of the Thomas Guide on my computer. I can see where other tracks will be merging into ours or branching away from the main line. Before having this guide, I only had a general idea of the position of the train. Unlike many die-hard railfans, I was never sure of which track we were on if there were a number of tracks going through the same cities. Now, I can see exactly what track we are on and when we branch off onto another line.
Before lunch I ordered another Bloody Mary from Nanette Williams. I only regretted that I couldn't have more than one each day. With the wine tasting in each afternoon, I didn't want to overdo the alcohol. It will probably be a long time before I get Bloody Marys as good as the ones Nanette prepares! I gave her a $10 bill, wished her a "Happy Birthday" and told her to keep the change.
For lunch, I had the Vegetable Burrito again. I was going to have the Garden Burger, but the chef on this run did such a good job with the Vegetable Burrito and the Portobello Steak yesterday that I wanted to take advantage of his or her skills at cooking vegetable type dishes. The burrito was every bit as good as yesterday! The other passengers at my table also commented on the food, with one even mentioning that the Chicken Pot Pie was much better than that of Marie Callenders.
We spent a very long time in Salinas. The train had been running 30 minutes late. We might have made up a little time when we arrived into Salinas, but by the time we left at 12:46 P.M., we were running 40 minutes late! Gary stopped by my room as we were getting closer to Paso Robles to remind me of the wine tasting that would be held around 3:30 P.M.
Tuesday, January 9, 2001, 2:18 PM Pacific Time
We are now stopped right next to Route 101 across from Camp Roberts Military Reservation. There is a broken angle bar just ahead of us at Mile Post 201.5. There is a speed restriction down to 10 MPH, but our train does not have clearance to go into the next block yet. Thus, we are stuck here for a little while. But, it wasn't too long a while. We were back on the road again at 2:25 PM, though we were restricted to 10 MPH for a bit.
While we were heading down the mountain into San Luis Obispo, one of the members of the Amtrak crew announced over the P.A. system that several deer could be seen off to the left of the train. I tried to take a couple of photographs, but was not able to get a clear picture from our distance, even with the 14x zoon lens. I posted above what pictures I did take. By clicking on each of them, you can get a bit of a better view.
Tuesday, January 9, 2001, 4:30 PM Pacific Time
After the wine tasting, I stepped out to the platform in San Luis Obispo. I noticed quite a way back that we had two Caltrain Commuter cars on the end of our train in addition to an Amtrak Express (freight) Car. I walked back to the rear of the train and took photos of those Caltrain cars. I also took some photos of them before we arrived in San Luis Obispo while we were taking some sharp curves over the grade. I'm not sure where we picked up those cars. It may have been in San Jose. I did not see them on the end of the train when we were in Oakland. San Jose is really the only major station that the Amtrak Coast Starlight shares with the Caltrain service. They probably are to be repaired either in Los Angeles, or will be placed on the Amtrak Southwest Chief to be serviced back east.
Although we are still running about 40 minutes behind schedule, we will probably arrive into Los Angeles pretty close to the scheduled arrival time. There is a lot of padding built into the schedule, especially between Glendale and Los Angeles. There is only 6 miles between those two stations and they give the train 45 minutes to make those last 6 miles! Personally, I like arriving into Los Angeles about 30 minutes behind schedule. That way, I don't have to go into the station building and wait an hour for my connecting Amtrak Pacific Surfliner to Fullerton. When the train runs totally on schedule, it will arrive into Los Angeles about 8:50 PM, about 25 minutes ahead of schedule and an hour prior to the scheduled departure of the southbound Amtrak Pacific Surfliner. When the Coast Starlight runs more than 30 minues late, the southbound Pacific Surliner will be sitting across the platform. Passengers can then just get right off the Coast Starlight and board right onto the Pacific Surfliner. Otherwise, when the train is early, passengers have to go into the station and wait until the boarding call to go back out to the platform again.
Although there was still plenty of light when we got to the coast at around 5:15 PM, the sun had set and it was too dark to see much of anything by 5:30 PM. I know there must have been a lot of dissapointed travellers onboard as I heard much discussion about which side was the ocean view side of the train. Amtrak doesn't promote the beautiful ocean view, so I don't think this is covered by the Amtrak Service Guarantee! That is why I always tell people who only plan to travel one way on the Amtrak Coast Starlight to travel north to guarantee that they will get a view of the ocean. The train travels for about 40 minutes along the ocean before it gets to Santa Barbara and then travels right along the ocean for about another one hour and 10 minutes after it leaves Santa Barbara.
I'm going to close out this travelogue at this time. The train is now a bit south of Santa Barbara along the shore again. The light from the computer is preventing my eyes from adjusting to see out the window in the darkness. I had the computer off for a short while and I was easily able to see from my room the waves coming into the beach. As soon as I turned my computer on, my eyes adjusted to the screen and I could no longer see outside the room very clearly. The name of the chef on this run was Greta. So, if you are ever on the Coast Starlight and have Greta for your chef, you know you are in for a cullinary treat!
I'm going to pack up everything now as there are only a couple of hours left to this rail journey. If anything happens further that is unusual, I will be sure to add it to this travelogue! If you have not started to read Ray Burns' travelogue of his trip by rail across Canada and then up to Hudson Bay, you should start reading it now! Click here to go to Ray's travelogue and photos.
Onboard Staff:

Sleeping Car Attendant: Gary Keller
Pacific Parlour Car Attendant: Nanette Williams
Dining Car Steward: Marty
Chef: Greta
Consist:

118.... Genesis Locomotive
117.... Genesis Locomotive
1257... Baggage Car
39025.. Superliner 2 Transition Sleeper
32085.. Superliner 2 Sleeping Car (1132 - Kentucky)
32098.. Superliner 2 Sleeping Car (1131 - New Jersey)
32095.. Superliner 2 Sleeping Car (1130 - Nebraska)
39972.. High-Level Pacific Parlour Car
38061.. Superliner Dining Car
33044.. Superliner Sightseer Lounge Car
34111.. Superliner 2 Coach Car (1111)
34504.. Superliner 2 Coach Car (1112)
34008.. Superliner 1 Coach Car (1113)
34103.. Superliner 1 Coach Car (1114)
34050.. Superliner 1 Coach Car (1115)
710012. AMTK Express (Freight) Car
Deadheading Horizon Cars for Amtrak Reno Fun Train
Click here for photos and travelogue
of the rail journey of Ray Burns to Churchill, Canada on VIA Rail!
Visit our Rail Magazine promotion trading partners:
Click here to add your print rail magazine.