Amtrak Coast Starlight Travel
Jack London Square Final Photos
November 10 through 12, 2000
(http://www.trainweb.com/travel/stevelog/2000k10e.html)
When we took these photos, only 2 shops were still in operation in Jack London Village. The rest of the shops were abandoned and the village is scheduled for demolition. As you can see from some of the photos below, Jack London Village is directly across from the Amtrak Oakland / Jack London Square and across a large parking lot from Jack London Square itself.
Jack London Village was one of the favorite parts of this area for both the TrainWeb staff and for my family. Although the modern steel and glass of Jack London Square is dramatic, I still prefer the rustic port village atmosphere that was recreated in the design of Jack London Village. Probably one thing that attracted me to this location rather than to the docks of San Francisco is the absense of crowds of tourists. But, this absence of tourists is probably lead to the failure of this shopping village.
Below are apartments or condominiums that are being built directly across from the Amtrak Oakland / Jack London Square Station right next to the prior location of Jack London Village. To see the plans of what is to replace Jack London Village and the parking lots to the west of Jack London Square, click here.
Heinolds' First And Last Chance Saloon and Jack London's Log Cabin will remain in Jack London Square.
3D Paintings on the wall outside the restaurant of the Waterfront Hotel in Jack London Square!
Oakland Tribune and El Torito Grill in Jack London Square.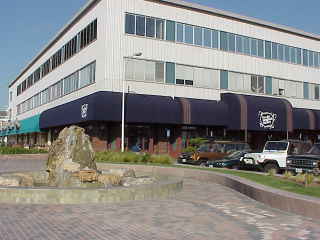 Visit our Rail Magazine promotion trading partners:
Click here to add your print rail magazine.