Amtrak Coast Starlight Travel
November 10 through 12, 2000
(http://www.trainweb.com/travel/stevelog/2000k10b.html)
Left: Bill Hattrick out by his private car, "The Overland Trail", in the "garden" at LAUPT. Right: Photo of the large fig tree in Santa Barbara.
Ray Burns, Shivam Surve, Ray and Shivam, and an unflattering close-up of yours truly, Steve Grande!
Left: The wrought iron fence that protects the Amtrak Central Coast Pacific Surfliner that spends the night at the Amtrak San Luis Obispo Station. Right: Ray relaxing and reading a newspaper in one of the big comfortable swivel chairs in the Pacific Parlour Car.
Amtrak Coast Starlight heading up the climb around horseshoecurve just north of San Luis Obispo. Notice that the lead locomotive is one from the Amtrak California Car trainsets.
Left: Amtrak Coast Starlight Pacific Parlour Car inside a tunnel! Right: Twins on the train!
The ghost town of Drawbridge by the San Francisco Bay just north of San Jose.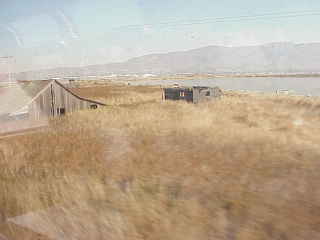 An unusual single level Caltrain trainset sitting in the San Jose Station.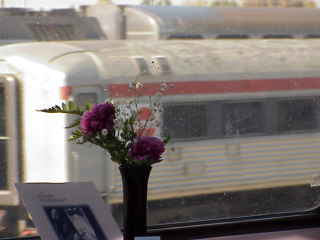 Visit our Rail Magazine promotion trading partners:
Click here to add your print rail magazine.