Amtrak Coast Starlight Travel
November 10 through 12, 2000
(http://www.trainweb.com/travel/stevelog/2000k10a.html)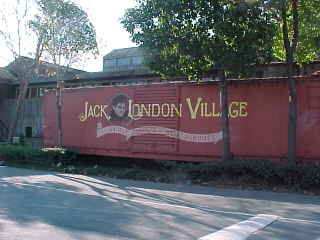 I didn't post a travelogue for this journey but there are a number of photos available at the links below. Ray Burns, Shivam Surve and I, Steve Grande, traveled round trip to Jack London Square in Oakland, California on the Amtrak Coast Starlight on Friday, November 10, 2000 and returned on Sunday, November 12, 2000.
Select each segment of this travel from the links below:

The purpose of our trip was to attend the TRAC meeting on Saturday, November 11, 2000 held at 11:30 A.M. at the Spaghetti Factory in Jack London Square. TRAC is the "Train Riders Association of California" which publishes the "California Rail News" (see: www.CalRailNews.com). We attend these meetings for our own education and to keep up on possible future directions of rail expansion in California. I would post further information about the meeting if there were extraordinary new developments. But otherwise, you can check future issues of "California Rail News" (see: www.CalRailNews.com) and RailPAC's "Western Passenger Review" for more details. There was an announcement at the meeting that ridership and revenues are far higher this year on the Amtrak Capitols Corridor over last year. Ridership is now rivaling that of the Pacific Surfliner Route and an additional trip will be added to the route in May 2001.
There are a few photos taken onboard the Amtrak Coast Starlight, especially photos of the impressive layout of information and refreshments provided to Sleeping Car passengers by Car Attendant Roger Keilbach! Another section above shows a number of photos of Jack London Village. Jack London Village was directly across from the Amtrak Oakland / Jack London Square Station and across a large parking lot from Jack London Square. Except for two small shops, the entire Jack London Village was deserted and is scheduled for demolition. These are probably the last photos that TrainWeb will ever take of Jack London Village. Another set of photos above includes photos taken from the Jack London Inn. There are a number of great places for railfans inside that hotel! You can see trains going by right outside your window while eating at the Jack London Inn Coffee Shop, while working out in the Exercise Room, or while relaxing poolside! There is even a view from the tracks from many of the rooms on the second and third floor of the trackside of the hotel.
As a Viet Nam Veteran, Ray Burns was able to go on an excursion on the U.S.S. Potomac, Presidential Yacht of President Roosevelt, which was offered at a special price to veterans on Veteran's Day while we were in Jack London Square on Saturday, November 11, 2000. The following are photos from that excursion: Set 1 / Set 2 / Set 3 / Set 4.
Visit our Rail Magazine promotion trading partners:
Click here to add your print rail magazine.