Amtrak Sunset Limited
Saturday, Dec 25, 1999 to Tuesday, Dec 28, 1999
www.trainweb.com/travel/stevelog/1999l25a.html

Amtrak Silver Star - Train #91 - Orlando to Winter Haven, Florida
1999 DEC 25 SAT 12:27 (12:27 PM ET) ORLANDO FL DEPARTURE
Check out time at the hotel was 11 AM. My train, the eastbound Amtrak Sunset Limited Train #1, would not be departing from Orlando until 6:50 PM. That is quite a stretch to spend in the Orlando Amtrak Station! The rest of my party would be boarding southbound train #91, the Amtrak Silver Star, for Delray Beach, Florida. Since I had so much time on my hands, I decided to kill a bit of time by riding with them on the train as far as I could go and still get back to Orlando in time for the departure of my train.
Examining the schedules, I saw that I could ride about 2 hours south to Sebring, a distance of 102 miles. Thus, I purchased a round trip ticket from Orlando to Sebring. That would leave me with a 45 minute wait in Sebring and just a 2 hour and 20 minute wait in Orlando instead of a 7 hour and 20 minute wait in the Orlando station!
The van shuttle service from Disney World to the train station told us it was about an hour ride. That seemed about right from how long it took us to get from the station to the hotel when we arrived. Thus, we scheduled the van to pick us up at 9:30 AM so that we could be to the train station by 10:30 AM, almost an hour prior to the departure of our train. I called 800-USA-RAIL and found that the train was running on time.
After we boarded the van, the driver told us that it normally only takes 15 to 20 minutes to get from Disney World to the Amtrak Station. Thus, we arrived at the station before 10 AM instead of 10:30 AM and would have 90 minutes to wait for our train! However, sometime from when I called and the arrival time of our train, something delayed the train. They moved up the expected arrival time to 12 Noon. The train actually arrived at least 20 minutes after the projected late arrival time and we did not actually depart south out of Orlando until 12:27 PM, an hour after the scheduled departure time!
The delay reduced my projected layover time in Sebring from 45 minutes to just 15 minutes. That was too tight for me! I'd hate to see the northbound train #92 go by our train if we were delayed and still on our way to Sebring! I'd then have to take a taxi over 100 miles from Sebring to Orlando to make sure I got there in time for the Sunset Limited! Instead, I decided to only join my family as far as Winter Haven and turn back at that point.
There were a total of 7 people in our party: my wife and 2 children, a friend of the family and her 2 children, plus me! Having packed enough for a week at Disney World, we were boarding the train with a lot of luggage. Since we were only traveling in coach and I knew that many of these suitcases would not fit in the overhead racks, we attempted to check our bags. Unfortunately, the Delray Beach Amtrak Station does not have checked baggage capability. The destination station for everyone else but me in my party is the ONLY Amtrak station south of Orlando that does not handle checked baggage!
We were forced to carry everything onto the train. This was not a good situation with so many large heavy bags and no red cap service at the Amtrak Orlando Station. The Conductor helped quite a bit but scolded that we should have checked our bags. We had little choice but to remind the Conductor that Delray Beach does not offer checked baggage or we would have done so.
My daughter, Jodina, who had traveled east with me on the Amtrak Sunset Limited, would be going on with the rest of the family to visit relatives in Delray Beach. Thus, I would be traveling home alone on the Amtrak Sunset Limited. (Later my wife had a bit of a problem at the airport with Jodina's round-trip ticket. Since Jodina came with me by train and did not use her airline ticket from Los Angeles to Orlando, the airline automatically cancelled out her return reservation! My wife, with a bit of trouble, was able to resolve the situation and reinstate Jodina's return reservation.)
1999 DEC 25 SAT 12:47 (12:47 PM ET) KISSIMMEE FL
Since we would have 90 minutes before getting to my stop and it was lunch time, we all went to the dining car for lunch. I noticed that the Cafe Car just before the Dining Car was one of the recently refurbished Amfleet Cafe Cars. The single-level Dining Cars seem a bit tight. The Dining Car Attendant held us at the entrance to the dining room while they prepared the last two remaining tables which were at the end of the room. Our party of 7 caused a real traffic jam at the entrance. Some of us would have to move to let people by who wanted to get through to the next car. But, as soon as we would do that, we'd be blocking some waiter from getting in or out of the kitchen.
Fortunately, they did get us seated pretty fast. They had a number of selections on the menu on this Christmas Day including: meatloaf, pasta with tomato sauce and chicken, caesar salad with chicken, stir fry shrimp and vegetables, hamburger, plus a few other items. We ordered some white wine to complement our dinner. Service was fast and friendly. We ordered coffee for dessert and some of us split a piece of cheesecake.
I was starting to get concerned that we might be approaching Winter Haven. I had my suitcase in one car and my backpack in another. I might not be able to gather up everything and get off the train in time if I was still sitting in the Dining Car. Thus, I said good-bye to everyone and headed for my seat.
I stopped by a restroom on my way to my seat. I have to honestly say that the restroom was in pretty bad shape. The public toilets in the Sleeping Cars are usually impecable. Even the restrooms on the Amtrak San Diegans are usually kept pretty clean. In all fairness, this train was coming all the way from New York and the coaches were pretty full. It may be a bit more difficult for the staff to keep the restrooms clean with so many people over such a long distance.
When I sat at my coach seat, I noticed that there was an electric outlet next to my window seat! Since assigned seating was used in this train and I did not pick it out myself, I would normally consider it pretty lucky to be assigned a seat by the outlet so that I can use my notebook computer without worrying about running out of battery power. However, I was getting prepared to get off the train and the convenient electric outlet didn't do anything for me on this trip.
I noticed something that looked interesting for a photo. As I started to take a picture, the "Disk Full" error started to flash on my screen. No problem! I keep lots of spare disks with me. I reached down to my fanny pack and ... no fanny pack! I just remembered that I had hung it up on the back of the bathroom door at our hotel!
Fortunately, I did have spare blank disks in my backpack and loaded the camera up with one of those. Next, I made arrangements for the hotel to locate and hold my fanny pack for me. If the return train ran on time, I should have plenty of time to go back to the hotel to get it. All I had in the fanny pack were the batteries to both my camera and cell phone, but that actually added up to a few hundred dollars worth of batteries! Although I could survive with just one battery for my cell phone and one for my camera since I had the rechargers with me, it would be very inconvenient each time the battery ran out and I had to wait for it to recharge.
1999 DEC 25 SAT 13:43 (01:43 PM ET) WINTER HAVEN FL ARRIVAL
I took a number of photographs of the Winter Haven Station that you can see from the link below. It was quite cold and a little breezy today in Florida. Winter Haven wasn't much of a haven from winter today! All in all, though, I found the weather pleasant as long as I stayed in a spot where the station blocked the wind from hitting me. I could have gone into the warmth of the station, but I found it very pleasant to just sit out on the bench at trackside.
Amtrak Silver Star - Train #92 - Winter Haven to Orlando, Florida
1999 DEC 25 SAT 15:05 (03:05 PM ET) WINTER HAVEN FL DEPARTURE
The train arrived and departed about 10 minutes late. The Conductor had designated a specific car for everyone going to Orlando. I was assigned to seat number 11, a window seat. To my surprise, there was an electric outlet by my seat again! Amazed by this coincidence, I looked around the car to see if everyone had an electric outlet, but they did not. Thus, I was just assigned a lucky seat again! This time I took advantage of that fact by immediately plugging in my notebook computer so that I could use it and it could recharge.
1999 DEC 25 SAT 15:48 (03:48 PM ET) KISSIMMEE FL
1999 DEC 25 SAT 16:29 (04:29 PM ET) ORLANDO FL ARRIVAL
The train arrived into Orlando right about on schedule. I took a few pictures of my train and then went around the front of the station and grabbed the first taxi. I told him that I needed to go round trip to the Caribbean Beach Resort. He seemed very happy about that and the other cab drivers were making comments about my taxi driver's luck! It took about a half hour. I was able to go back to the hotel to retrieve the fanny pack and make it back to the station in plenty of time for my train.
The Amtrak Sunset Limited went through the Orlando station southbound at 5:05 PM. An Amtrak staff person on the platform I guess saw me fumbling with my camera and shouted over to me: "That is the Amtrak Sunset Limited. It will pass right through the station, but it will turn around and be right back." That would have made a good shot, too, but the disk was full. By the time I swapped to an empty disk, all I could shoot was the back of the train leaving the station.
Amtrak Sunset Limited - Train #1
Orlando, Florida to Los Angeles, California

1999 DEC 25 SAT 18:50 (06:50 PM ET) ORLANDO FL DEPARTURE
I recognized my Sleeping Car Attendant right away! Looking at the manifest, he said: "You must be Mr. Grande?" I answered affirmatively and quizzed: "You must be Mr. Ed!" This is the third time I've had Mr. Ed for my Car Attendant on this train. His real name is Ed Lemons. You can read more about "Mr. Ed" in two of my previous travelogues. Click these links to read those travelogues:
Ed said that my previous travelogue of my travel on the Amtrak Sunset Limited from Jacksonville to Los Angeles on October 5, 6 and 7, 1997 made him famous! A number of people have taken this trip on the Amtrak Sunset Limited and recognized Ed from the story.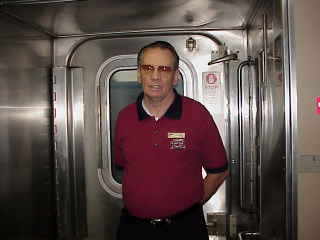 Just as you can always expect from Ed, the coffee was all brewed when I boarded the train. Plenty of cream and sugar was available. His room was also stocked with bottled water and beverages for his passengers. The Amtrak Sunset Limited departed right on time! So far, this has every sign of being an excellent rail trip!
1999 DEC 25 SAT 19:08 (07:08 PM ET) WINTER PARK FL
1999 DEC 25 SAT 19:33 (07:33 PM ET) SANFORD FL
MP 0776.1 CH 32 160.590
MP 0755.4 CH 32 160.590
1999 DEC 25 SAT 19:56 (07:56 PM ET) DELAND FL
MP 0737.7 CH 32 160.590
A regular menu was offered with a couple of substitutions. Instead of the Vegetable Lasagna they offered Penne Pasta. Instead of the Chicken Selection, they offered a traditional Christmas Turkey Dinner featuring sliced turkey, gravy, cranberry sauce, yams and pumpkin pie for dessert. Three of the people at my table went for the Turkey Dinner. I also had a glass of white wine with that.
The Dining Car had Christmas Lights strung all across the ceiling and there were many Christmas decorations. All of the staff, and I think even the Conductors, were wearing bring red Christmas Stocking Caps and other Christmas clothing. Overall, the atmosphere was quite festive!
Everyone at my table was traveling all the way from Florida to Los Angeles. One person was returning home while the other were a couple on tour during their school vacation. One was going for his PhD in Mathematics and the other for a Masters Degree in Public Finance. A lively and enjoyable conversation continued throughout our meal and then for a bit afterwards.
1999 DEC 25 SAT 20:42 (20:42 PM ET) PALATKA FL
MP 0688.6 CH 32 160.590 20:55
The Engineer and Conductor are talking about everything being a mess outside with ballast everywhere and cross-ties cut. I guess there was a derailment here recently. We've slowed to a crawl. I think I saw what looked like a number of derailed cars, but it is difficult to tell since it is so dark outside. They just commented that it is all torn up all the way down to this other crossing. I can see all sorts of dirt or pavement torn up outside my window. We are still crawling along. The tracks bank pretty steeply at the corners here.
MP 0670.2 CH 32 160.590 21:17 LENGTH OF TRAIN: 870 AXLES: 44
1999 DEC 25 SAT 22:06 (10:06 PM ET) JACKSONVILLE FL ARRIVAL CH 32 160.590
Express cars were added in Jacksonville. I believe these cars are destined for San Antonio.
1999 DEC 25 SAT 22:25 (10:25 PM ET> JACKSONVILLE FL DEPARTURE CH 66 161.100
MP 0673.9 CH 66 161.100
MP 0670.2 CH 66 161.100 21:17 870 feet 44 axles
1999 DEC 25 SAT 23:38 (11:38 PM ET) LAKE CITY FL
1999 DEC 26 SUN ??:?? (??:?? PM ET) MADISON FL
MP 0760.0 CH 66 161.100
MP 0780.2 CH 66 161.100
1999 DEC 26 SUN ??:?? (??:?? AM ET) TALLAHASSEE FL
CH 84 161.370 ??:?? Grand Ridge, Florida
MP 0781.9 CH 84 161.370
1999 DEC 26 SUN 03:00 (03:00 AM CT) CHIPLEY FL
MP 0763.2 CH 84 161.370
1999 DEC 26 SUN ??:?? (??:?? AM CT) CRESTVIEW FL
MP 0691.5 CH 84 161.370
MP 0668.6 CH 84 161.370
1999 DEC 26 SUN 06:35 (06:35 AM CT) PENSACOLA FL ARRIVAL
1999 DEC 26 SUN 06:42 (06:42 AM CT) PENSACOLA FL DEPARTURE
CH 84 161.370 Wintent, Florida
MP 0612.0 CH 84 161.370
MP 0616.0 CH 84 161.370
1999 DEC 26 SUN ??:?? (??:?? AM CT) ATMORE AL CH 84 161.370
MP 0638.2 CH 84 161.370
MP 0648.5 CH 84 161.370
MP 0656.1 CH 84 161.370
1999 DEC 26 SUN 08:24 (08:24 AM CT) MOBILE AL CH 84 161.370
During the night my room was very cold. When I first boarded the train in Orlando, the entire car was quite toasty. Actually, a bit too warm. It was quite cold outside and that is often when most passengers ask the Car Attendant to turn up the heat. Thus, for me, the inside of the train can often be too warm on the coldest of days!
As best as I can tell, cool air comes out of the top vent in the room at all times. That is controlled by a central unit in each car. The only control that you have over that is a lever in the ceiling vent that lets you almost close off the air flow into your room. Heat comes out from under the window and at the floor by the window. There is a control for the heat in your room marked "COOLER", "NORMAL" and "WARMER". Normally I have this set to the maximum "COOLER" setting for my entire trip. I tend to like it cooler. Setting the heat control to maximum "COOLER" and opening up the ceiling vent to allow for the maximum air flow usually does the trick. However, sometimes it can still be too warm, especially when I'm on the sunny side of the train. In those instances, opening up the door will often help since it is usually cooler in the corridor than in the rooms. For privacy, I keep my curtain closed even with the sliding door open.
This time, however, the car was quite warm. The maximum "COOLER" setting and maximum air flow from the vent did not help much. I heard another passenger complain to Ed, our Car Attendant, about the heat. I'm not sure what Ed did, but it worked and the car became much more comfortable.
When I went to bed, I noticed that neither reading light was working even though the electric outlet was working fine. I didn't really need those lights and figured I would mention it to Ed in the morning. During the night, I woke up and realized the room was quite cold. For the first time that I can ever remember while traveling alone, I turned the temperature control up to maximum "WARMER". When I woke up an hour or so later, I realized that there was still no heat coming from under the window or floor. I thought a possibility that maybe whatever circuit controlled the reading lights might also control the heating. Ed straightened me out about the lights and heating. I didn't have much confidence in my idea that the heat and lights were on the same breaker. They are not. Though, as I did surmise, the reason the heat was set so low was because of the passenger that complained yesterday. Ed said that he would do something about that tonight. I asked him not to rush as there is plenty of heat in the car right now just from the sun! The sun seems to still generate more heat in the room than I want. I had to turn the temperature control back to maximum "COOLER" during the day and open my ceiling vent back up.
I was looking forward to this train having the same consist as the one that I took out to Florida. If it did, I figured I would have a north facing room since I had a south facing room on the journey east. Unfortunately, when they swapped out this sleeping car, they replaced it with one facing in the opposite direction. Thus, I'm on the south side of the train again and have the sun shining into my room from sun-up to sun-down! That makes the room warmer than I would like, produces a glare on the window that makes taking photographs difficult, and also shines on my computer screen making it difficult to read. When I'm on the sunny side of the train, I don't have much choice other than to close the curtains most of the way leaving just enough open so that I can look out without having the sun shine on my notebook computer or on just me. If there was a way to reserve rooms on the northside of the train, I'd do it almost every time! I like it cool and shady, even when it is cold outside.
1999 DEC 26 SUN 09:10 (09:10 AM CT) PASCAGOULA MS
1999 DEC 26 SUN 10:27 (10:27 AM CT) BILOXI MS
MP 0719.3 CH 84 161.370 10:14 TRAIN LENGTH 1000 FEET 52 AXLES
I have a little more information about the refurbished Superliner I Sleeping Cars, but still not the whole picture. The Sleeping Car that I was in on my way to Florida was swapped out for an unrefurbished Superliner I Sleeping Car. Thus, I am no longer in a refurbished Superliner I Sleeping Car. However, the Sleeping Car next to this one is one that has been refurbished! The decor is identical to the other refurbished Superliner I Sleeping Cars with the orange and red seat covers having been replaced by blue and purple. The tan carpet on the walls and the bottom of the beds has been replaced by a grey vinyl covering. The curve from the walls up to the ceiling has also been replaced by a grey vinyl covering. But, there are no corrugated walls to be found anywhere in this refurbished Superliner I Sleeping Car!
So far, I've heard two possibilies for the reason for the corrugated wall coverings that I have discovered in two upgraded Superliner I Sleeping Cars so far: (1) that the cars were used in a movie and the special wall upgrade was done to accommodate the filming, and (2) that the cars were in an accident and that the corrugation has something to do with that. For suggestion #1, I'd be very interested in viewing the movie in which these cars were used. If you have seen a movie where a scene was filmed inside a Superliner I Sleeping Car please send e-mail to me and let me know! For suggestion #2, the shape of the corrugated walls could certainly be used to hide new support beams that might have been needed to restore the structural integrity of a damaged car. I'd welcome e-mail from anyone that has first hand information related to the corrugated vinyl walls. Click here to send e-mail to me about this topic.
1999 DEC 26 SUN 10:49 (10:49 AM CT) GULFPORT MS
MP 0743.6 CH 84 161.370 10:52 TRAIN LENGTH 1002 FEET 52 AXLES
1999 DEC 26 SUN 11:08 (11:08 AM CT) BAY ST. LOUIS
MP 0749.2 CH 84 161.370 10:59
MP 0761.7 CH 84 161.370 11:15
MP 0770.9 CH 84 161.370 11:24
MP 0781.9 CH 84 161.370 11:35
MP 0786.7 CH 84 161.370 11:44
CH 63 161.055
1999 DEC 26 SUN 12:54 (12:54 PM CT) NEW ORLEANS LA ARRIVAL CH 63 161.055
I had my camera ready to take pictures as we backed into the Amtrak Station in New Orleans. To my surprise, the "Celebrate The Century" U.S. Postal Train popped into view 3 feet from my window! I took a few "close up" photos. From the links to the photos, you can see the number "100" and a stamp painted on the side of the Genesis locomotive assigned to the "Celebrate The Century" Postal Train. The entire train is painted in the color of a manila envelope or package with paintings of stamps all over it. Click here for more information andphotos of the U.S. Post Office "Celebrate The Century" Express Train.
I wasn't hungry for a sit-down meal in the Dining Car at lunch time. Also, I thought I should start getting used to California time again and start eating a bit later to compensate for the time difference. I went to the cafe downstairs in the Sightseer Lounge Car at about 1 PM, but I guess they close everything up while the train is in the New Orleans station and being restocked. The sign said the cafe would reopen at 1:45 PM, our scheduled departure time out of New Orleans. Rather than waste a trip, I took a number of photos of the empty cafe which you can see by clicking on the photo links on this page.
To help experience the Christmas ambiance on this trip, I purchased 2 Mannheim Steamroller CDs at Virgin Records in Downtown Disney:
I didn't have a CD player with me, but my notebook computer plays audio CDs! So, I'm listening to the Christmas CDs right now as I'm typing this.
1999 DEC 26 SUN 13:45 (01:45 PM CT) NEW ORLEANS LA DEPARTURE CH 22 160.440
After leaving New Orleans, we headed up the Huey P. Long Bridge to cross over the Mississippi River. On our way to the center of the bridge, we passed two freight trains. One was near the bottom of the bridge and the other was almost at the top of the bridge. I have not very often seen two freight trains run so close together, though I'm sure they were moving extremely slow over the bridge just as we were moving very slow. This bridge is quite high and I took a number of photographs on our way up, over and down the other side of the bridge. I think a number of these photographs, that you can view from the photo links from this page, will give you some idea of just how high this bridge is! At one point on our way down, the train is far above a suburb tract of homes.
I don't seem to be having much luck with the Cafe Car. After finding it closed at 1 PM, I returned at 2:45 PM. It was closed again until 3 PM! Lunch was served in the Dining Car until we arrived into New Orleans. Lunch was then suspended until we departed from New Orleans and is now being served again. I was tempted to have lunch in the Dining Car and not wait for the return of the Cafe Car Attendant, but I really wasn't in the mood for socializing for an hour. I've set out a certain amount of work that I want to get done today and tomorrow as well as continue with this travelogue and take photos while there is still daylight. It is difficult to do either of those in the Dining Car. I'll just have to wait for the return of the Cafe Car Attendant. Perhaps they are having the Cafe Car Attendant help in the Dining Car which might account for the Cafe Car being closed just before and after New Orleans. There seems to be a good size crowd in the Dining Car. A lot of people got on in New Orleans.
While I was in the Sightseer Lounge / Cafe Car, a narration was being provided about the history and scenery of the route. Although the narration was being done using the PA system, it was only being provided to the passengers upstairs and downstairs in the Sightseer Lounge / Cafe Car. It could not be heard in the Sleeping Cars. They must have announced about the narration to the entire train, but not all announcements were getting to my room due to a problem with the audio system either in just my sleeping car or throughout the train. I once took a trip, I think it was on the Amtrak California Zephyr, where the narration was provided not only in the Sightseer Lounge / Cafe Car but also over one of the audio channels in each Sleeping Car room. I think they should always do that. I like the narration, but I don't want to leave my computer and sit in the lounge waiting for the next item of scenery that needs a comment. When it is pumped over the audio system, those passengers that want to listen in their room can and those that don't can switch to a different channel or a channel that is just for the train announcements.
CH 12 160.290 14:53
The Engineer or Conductor was inquiring about a bridge fire that had been reported somewhere ahead and wanted to know if we could continue at maximum speed. Whether the bridge fire was put out or not on one of the bridges that we will cross, I don't know, but our train was given authorization to continue at maximum authorized speed.
At 3:00 PM we seem to be stuck in the middle of nowhere. The Engineer said he was going to have to stop. We either came apon a red signal or we've run out of track warrants. The radio road channel is picking up tones and the crew is tring to raise the BNSF Dispatcher. I don't know a lot about railroad radio, but I guess in some places these tones are used to automatically signal dispatchers, bridge operators, and even to manually control crossing gates in some places. The crew is having no luck in contacting the Dispatcher yet as there has been no radio reply. However, I think the light has turned green as we are now moving again, though quite slow. No, I guess we just moved a few feet and are stopped again! At 3:35 PM we started to move again. At first we moved slowly, but we gradually picked up speed.
I finally got down to the cafe when it was open! I ordered a Bloody Mary and a Meatloaf Sandwich. I was going to order a lighter sandwich, but I was curious on how good a job they did with the meatloaf. Since it was one of these prepackaged deals, the Cafe Attendant stuck it in the microwave. However, he did open the package before putting it in which I think keeps it from overheating.
I must have pretty simple tastes! I thought the meatloaf sandwich was great and was more appealing to me than the lunch time offerings in the dining car, though there is nothing wrong with those offerings. Everything I had on my way to Florida in the dining car was good and there was an adequate selection. It is just that I often like something prepackaged and simple from the Cafe Car more at times. They used to have tuna sandwiches that I loved which I can't find anywhere else. They discontinued those and now just have Tuna Snack Packs. It is a tub of tuna and some crackers. I really don't like those and wish they would bring back the tuna sandwiches!
1999 DEC 26 SUN 15:54 (03:54 PM CT) SCHRIEVER LA
There appears to be a green and white BNSF locomotive parked right beside the Schriever Amtrak Station that is not on the tracks! I could not tell for sure as we went by so fast, but it looked like it was just sitting in the dirt.
I just went out to get another cup of coffee. Ed makes sure there is always plenty of fresh coffee available. Keeping coffee available all day may have become a policy at Amtrak, but Ed would make sure it was always there even before it was an Amtrak policy. Not only that, but he makes sure there are plenty of supplies such as cups, creamer, sweetener and stirrers always available! That is something I have found sometimes lacking with other car attendants, especially when I have a car attendant that is not a coffee drinker themself! Ed even has an entire supply of water bottles, soda and now cookies and apples in his room that his passengers can help themselves to! This may be part of new service enhancements that are being tried by the Sunset Limited product line. I think it is a great idea. It is a lot of these little things that add up to give you the feeling that you really are being treated First Class, which is what you pay extra for when you travel in a sleeper!
Let me just mention a couple of last items and then get off this topic. I know that Ed Lemons will get a chance to read this and I neither want to embarass him nor give him the excuse to grow a big head. But, Ed has to be one of the hardest working Car Attendants that I have ever run across. He always seems to be very busy taking care of the passengers and the rooms in his car. I think it has been a couple of years since I ran across a phantom car attendant, which is one that you never see after you board the train. Those were not that uncommon when I first started riding Amtrak. Most of the car attendants now seem to be pretty attentive, some are significantly better than others, but Ed definitely stands out in my mind among car attendants. I've had a number of Car Attendants that take good care of their passengers, but they are sometimes difficult to find if you go hunting for them. Ed never seems to be more than a right or left turn away every time I poke my head out of my room! Also, every time I have used a restroom, it was 100% clean and tidy! The restrooms in the Sleeping Cars are usually fairly neat, but splashed water is often left around the sink and mirror. I always clean that up myself when I leave a restroom just so that it will be neat for the next person. But, some people always seem to leave the water splashed around. I have as yet to enter the restroom and find it in anything but a tidy and dry condition! Either we have a lot of neat people on this train or Ed, by coincidence, has gone in and cleaned it up each time before I've gone in!
At around 4 PM, the Dining Car Steward, Vince, came by to provide dinner reservations. I took the latest that he had available: 8 PM. That would be 6 PM Pacific Time which would be a bit closer to my normal dinner time.
There is some mention about a crossing gate being broken off on the south end. The Conductor said he would go get it. I guess the gate is laying on the tracks and needs to be moved aside. We stopped for a moment to take care of this.
I just heard that the staff is going to try to round up some plates and bowls for Amtrak Train #2, the eastbound Sunset Limited. I guess they ran out of some items. It is not uncommon to resolve a problem in this way. Both trains will stop when they get to the point where they will pass each other so that items from one train can be brought over to the other. I guess Train #2 put in a special order for plates and bowls in New Orleans that we were supposed to pick up and bring over to them. Evidently, that special order did not get put onto our train. Our crew is trying to find out what it is that Train #2 needs to see if we have any extras. Turns out that we don't have any extra bowls at all, but we might be able to help with the big dinner plates.
MP 0067.0 CH 12 160.290 16:06
MP 0094.4 CH 12 160.290 16:42
MP 0110.0 CH 12 160.290 17:00
MP 0121.4 CH 12 160.290 17:11
1999 DEC 26 SUN 17:42 (05:42 PM CT) NEW IBERIA LA
MP 0154.3 CH 12 160.290 18:04
MP 0168.2 CH 12 160.290 18:18
MP 0177.4 CH 12 160.290 18:26
MP 0183.3 CH 12 160.290 18:32
CH 51 160.875 19:02
1999 DEC 26 SUN 19:08 (07:08 PM CT) LAKE CHARLES LA CH 51 160.875
MP 0228.1 CH 51 160.875
MP 0242.1 CH 51 160.875
MP 0256.7 CH 51 160.875
MP 0264-- CH 51 160.875
I went down to the Diner at 8 PM. I didn't hear any call for people with 8 PM dinner reservations, but then I had not heard a call for anyone with any reservations! The Dining Car Steward usually calls for parties with reservations at various times over the P.A. system. Sometimes the call will be a bit earlier than the time of your reservation, but more often it will be a bit later. I guess that is consistent in keeping with "Amtrak time"! Either the Steward was not using the P.A. to call reservations this time or there was something wrong with the P.A. system. When I went to the Dining Car at just about 8 PM, they were ready for me and a few others with 8 PM reservations had already arrived.
I had the Penne Pasta along with a cup of coffee to see if that would help me to start adjusting to California time. I wanted to try to stay up till 2 AM Central Time (Midnight Pacific Time). One person that sat at my table had taken the Amtrak City of New Orleans from Chicago to New Orleans and was now taking the Amtrak Sunset Limited to San Antonio. He tried to take the more direct Amtrak Texas Eagle, but there was no sleeping car space available. Taking this longer route he was able to get his sleeper on the City of New Orleans and then just go by coach from New Orleans to San Antonio. I think he spent an unplanned day or two visiting New Orleans as long as he had to layover there anyway.
1999 DEC 26 SUN 20:40 (08:40 PM CT) BEAUMONT TX
MP 0303.5 CH 51 160.875
MP 0316.3 CH 51 160.875
MP 0332.9 CH 51 160.875 21:35
CH 44 160.770
1999 DEC 26 SUN 22:16 (10:20 PM CT) HOUSTON TX ARRIVAL CH 44 160.770
Despite running about 30 minutes late prior to Houston, we arrived into Houston quite early. Almost an hour early at 10:20 instead of 11:13 PM! There seems to be quite a bit of padding between Beaumont and Houston, Texas. There is 82 miles from Beaumont to Houston and the train is given 3 hours and 5 minutes to cover that distance. The train could cover that with an average speed of about 27 miles per hour! Thus, it is not hard to make up an hour between those two stations. Often an easy way to find padding in the schedule is to examine how much time is allowed for travel of the train going the other way. You will find that Train #2 heading east is only allowed 1 hours and 45 minutes to cover the same distance. There is probably still some padding in there, but not as much as for the westbound train.
I found that there were only two express cars on our train rather than the 4 that I thought that we had, unless some were dropped off last night. I was able to get these numbers and note them below.
Since our train laid over in Houston for an hour and 15 minutes, I was able to get a few photographs of the Houston night skyline, the train in the station, and the inside of the Houston station. You can see these by clicking on the photo links below.
Maury Gibson came down to the station to give Ed Lemons a set of photos of the Texas Eagle derailment from a few months back. I got a chance to look at the photos and was impressed by how much some of the cars and even the locomotive had been displaced by the collision. I was also impressed by the view of the scene provided by those photographs. I have to admit that I didn't see too many newspaper photos of the incident, but I don't remember any of the photos that I did see providing me as much of a view of the situation as these photos.
One of the photos of the derailment showed Ed Lemons exhausted from the ordeal. The Chief of Onboard Services had been injured and taken to a hospital. Ed had to take over in helping to coordinate the evacuation of the passengers and crew. A cook on our train joined us in looking at the photographs. He had also been on the train at the time of the derailment and I believe helped evacuate the locomotive engineer and also checked up on the truck driver that caused the derailment.
Before any of you novice or virgin rail travelers get overly concerned about the safety of rail travel while reading this travelogue, now might be a good time to check out TrainWeb's commentary on rail travel safety. Click here to read information aboutthe safety and security of rail travel.
The last and only time that I can remember seeing Maury Gibson previously was when I passed though Houston at 12:50 AM on October 6, 1997 when I was again traveling in Ed Lemons' car on the Amtrak Sunset Limited from Jacksonville to Los Angeles. Actually, I wouldn't be able to remember that, but the computer is good for tracking and finding details like that! Mostly I know Maury from his posts on the "All-Aboard" rail advocates mail list and from an occasional exchange of e-mail.
I also met Howard Bingham at the Houston Station. He also posts to the "All-Aboard" list from time to time. Howard had sent some responses to questions that I had posted in my eastbound travelogue. Howard mentioned that San Antonio is a crew base for both Amtrak and UP crews. Hence, they could probably get back from Houston to San Antonio faster by hopping a freight than by the "limo" service contracted from Cimmaron Coaches. Actually, from the answer that I heard from the Dispatcher, Cimmaron does not transport crews that far. I don't blame them! I'm on the train right now heading direct from Houston to San Antonio and it is going to take us 5 hours and 10 minutes to cover the 210 miles between these cities! It makes sense to me that a service contracted to transport crews locally would not normally transport a crew over 200 miles. Thus, getting a ride with a crew on another train heading from Houston to San Antonio would seem the most reasonable way for them to get back to their base.
Howard Bingham is also the Houston Regional Director for TXARP, the Texas Association of Railroad Passengers. You can visit their web site at: www.railspot.com/txarp.
1999 DEC 26 SUN 23:35 (11:35 PM CT) HOUSTON TX DEPARTURE
Since I planned to stay up to the ghastly hour of 2 AM Central Time, I told Ed, the Car Attendant, that I would make up my bed when I was ready to go to sleep. Car Attendants get little enough sleep while working. I certainly didn't want to put anyone out to accommodate my shifted hours!
MP 0042.5 CH 37 160.665 00:41
MP 0057.2 CH 37 160.665 00:53
MP 0081.4 CH 37 160.665 01:15
MP 0086.0 CH 37 160.665 01:23
1999 DEC 27 MON 04:45 (??:?? AM CT) SAN ANTONIO TX ARRIVAL
1999 DEC 27 MON 05:35 (??:?? AM CT) SAN ANTONIO TX DEPARTURE
1999 DEC 27 MON 08:44 (08:44 AM CT) DEL RIO TX CH 96 161.550
I woke up about 8:30 AM Central Time. That would be 6:30 AM Pacific Time which is around the time that I usually get up. My idea of staying up until 2 AM Central Time (Midnight Pacific Time) and then getting up at my usual Pacific Time wake-up hour seems to be working. I should be all adjusted back to Pacific Time by the time I get home! Traveling by train through time zones is a lot less harsh on the system than traveling through them by jet.
Unlike last night, the temperature in the room last night was just right. Though, as usual, I kept the temperature control on maximum "COOLER" and the air vent open to let in the maximum amount of cool air. Still being on the sunny south side of the train, my room warmed up pretty fast in the morning, especially traveling through the long Texas desert. Once again I partially closed my curtains to reduce the amount of sunlight coming into the room.
MP 0386.0 CH 96 161.550 08:53
MP 0388.2 CH 96 161.550 08:54
MP 0398.7 CH 96 161.550 09:03
MP 0417.2 CH 96 161.550 09:21
MP 0424.2 CH 96 161.550 09:30
MP 0434.4 CH 96 161.550 09:45
MP 0459.2 CH 96 161.550 10:11
MP 0462.7 CH 96 161.550 10:15
MP 0471.9 CH 96 161.550 10:28
MP 0485.1 CH 96 161.550 10:46
MP 0497.2 CH 96 161.550 11:00
Narration of the sights and history along the route was provided between Del Rio and Sanderson, Texas. They did pump the narration throughout the train on Channel 2 of the audio system in the sleeper. Now, I don't know if yesterday's narration was provided through the audio system or not. By default, all the rooms were set to Channel 1 when I boarded the train. I didn't try to see if there was anything on Channel 2 yesterday during the narration.
Russ Jackson dropped in on me just after Del Rio. I knew that Russ would be getting on at San Antonio at about 4:45 in the morning, but figured he might be heading to bed after waiting for the train in the middle of the night. If he had not found me on the train, I would have headed down to his room a bit later. His sleeper was on the Amtrak Texas Eagle segment of the train that was attached to the Sunset Limited in San Antonio to complete the rest of its journey to Los Angeles.
Russ is the editor of the California RailPAC Newsletter that has just been renamed to the Western Rail Passenger REVIEW to better match the expanded focus of the association. He is also the editor of the RailPAC & InterRail E-Letter which is distributed via e-mail. You can visit the RailPAC web site at: www.trainweb.com/railpac and the InterRail web site at: www.trainweb.org/interrail.
We talked about our common experience of both having traveled over the Baird Sub between El Paso and Fort Worth on our eastbound journeys over the last couple of weeks, each due to a different freight derailment blocking the normal route of the Amtrak trains. What a difference with our westbound train which has so far arrived on or ahead of schedule at each station! Russ and I also talked about some of the other passenger rail issues facing our area and some of the recent progress.
1999 DEC 27 MON 11:16 (11:16 AM CT) SANDERSON TX
MP 0538.7 CH 14 160.320 11:42
MP 0557.3 CH 14 160.320 12:02
MP 0603.9 CH 14 160.320 12:50
MP 0615.5 CH 14 160.320 13:12
The following is a useful tidbit of information that many first time and experienced riders have not yet learned: There is a "hidden" IN-USE indicator for the toilets and shower on the Superliners. Directly outside and above each door is a tiny light. Although the function of the light is not marked, it is an "IN-USE" light. The light goes on when someone is inside the toilet or shower and locks the door. Since the builders of the car went through all the trouble to rig up this electric "IN-USE" indicator system, I don't know why they just didn't place the light on or near the door with a sign telling passengers that the bathroom is occupied when the light is on! Amtrak can still remedy the situation by just putting a sign on the center of the door with an arrow pointing up that says the bathroom is in use when the ceiling light above the door is lit. There is also a difficult to read indicator by the door handle that says "OCCUPIED" or "VACANT" which is mechanically operated when you slide the door lock. However, the paint is usually worn off this indicator which only leaves the very difficult to read engraved "OCCUPIED" and "VACANT" words. Most people don't even notice that there is an indicator and just try the door handle to see if it is locked. That can startle you if you happen to be in the bathroom at the time! It can really startle you if you have not completely locked the door or if the vibration of the train has caused the lock to slide open! I've never been in the bathroom when this has happened, but I have been the one to open the door on someone else when it was unlocked! I don't want to repeat that experience again, so now I very slowly open unlocked bathroom doors while standing aside from the door where I can't immediately see inside. That gives anyone that might be inside a fighting chance to grab the door handle from the inside and close it before an embarassing situation is created for both of us. Also, when you are in the bathroom, make sure the lock closes solidly and tightly when you slide it. If the lock seems very loose and flimsy, use another bathroom and report the problem to the Car Attendant. If the lock is loose, it is very possible that it won't really be locked when you think it is locked or will slide open by itself from the vibration of the train. And last, be sure to check the occupied light above each bathroom door before trying the handle and startling the occupant. So much for Steve's rules of bathroom etiquette on the train!
1999 DEC 27 MON 12:58 (12:58 AM CT) ALPINE TX
MP 0626.0 CH 14 160.320 13:24
MP 0640.1 CH 14 160.320 13:38
MP 0671.0 CH 14 160.320 14:01
MP 0706.8 CH 14 160.320 14:29
MP 0737.8 CH 14 160.320 15:00
Someone just played a verse of the Mexican Hat Dance song over the railroad radio! It was in those electronic tones that people have on their watches or pagers.
1999 DEC 27 MON 15:38 (03:38 PM MT) EL PASO CH 96 161.550 ARRIVAL CH 96 161.550
While in El Paso, I walked around inside and outside the station taking a number of photographs. You can see those photographs by clicking on the photo links below. That station building is huge! I had to walk far across the street to try to get the tower and the building all into one photo. The inside has two levels of offices. There is a third level that is just windows that allow sunlight into the building. Rubber tire trolleys frequent the station with their barn just next door to the station. Downtown is not too far away and the Mexican border is just over the bridge.
On my way back to my seat, I entered through the rear Amtrak Texas Eagle sleeping car and walked the entire train to my seat. One of the coach cars they had pulled off this train from the one that I came east on was the Smoking Coach Car. They just put a regular coach car in place of it. The Smoking Coach Car has a special room that is sealed off from the rest of the train. That room has isolated ventilation so that the smoke will exhaust to the outside and not up into the rest of the coach car. Though, people coming out from that smoking room tend to carry the smoke odor with them back to their seats. With so many people smoking in such a small area, they can't help but absorb all that smoke into their clothing and hair. This train did not have that special isolated smoking room and passengers were just allowed to smoke downstairs in the designated coach car. When I walked through just the upstairs of that car without ever going downstairs, it was obvious that it was the smoking car! There was an extremely strong smell from cigarettes upstairs even though smoking was only allowed downstairs. Smoking was only allowed in the seating area downstairs and not even in the bathrooms downstairs in that car. Several times the crew had to remind passengers that they need to vacate the seat as soon as they are done smoking as their are many other smoking passengers that need to use the smoking area. From the odor even upstairs in the car I'd say they should just have made the entire car a Smoking Coach Car and seated non-smokers in the other coach cars. Normally, Amtrak trains are absent the smell of smoke because either the train is entirely non-smoking or they have the special isolated smoking room on the train.
1999 DEC 27 MON 16:37 (04:37 PM MT) EL PASO CH 96 161.550 DEPARTURE CH 96 161.550
Departing from El Paso, Texas, we have the following:
168 Coach Passengers
83 Sleeping Car Passengers
4 Crew Members (Conductors & Engineers)
15 Onboard Service Crew
11 Amtrak Cars
MP 1282.2 CH 08 160.230 17:00 TRACK 1
MP 1266.9 CH 08 160.230 17:13
MP 1252.0 CH 08 160.230 17:24
MP 1235.0 CH 08 160.230 17:37
MP 1224.2 CH 08 160.230 17:49
1999 DEC 27 MON 18:07 (18:07 PM MT) DEMING NM
There are 5 people getting on at Deming which is a lot of people for this flag stop! Since it is a flag stop and no Car Attendant was prepared to board passengers, there are none outside helping the Conductor. They stopped the train such that the last coach is near the boarding passengers. Unfortunately, there is no room in that Texas Eagle coach! The Conductor is going to have to figure out where on the train he can find space for these people. The people also had a lot of bags that the Conductor had to help with. But, we left the station on schedule anyway!

MP 1202.3 CH 08 160.230 18:13
MP 1181.2 CH 08 160.230 18:38
MP 1165.0 CH 08 160.230 18:51
MP 1152.0 CH 08 160.230 19:03
1999 DEC 27 MON 00:00 (00:00 PM MT) LORDSBURG NM FLAG STOP
NO FLAG, NO STOP!
MP 1136.9 CH 08 160.230 19:16
MP 1119.0 CH 08 160.230 19:35 TRACK 2
MP 1110.6 CH 08 160.230 19:48
MP 1090.2 CH 08 160.230
MP 1088.2 CH 08 160.230 19:59
MP 1038.1 CH 96 161.550
MP 1036.7 CH 96 161.550
MP 1030.7 CH 96 161.550
1999 DEC 27 MON 21:05 (21:05 PM MST) BENSON AZ
MP 0997.9 CH 96 161.550 22:06 TRACK 1
MP 0941.4 CH 96 161.550 23:47
After coming all the way right on schedule or ahead of schedule, we were placed onto a track that takes about an extra 20 minutes to get into Tucson. The crew commented on the radio: "Now were never going to get there!" We hit alternating red and yellow signals all the way into the Tucson station.
1999 DEC 27 MON 22:40 (10:40 PM MST) TUCSON AZ ARRIVAL
Although not indicated on the schedule, Tucson is a service stop for the Sunset Limited and it has to spend 20 to 30 minutes here to get water and fuel. Thus, even though we arrived a few minutes before the scheduled departure time, we were not able to leave any earlier than 22 minutes behind schedule.
1999 DEC 27 MON 23:06 (11:06 PM MST) TUCSON AZ DEPARTURE
While we were being serviced in Tucson, the Dispatcher must have released some freight trains. Once we left Tucson, we crawled behind a freight train that was going from Wymola to Toltec and frequently stopped at signals. Wanting to try to get up early in the morning before we got as far as Ontario, I went to bed.
MP 0865.0 CH 96 161.550 01:22
1999 DEC 28 TUE 02:40 (??:?? AM MST) YUMA AZ
1999 DEC 28 TUE 03:53 (??:?? AM PT) PALM SPRINGS CA
I woke up about an hour prior to getting in to Ontario. I had packed up most of my things the night before and finished packing up the last few items of yesterday's clothing. The only thing left to pack is this computer and power cord which will go into my backpack at the last moment!
During the night there was freight traffic to contend with and we had to stop for about 20 minutes to wait for a broken rail to be fixed. All in all, I'd say we aren't making bad time considering those delays! Most passengers are quite happy that we did run on schedule or ahead of schedule as far as Tucson.
Since we are not far behind schedule, breakfast was not served in the dining car. I'm not used to that for the last day on the westbound Sunset Limited! We are usually late enough to have breakfast and I've even had lunch one time on the westbound Sunset Limited on the last day! However, Ed made sure that his passengers were taken care of. He had danish, juice and coffee set out for everyone.
Ed's wife, Dianne, got on in Tucson, where they live. Ed introduced me to her just before we arrived into Ontario. Ed introduced me to his wife as the man who wrote the article on the web that a lot of people mention. Ed's wife usually just comes down to the station for a brief visit as the Amtrak Sunset Limited passes through and even brings their two dogs down to say hello! This time, however, Ed's wife was traveling to see some relatives on the west coast and was getting off at the Ontario station. After our arrival into Los Angeles, Ed would head back on a Metrolink train to Ontario (but not to that Ontario station as Metrolink does not yet serve the same Ontario station as Amtrak). I was happy to meet Ed's wife onboard but was a little disappointed that I did not get to meet his two dogs at the station that have gained so much noteriety among his passengers! Well, there is always next time!
At 6:59 AM Pacific Time we are passing the Ontario Airport. It will be just a few moments before we pull into the Ontario Station. Looks like any passengers that are transferring to the Amtrak Coast Starlight should be able to make it this time without being bused from Ontario to Santa Barbara or San Luis Obispo.
MP 526.8 CH 96 161.550 06:53
1999 DEC 28 TUE 07:02 (07:02 AM PT) ONTARIO CA
1999 DEC 28 TUE 07:10 (07:10 AM PT) POMONA CA
The Pomona station is looking really nice! They sure have fixed it up! However, it still doesn't seem to have any passengers getting on or off the Sunset Limited. I know it does sometimes see people on and off, but I'd assume that it is still a pretty low number because of the late hour of the eastbound train, the early hour of the westbound train, and because it is so close to Ontario (7 miles).
MP 504.7 CH 27 160.515
At 7:30 AM, the crew called for a switch to Channel 87 then changed their mind and decided to go to Channel 86. I was a little bit curious about the phrasing of their channel change: "Let's see if 86 will work." However, I could not find any conversation on Channel 86 and headed back to Channel 27.
Found them! I guess they figured out the correct channel was 87 as that is where they were! As we approached Los Angeles, they switched to the yard channel, 47.
At 7:43 AM we passed the Cal State LA Metrolink station.
1999 DEC 28 TUE 07:55 (07:55 AM PT) LOS ANGELES, CA
Matt Melzer met me at the platform as I got off the train. We were both heading from here to the TrainWeb office in Fullerton so figured we'd take the San Diegan down together. We hung around the platform for a few extra minutes so Matt could say hello to Russ Jackson as Russ came down the platform from the Texas Eagle car. After saying our goodbyes, we headed to the San Diegan which was on the next platform over.
On board staff

Sleeping Car Attendant: Ed Lemons ("Mr. Ed!")
Chief of Onboard Services: Ray Quisata
Dining Car Steward: Vincent
Cafe Car Attendant: Jorge
Consist:

63--- Genesis Locomotive
839-- Genesis Locomotive
408-- F40 Locomotive San Antonio to Los Angeles
1218- Baggage Car
39016 (0110) Transition Sleeper
32048 (0131) Superliner I Sleeping Car
32055 (0130) Superliner I Sleeping Car
38008 Superliner Dining Car
33000 Superliner Sightseer Lounge / Cafe Car
34008 (0212) Superliner I Coach Car
34027 (0212) Superliner I Coach Car
34078 (0211) Superliner I Coach Car


34024 (2115) Superliner I Coach Car San Antonio to Los Angeles
32070 (2130) Superliner II Sleeping Car (Alabama) San Antonio to Los Angeles


71105 AMTK Express Car Jacksonville to San Antonio
70043 AMTK Express Car Jacksonville to San Antonio
You might find it interesting to compare the above consist to the one in which I arrived into Orlando on December 18, 1999:
837-- Genesis Locomotive
63--- Genesis Locomotive
1218- Baggage Car
39016 (0210) Transition Sleeper
32048 (0231) Superliner I Sleeping Car
32045 (0230) Superliner I Sleeping Car
38008 Superliner Dining Car
33000 Superliner Sightseer Lounge / Cafe Car
31514 (0213) Superliner I Coach Car
34027 (0212) Superliner I Coach Car
For the most part, this is the same consist that took me from Los Angeles to Orlando a week ago. One locomotive, one sleeping car and one coach car was changed. The rest are the same cars. Oddly enough, they swapped out the refurbished Superliner I Sleeping Car that I rode to Florida! The Sleeping Car that I will be taking back has not yet been refurbished and still has the orange and green decor.
Click on each link below to view each set of photographs:
Photographs from my rail travel home:

Photographs taken at Walt Disney World:

Click here for the travelogue of my eastbound Amtrak Sunset Limited trip!
Click here for a virtual tour of an Amtrak Superliner Train!
Click here for virtual tours of many other trains and stations!
Visit our Rail Magazine promotion trading partners:
Click here to add your print rail magazine.