California State Railroad Museum Trainmaster Event

round trip via the Amtrak Coast Starlight
Thursday through Sunday, Nov. 11 - 14, 1999
www.trainweb.com/travel/stevelog/1999k11a.html
This will be a brief summary of my travel on the Amtrak Coast Starlight rather than the usual blow-by-blow coverage with times and radio frequencies. If you want to view more detailed information about a trip on the Amtrak Coast Starlight, try some of my other travelogues of this trip.
I will be placing the ENTIRE travelogue of this round trip to Sacramento and back in this one travelogue. So, if you are reading this before this round trip has been completed, please check back for further details!
Ray Burns and I came up in Pacific Business Class in the Amtrak San Diegan as we usually do when we are connecting with the Amtrak Coast Starlight. Even though it is only one stop, it is about a 40 minute ride and the train tends to be very very full since it is also the train during the rush hour. I've taken this train before in Unreserved Coach and have had to stand the entire way to Los Angeles! Pacific Business Class avoids that problem.
There weren't too many seats remaining in Pacific Business Class, but we did find two together facing the reverse direction of the train. As you might already know, there is no longer a Car Attendant dedicated to the Pacific Business Class car on the Amtrak San Diegans. Personally, I like this situation better. I was able to immediately get my coffee and orange juice. When there was a Car Attendant, it would often take 30 or 40 minutes before they got to each passenger after they boarded. Often, on this short segment, I would be almost in Los Angeles by the time they came with some coffee! This was not necessarily the fault of the Car Attendant, it is just that it takes some time to attend to dozens of people. Self-service can often be a lot faster.
There was one major drawback: Without a Car Attendant, the hundred or so pastries that were placed in the car, according to the Conductor, were taken by the 45 passengers that boarded the car prior to Fullerton leaving no remaining pastries for those boarding in Fullerton! Unfortunately, I think they might have to move the pastries to the Cafe Car and only give them out on presentation of a Business Class ticket stub like they do for the wine and cheese in the afternoon.
The Amtrak Coast Starlight was already boarding passengers across the platform from where our San Diegan arrived. We stepped off the San Diegan and headed quite a ways to the left down the platform to our Sleeping Car.
There were a lot of people in the Amtrak Coast Starlight Pacific Parlour Car before the train even left Los Angeles! This is quite a change from the old days when they used to not even open the car until the train departed Los Angeles. Even then, it used to remain fairly empty for the first couple of hours. Not today! Every table in the Parlour Car has at least two people seated and every large swivel chair is already occupied. The Car Attendant has already made two rounds with the coffee and all the fruit and pastries are availalbe. This is much better than the days when they would not allow anyone into the car until the train was underway!
The Conductor on this segment of our run was Dennis Stuart. Ray and Saylor Runyon had run into him and his wife when they were traveling as passengers on a prior Amtrak Coast Starlight trip. Dennis wrote down his web address for us and it looks like it says "panddstuart.aol.com". I could not get that URL to work, so if you are reading this Dennis, please e-mail your URL to me at steve@trainweb.com and I'll be happy to post it here!
Something unusual on this train: we are carrying some of the northbound San Diegan Business Class passengers from Train #769 ! The crew set up an area downstairs in the Cafe Car to serve coffee, juice and pastries to those Pacific Business Class passengers.
In Glendale we picked up the passengers from the westbound Amtrak Southwest Chief. That train must have been running late and they probably bused the passengers from San Bernardino to Glendale straight down the I-10 freeway saving time by skipping all the time in and out of Los Angeles.
We made a very short unscheduled stop in Ventura to let off passengers from Train #769. Normally, the Coast Starlight does not stop in Ventura.
We arrived into San Luis Obispo early and arrived on-time just after the arrival of our sister train, the southbound Amtrak Coast Starlight Train #11.
If anyone that we took pictures of on the train sees their photos mislabeled or there names spelled incorrectly, please e-mail corrections to me at: steve@trainweb.com. I'll make those corrections immediately!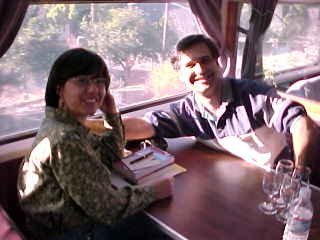 Monica & Enrique joined us for lunch earlier. They were going to the Klamath Falls area and will be returning on the same train that we will be on!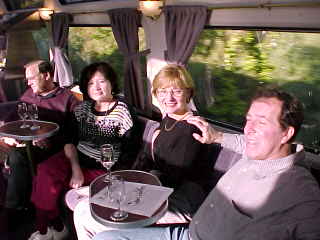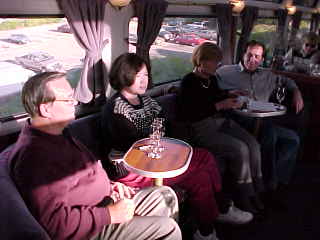 Don & Alice Kuder and Shirley & Tony Buccheri. Tony stopped us as we were heading to a seat to enjoy the Wine Tasting, pointed to a document on his table, and asked if we were the author of that material. Sure enough, he was pointing to a print out of a previous travelogue that I had written a while ago! Although I've run into many people on the trains that are frequent visitors to TrainWeb, I think this was the first time I've seen anyone traveling with a print out from our web site!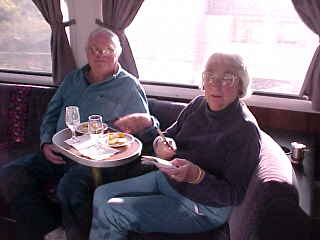 Frand & Jeane Kearney They were sitting across from Don, Alice, Shirley and Tony and also joined in our conversation.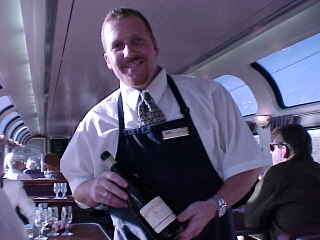 Cory Robideaux was the Pacific Parlour Car LSA.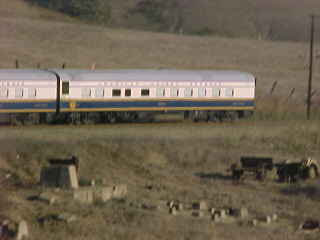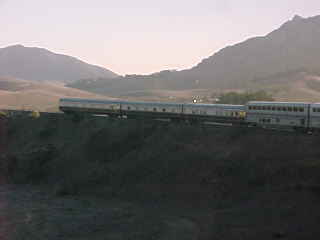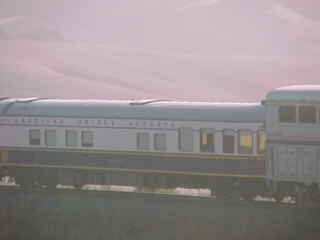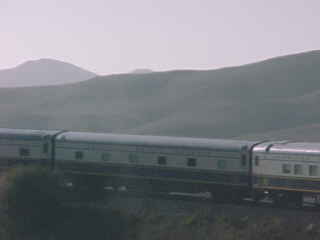 I just noticed that we have 3 cars of the American Orient Express in tow! I didn't see them in Los Angeles, so I'm not sure when or where we picked them up. They may have been on the train in Los Angeles and we just didn't notice them down the other end of the train.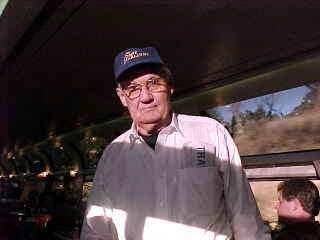 John Turner from Austin, Texas. He put a typed up story on our table which Ray read. Ray read a few parts to me and it sounded very interesting. Since it was a rail related story, we asked John if he could get it posted on the web so that we can put up a link to it. He said he could probably get it posted on his daughter's web site and send e-mail to us with the URL. If he does, we'll post a link!
Thirty minutes into the wine & cheese tasting, which was excellent, they ran out of everything except for a few pieces of cheese! Usually there are quite a few leftovers for quite a while. Hopefully, they ran out because of all the participants and not because they cut down on how much they put out.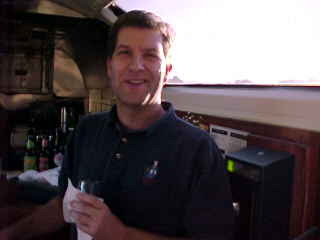 Don Schmidt, La Jolla, California. He works in web design for start up companies and was curious about TrainWeb. It certainly seems help get the word out on the train when we wear our TrainWeb.com T-shirts and hats.
Pamela & Matt Cantor. They were celebrating their 1st year anniversary. I think the last time my wife and I were on the Amtrak Coast Starlight together was on our 25th anniversary. Brian Rosenwald, the Product Line Manager of the Amtrak Coast Starlight, was also on the train and he gave us a complimentary bottle of champagne! Matt remembered seeing the new umbrellas at the
Fullerton Santa Fe Express Cafe
and that the logos on our cap and T-shirts were the same.
We are going to have the same trainset and the same onboard service crew on the way back as on the way up. I think this enhances the overall experience of the round trip rail travel. I'll have to remember this in the future and jockey my rail travel where possible to take the same train up and back.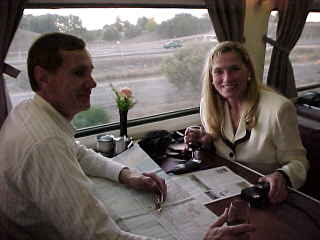 Dorothy & Jim Bowers celebrating their 30th anniversary.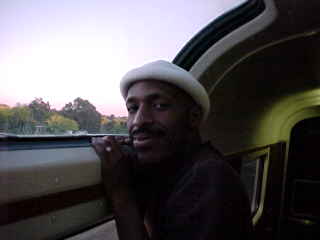 Derek Burns enjoying the ride.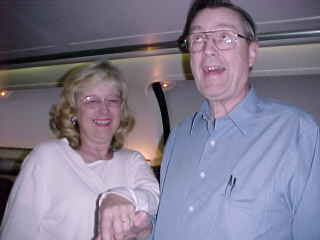 Frank Hardine and his fiancee, Diane Fahrion - an avid railroad modeler who even has his living room full of great model trains.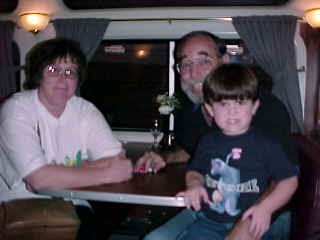 Ron, Stephanie & Cody.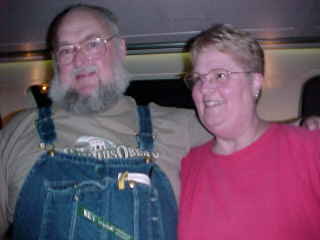 Dan Andrews & Pat met us before at Railfair'99 in Sacramento. Take a look at his web site for the
Bitter Creek Western Railroad
at:
www.surfari.net/~dan
.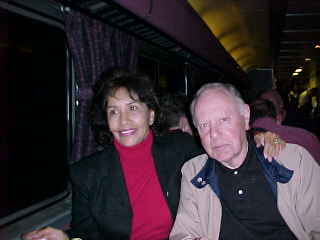 Mary & Walter Schoenfeld shared a table with us at dinner. They've traveled other trains in the world, but this was there first trip on the Amtrak Coast Starlight. They said they were enjoying it and were thinking of a future trip up to Seattle.
Our Service Attendant in the Dining Car was Randy Jacobs. The food was excellent. Ray had the steak and I had the chicken breast. We both had our entrees with the garlic mashed potatos and mixed vegetables. Everyone at our table was too full to order any of the excellent deserts that are served on the Coast Starlight!
After leaving the Jack London Square Station in Oakland, our train went into the Oakland Amtrak Yard where the three American Orient Express cars were cut from the train. I think they were occupied as the lights were on in all of the cars. I'll have to check the American Orient Express schedule to see if an excursion was scheduled in this area at this time. I have not seen the American Orient Express travel with passengers on the end of a regular Amtrak train previously. Every time I have seen the American Orient Express before this, it was being pulled by an Amtrak locomotive, but the rest of the cars were all American Orient Express cars. I've always seen it as a train just dedicated to the American Orient Express.
We arrived into Sacramento at about midnight, just about on schedule.
On the southbound trip, Ray and I stayed in our Sleeping Car Room for almost the entire trip catching up on work. The train arrived into Sacramento about 30 minutes late, but arrived into Los Angeles at 8:30 P.M., 45 minutes ahead of schedule!
We did have breakfast when we came onboard. I noticed the "Eggs Benedict" on the menu and wondered how come I could not recall having them on the train. This is the same menu that has been in use for the last few trips that I took on the Coast Starlight and I knew I would have ordered that entree if I had seen it. When I did order the Eggs Benedict, I realized why I had never had them on the train before: they don't have them! That is what happened on my last 3 or 4 trips on the Coast Starlight. Each time I order them, they don't have them. Actually, I don't think they have ever had the Eggs Benedict available on the Coast Starlight. Our Dining Car Attendant said they are trying to get new menus printed without that option. She said there is some ingredient necessary to make the Eggs Benedict that is never supplied to the Dining Car.
Ray and I skipped lunch and the Pacific Parlour Car Wine & Cheese Party, but I did get caught up on a lot of my backlog of work! We did take a break for dinner. We both had the Yankee Pot Roast which is always excellent on the Coast Starlight!
Sets of photos from this trip:

On-board staff:

Conductor: Dennis Stuart
Pacific Parlour Car LSA: Cory Robideaux
Dining Car Attendant: Randy Jacobs
Sleeping Car Attendant: Girran
LSA = Lead Service Attendant
Consist:

119-- ---- ----- Geneses Locomotive
455-- ---- ----- F59PHI Locomotive
1251- ---- ----- Baggage Car
39021 1410 (SL2) Transition Sleeper
32084 1431 (SL2) Sleeping Car Kansas
32095 1430 (SL2) Sleeping Car Nebraska
39972 ---- ----- Pacific Parlour Car
38049 ---- ----- Dining Car
33045 ---- ----- Sightseer Lounge Car
34103 1411 (SL2) Coach Car
34515 1412 (SL2) Coach Car
34106 1413 (SL2) Coach Car
34136 1414 (SL2) Coach Car
Three Cars Of The American Orient Express (northbound to Oakland Yard only)
CLICK HERE
To Read More Rail Travelogues
And View More Photos Of Rail Travel!

Are you interested in rail travel along some or all of this journey yourself? There are very few travel agents that have the necessary knowledge and experience of rail travel to answer your questions and to book a journey that you will remember for a lifetime. TrainWeb has sought out those travel agencies and rail tourism companies that not only have the knowledge to book your travel, but have gained the required experience through extensive rail travel themselves! Click here for a list of these rail travel providers!
Visit our Rail Magazine promotion trading partners:
Click here to add your print rail magazine.