Amtrak Ann Rutledge - Train 303
Chicago, Illinois - Kansas City, Missouri
March 27, 1999
Steve's Travelogue
www.trainweb.com/travel/stevelog/1999c27a.html

This travelogue covers my journey on the Amtrak Ann Rutledge from Chicago, Illinois to Kansas City, Missouri.
Radio Frequencies:

13-160.305-Chicago Union Station
54-160.920-After Chicago - Joliet
78-161.280-Joliet - Springfield

Detectors:

78-161.280-MP 044.0 (between Joliet & Dwight)
78-161.280-MP 062.8 (between Joliet & Dwight)
78-161.280-MP 080.4 (between Joliet & Dwight)
78-161.280-MP 096.6 (between Pontiac & Bloomington-Normal)
78-161.280-MP 115.1 (between Pontiac & Bloomington-Normal)
78-161.280-MP 133.8 (between Bloomington-Normal & Lincoln)
78-161.280-MP 147.6 (between Bloomington-Normal & Lincoln)
78-161.280-MP 163.4 (between Lincoln & Springfield)
78-161.280-MP 176.6 (between Lincoln & Springfield)

30-160.560-Springfield - Before Alton

Detectors:

30-160.560-MP 191.1 (between Springfield & Carlinville)
30-160.560-MP 202.5 (between Springfield & Carlinville)
30-160.560-MP 214.6 (between Springfield & Carlinville)
30-160.560 MP 229.9 (between Carlinville & Alton)
30-160.560-MP 239.8 (between Carlinville & Alton)
30-160.560-MP 255.6 (between Carlinville & Alton)

90-161.460-Before Alton - Before St. Louis

Detectors:

90-161.460-MP 272.7 (between Alton & St. Louis)

26-160.500-Before St. Louis - After St. Louis
74-161.220-After St. Louis - Before Jefferson City

Detectors:

74-161.220-MP 012.0 (between St. Louis & Kirkwood)
74-161.220-MP 028.7 (between Kirkwood & Washington)
74-161.220-MP 041.2 (between Kirkwood & Washington)
74-161.220-MP 071.0 (between Washington & Hermann)
74-161.220-MP 085.0 (between Hermann & Jefferson City)
74-161.220-MP 096.0 (between Hermann & Jefferson City)
74-161.220-MP 109.0 (between Hermann & Jefferson City)
74-161.220-MP 120.0 (between Hermann & Jefferson City)

24-160.470-Before Jefferson City - Independence

Detectors:

24-160.470-MP 139.1 (between Jefferson City & Sedalia)
24-160.470-MP 152.7 (between Jefferson City & Sedalia)
24-160.470-MP 170.0 (between Jefferson City & Sedalia)
24-160.470-MP 190.0 (between Sedalia & Warrensburg)
24-160.470-MP 210.0 (between Warrensburg & Lees Summit)
24-160.470-MP 230.0 (between Warrensburg & Lees Summit)
24-160.470-MP 252.0 (between Warrensburg & Lees Summit)
24-160.470-MP 266.0 (between Lees Summit & Independence)

42-160.740-Independence - Kansas City
As I've done at least twice on previous trips, I stayed at the Quality Inn in downtown Chicago. I like this place as it is only a few blocks from the train station. If there was ever a problem in not being able to get a taxi, I could always walk it. The cab fare is about $2.60. Cab drivers always seem disappointed when you travel between this hotel and Union Station. However, I never pay less than $5 for a taxi and they always seem very pleased with that. Often a taxi will have to wait in a long line of other cabs, especially at the train station, to wait their turn for passengers. Most people will be taking the cab to hotels further away or even to places far out into the suburbs, so the disappointment of a short fare after a long wait is understandable. I like to give a larger tip on these small trips to help compensate for that.
For those of you that wonder why I just don't walk it, believe me, I have tried that. I ruined a new set of wheeled luggage the first time I did that. Luggage wheels were just not designed for long hauls down asphalt and cement sidewalks through city streets. At other times I have walked through neighborhoods between the station and the hotel which I had no idea whether or not they were safe. Since then, I've learned to just take a taxi if I can't get a hotel directly across from the station and not take chances with my luggage or my safety.
I have often thought of getting a hotel outside of downtown Chicago that I can get to via the Metra. This Quality Inn is one of the most expensive places I have ever stayed during my travels and the quality of this Quality Inn is certainly no better than that of much less expensive Quality Inn motels in other areas. With the AAA discount, I pay $139 per night for the least expensive room available, and that comes out to about $160 after taxes! I'm not saying there is anything wrong with the rooms in this hotel, but rather that is a lot of money to pay for your average motel quality room. Give me a room like those provided by the Embassy Suites or any of the other uppercut hotels for $169 and I won't mind.
Most hotels that I stay at during my rail travels run between $39 and $79 per night. There must be hotels in this price range outside of Chicago. The difference in price gives me at least $40 to spend on taxi fare each way. However, I'm at really no advantage if I have to spend that much on taxi fare to get to a less expensive hotel, especially one that will put me into traffic.
The ideal solution would be to find a hotel that is right across the street from a Metra station out in the suburbs. Then I could just take a Metra train to the hotel when I arrive into Chicago and take a Metra back into Chicago when I'm ready to head out on an Amtrak train!
If I've seen any such hotels along my Metra travels, I forgot to make note of them. If you are familiar with the Metra routes and know of less expensive hotels along the routes, send e-mail to steve@trainweb.com to let me know about them! I don't want suggestions about hotels that are in the same cities that Metra serves. I could figure that out myself, but I would still have to take a taxi or bus from the Metra station to these hotels. I really just want e-mail from people that probably live in the Chicago suburban area and know of hotels that are only a block or two from a Metra station. I'd prefer a hotel that can be seen from the station itself as that eliminates any chance of getting lost while walking there and increases the chance that you are telling me about a hotel that truly is close to the station. Also, please only tell me about hotels along Metra lines that go into Union Station and not into OTC or the other Metra stations downtown. This would be less expensive and just as convenient for me as staying in downtown Chicago!
I'll post any response that I get to the above request. Those of you who visit Chicago in the future will have the option to stay at a less expensive place and still be convenient to downtown via Metra. Being the hub of the Amtrak network, I'm sure I'll be having many more overnight stays in the Chicago area in the future. If you plan to do any extensive traveling by Amtrak, you might also find yourself staying overnight in the area since same day connections between trains is not always possible.
Format:
YEAR MON DA DAY Actual-Departure-Time (Scheduled-Departure-Time) Time Zone
1999 MAR 27 SAT 09:20 (09:20) Central Time Chicago IL
I was waiting in the South Side Waiting Room listening to Channel 13 (160.305) on my radio scanner when I heard someone ask the Conductor of Train #303 if they were ready for the Custom Class passengers yet. That was my cue to get up and get ready to board!
When the official call for Custom Class passengers was made, there was only one woman and a family of 3 that came up to the front. That was a good sign for me. I knew the family of 3 would probably head for one set of the 2 pairs of facing seats. They were unlikely to take any seat that I might desire. So, that left only one other person and it was improbably that she would pick the particular seat that I was seeking.
Like me, she was a very fast walker. We arrived at the front car of the train in no time and boarded. I found the seat with the outlet one row beyond the wall that separated Custom Class from the Cafe Car serving area. Unfortunately, as is often the case, that seat has more wall than window! Siting there would be like sitting behind a post at a baseball game or concert. You'd have to keep poking your head around the post which is about 14" wide to see out the window. That isn't very good when trying to take photographs!
As a reasult, I did the same trick that I used on an earlier segment of this rail journey: I plugged my 3 foot extension cord into the outlet and ran it to the row of seats behind that row. I placed the leftover amount of cord into the seat pocket in front of me and plugged my surge protector into that cord. Then, I plugged in my computer power supply into that and put both the power supply and all extra cord into that seat pocket.
The only problem with this seat is that the wall separating Custom Class from the Cafe Car serving araa is right behind it. Thus, the seat can not fully recline. Since I like to always have a good view out the window and usually keep my seat in its full upright position regardless of whether I'm working or resting, the ability to not fully recline is not a problem for me. The seat is able to recline a little, but not much.
The important thing is that I'll be able to use the computer for this entire journey without worrying about running out of battery power. When having to rely on batteries for a long trip that starts in the morning, it is quite unfortunate that the batteries run out just as it gets too dark outside to see much of anything. Thus, you can't just relax and watch the scenery for the rest of your trip! To top that off, I have almost a 3 hour layover in Kansas City. I could certainly get some work done on the computer during that time with enough battery power.
I think my new notebook computer has more than 8 hours of battery time between the base battery and an additional battery slice that I purchased. However, it is difficult to find time in the hotel on some trips to get them totally charged. Unless I get up in the middle of the night to switch batteries, I can't get them both charged overnight. Fortunately, with access to onboard power, I'm not going to have to worry about that on this trip!
I thought we were going to have a very empty Custom Class since only 5 people showed up for the Custom Class call in the waiting area. After I was settled in, however, about 5 or 6 more people boarded the car. Evidently they didn't know that the train had a Custom Class and purchased an upgrade right after they found out about that option. When I first tried to book Custom Class on this train, the computer showed it as not available. I wonder if Custom Class is a new addition to this train?
The reservation agents at 1-800-USA-RAIL seem to be doing a better job now of telling people they have the option to upgrade to Custom Class on those trains where it is available. Many people do upgrade immediately when told of this option. I'm sure that is why Custom Class seems to be doing so well on all the trains where it is offered. There is a large percentage of people that will select an upgrade whenever offered, regardless of whether it is upgraded carpeting for their home or an upgraded hotel room. I think the problem before was that Custom Class was almost a secret and only known to travel agents well versed in Amtrak travel and to people that studied Amtrak literature.
I think this is great for Amtrak and they should continue to promote Custom Class as much as they can. The key is making sure that every 800-USA-RAIL Reservation Agent and every Amtrak Ticket Agent at the stations asks the customer if they would like to upgrade to Custom Class. The same goes for Club Class and for Sleepers, but I think that passengers are more likely to hesitate on the jump up to Club Class or Sleepers than the jump to Custom Class because of the price differential. Since it doesn't hurt to ask and every "yes" improves the bottom line for Amtrak, they should be required to always ask.
There are some drawbacks for those of us who have always used Custom Class even before Amtrak started actively marketing it. First, we are no longer guaranteed that it will be available or that we can do an onboard upgrade! Now you have to be sure to book well ahead to insure that a Custom Class seat will be available. Second, Custom Class will often be as crowded or more crowded than the regular coach section of the train! Third, since the only patrons of Custom Class are no longer just business executives and retirees that book through travel agents familiar with Custom Class, you now have a larger diversity of people traveling in Custom Class. That usually isn't a problem, but you do get families with restless children and crying babies more often in Custom Class than before.
Overall, I still think the upgrade to Custom Class is a bargain that you should take advantage of where it is offered. Most custom class cars do give you a lot more leg room, especially in the Custom Class Cars that have been recently refurbished. The Custom Class to Pontiac was an exception to the rule. This custom class does have a lot more leg room. Although it doesn't have the Superliner seats with foot rests and leg rests like the Amfleet Custom Class Cars on the Amtrak San Diegans have, the seats are still a lot more comfortable and provide a lot more room. There is also a lot less traffic through the car since it is almost always at the front or rear of the train. The Cafe is either right in the same car with Custom Class or is usually the car right next to it. Thus, you don't have far to walk for food and beverages. Plus, there are the usually ammenities of free non-alcoholic drinks, a snack or sandwich, and a free newspaper. On top of all that, there is still something to being treated as First Class when you travel. Many people seem to still value that.
The Cafe Car Attended came in and handed everyone in Custom Class a slip worth up to $3.50 in the Cafe Car toward any purhase. From my last trip I found that it was good even toward alcoholic beverages. On these trains, it seems they just subtract $3.50 directly from whatever you puchase. If you purchase something less than $3.50, they don't give you any change.
This is what it says on that slip they hand out in Custom Class that I received on this train and the two other times I was in Custom Class on this journey:
Amtrak® >>===
CUSTOM CLASS SERVICE
CHICAGO HUB SERVICE
GOOD FOR (1)
COMPLIMENTARY SANDWICH

NO CASH REFUND VALUE
GOOD ONLY ON TRAIN ISSUED
GOOD FOR UP TO $3.50 IN FOOD, BEVERAGE
OR OHER MERCHANDISE

TRAIN #303 $___________ DATE 3/28/99
The Cafe Car Attended went through a long list of beverages that were free to Custom Class passengers and that you don't need to use the slip to receive. These beverages included: coffee, juice (orange, apple or cranberry), bottled water, soft drinks in bottles or instant decaffinated coffee or tea.
I went up and got a cup of coffee from the Cafe. There was no charge since I am in Custom Class.
1999 MAR 27 SAT 09:46 (09:42) Central Time Summit IL
We left Summit just 4 minutes behind schedule, but a grain train just started to cross in front of us after we left and we had to wait a bit for that train to go through.
The Conductor just came in and I think he brought in another passenger that upgraded onboard. He sat the person in one of the seats and then took an inventory of what seats were still available in Custom Class. There is a total of 18 seats in Custom Class, 5 rows of 2 on the left and 4 rows of 2 on the right. There aren't any sets of 2 seats facing each other which is unusual. The Conductor can turn chairs around and make them face this way and they usually have 1 or 2 areas set up like that for families. The front set of seats on each side has a huge space in front of them, especially the right side with only 4 rows. I think that extra space is to accommodate anyone that might be in a wheelchair. The legroom at those seats is great, but I find it very incovenient to not have a seatback fold-down table available.
The Conductor politely told me and the woman across from me that he was going to need every seat in Custom Class. I had placed my camera on the seat next to me when there was just 5 people in this section. At that point it looked like Custom Class was going to be pretty empty for the trip. I moved the camera to my side to make the seat available.
From my experience on this trip and on the San Diegans, Custom Class seems to be really picking up. Booking Custom Class used to be a way to guarantee that you would be riding in a pretty empty and quiet section of the train. Now, Custom Class seems to get filled up before the rest of the train!
We just rolled through the Lemont Metra Station without stopping. It looked like an interesting little town with some shops right across from the station. The homes in this area look like a mixture of ones built after 1960 and ones built long before 1960. They all have very sizeable yards but the homes themselves are fairly modest. South of the homes is a large Seneca Petroleum Refinery and a CITGO terminal. You will see a lot of petroleum holding tanks on both the right and the left with pipes going over the tracks to connect them.
We just went express through the Metra Lockport Station! I like the way that much of the Chicago suburbs seems to be engulfed in trees! I'm sure that much of that is because a lot of the suburbs are older and the trees have had a chance to mature. Also, the plots of land allocated to each house used to be much larger and all the trees did not have to be cleared before building a house. However, even many of the newer devopments in the Chicago suburbs seem to be heavily wooded. I think that is a desired feature in this area and that the builders intentionally develop new housing in a way that keeps the suburbs wooded.
In southern California, the usual procedure for new developments is to clear cut the land, do a lot of grading work, especially in hilly areas, and then to replant new saplings after the homes are completed. Unfortunately, this gives new developments a rather baren look. Because very little yard space is allocated to each home, these developments can look like one giant building from a distance. As they get older and the trees mature, the trees will become the dominant thing you can see from the distance with the house just peeking between them.
Many of the towns near where I live in southern California have won awards for being "Tree City, USA" which I guess means they have a certain percentage of trees relative to the overall size of the city. Driving along many of the major streets in my neighborhood will give you the illusion that you are driving through the woods with very few homes in view. The illusion is often achieved by placing these major streets in narrow valleys between the housing developments and then heavily planting trees up the slopes between the street and the homes. This can give the illusion of driving down a road in the middle of the forest while you are really in the middle of a very dense suburban development!
By placing the trees in these "greenbelt" areas, my area probably has achieved a higher ratio of trees in populated areas than most other areas of the nation, but it isn't like the suburbs of Chicago, Illinois or Richmond, Virginia where they keep each home surrounded by trees. I'm sure you can find many exceptions to this rule in southern California, Chicago and Richmond, but I'm just speaking from personal experience of what I have observed.
The bottom line is that it is a real pleasure to travel along many of the Metra commuter rail routes that take me to heavily wooded suburbs that are less than an hour from downtown! If I worked in Chicago, I'd probably want to live far out on a Metra lines in a wooded area.
1999 MAR 27 SAT 10:28 (10:10) Central Time Joilet IL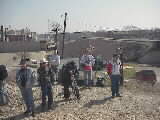 We have a lot of railfans with cameras at the tower and junction just at Joilet! If any of you railfans that were there are reading this, please drop me an e-mail at steve@trainweb.com and let me know what was going on. A lot of the railfans were taking still photos and video of this train as it went through, but I don't think you were particularly after this train. Was there something special coming after this train that you were waiting for?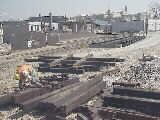 There was also some track work going on at this location right by the tower and junction. A cross-track was just laying beside the tower. It had either been just taken out or was about to be put in.
If you take this route, look for a pretty big pit on your left just after Joliet. I wonder if this is a natural pit or if it was man made. It is pretty big!
One thing I really like about a lot of the detectors in this part of the country is that they often say everything twice. That is the way they should be designed. The first announcement gets your attention, but it is easy to miss the exact mileage or some other information on the first broadcast. Although not a concern for the crew, having the information repeated twice is certainly helpful to passengers that are listening to a scanner. This is especially true when you don't know the road channel and are scanning to find it. At those times it is real easy to jump into the middle of the detector's broadcast and miss some of the information. The one thing I don't like about some detectors is they broadcast the name of a location rather than a milepost.
Far south of Joilet and almost into Dwight we are once again in the middle of open farm land.
1999 MAR 27 SAT 11:01 (10:44) Central Time Dwight IL
Dwight is definitely a stop where you can browse though a number of stores right across from the station and I'm sure there are also a number of places to eat. I did see a pizza place among the shops across the street.
We're moving along at 77 miles per hour!
1999 MAR 27 SAT 11:18 (11:01) Central Time Pontiac IL
1999 MAR 27 SAT 11:48 (11:30) Central Time Bloomington-Normal IL
1999 MAR 27 SAT 12:15 (12:03) Central Time Lincoln IL
I went to the Cafe and got a turkey, ham and cheese sandwich and a Bloody Mary. This Cafe Car Attendant offered me a choice of either Smirnoff or Absolute Vodka. I went with the Smirnoff. I know that I like Glendifilch Scotch Whisky more than any other brand, but I'm not that familiar with the differences between Vodka brands. She asked if I wanted Tabasco and pepper in my Bloody Mary. I said: "Yes, but not too much." The Bloody Mary wasn't as good as the experts make it, but it sure wasn't bad!
1999 MAR 27 SAT 12:52 (12:40) Central Time Springfield IL
We seem go be going down the middle of 3rd Street for part of the way in Springfield, but I'm not sure. There was a street sign at a crossing that indicated we were on 3rd Street, but I didn't see any room for a street on either side of the train. There are places in the country where the train will operate slowly right down the middle of the street for a short way.
There is a hotel one block from the station that towers above the station. I think it is the St. Nicolas hotel. A man came and sat beside me just from Lincoln to Springfield, which was where he was getting off. I don't know if he was a Custom Class passenger or if the Conductor just let him sit here since the car that he was in filled up with a large group of school children starting in Lincoln.
This man was a member of the NRHS (National Railroad Historical Society) and had been on a number of steam excursions. When I asked him if he was aware of the upcoming Railfare'99 in Sacramento, he said that he wasn't but that he was definitely interested in going. He went to the one in 1991. He told me about a couple of the steam excursions that he had taken.
The man was an undertaker and he was going to a special testimonial for a friend. He told me that he used Amtrak to ship bodies from one city to another. I was alrady aware that Amtrak was actively pursuing this market and trying to get the word about this service out to funeral homes. Most funeral homes fly bodies to the city where they will be buried and few know that Amtrak offers this service for many cities. I think bodies can be shipped between most cities where either baggage or express service is provided. Amtrak is quite a bit less expensive that airlines for shipping bodies. There was a time that TrainWeb was investigating to see if there was something that we could do to help Amtrak expand their express shipping business. Getting funeral homes to learn about this service must have been the hot item at Amtrak that week as they really stressed that part to us of what Amtrak offers!
1999 MAR 27 SAT 13:32 (13:20) Central Time Carlinville IL
1999 MAR 27 SAT 14:02 (13:50) Central Time Alton IL
I was trying to figure out why all the scenery along this route seemed mostly new to me even though I had been along this route a couple of times on the southbound Amtrak Texas Eagle. I just figured it out. The Texas Eagle leaves Chicago at 5:55 P.M. and gets into St. Louis at 11:40 P.M. Thus, the Texas Eagle goes along this part of the route mostly after dark. So, I've never seen this part of the route during the day before! It also explains why I had all the detectors for this segment of track, but did not know what stations the detectors were located between and even had the wrong frequencies for many of them. I probably was half asleep with my radio in scan mode and would just write down the mile post as I heard it over the radio without really knowing which stations we had passed. I think I've managed to correct those errors on this journey and provide additional radio information.
1999 MAR 27 SAT 14:49 (15:05) Central Time St. Louis MO Arrival
Everyone left Custom Class except for me! There are no more seat checks above anyone's seat except mine! I suspect that the majority of people in coach also left, though I'm sure there are a number of people traveling beyond St. Louis. This is almost like two different trains: one from Chicago to St. Louis and another from St. Louis to Kansas City. I guess there isn't a lot of overlap.
I had a chance to get off the train in St. Louis. Even though we were running 10 to 15 minutes late most of the way, the padding at the end of this segment into St. Louis allowed us to still arrive 16 minutes early!
As I stepped off the train, I was a bit surprised when someone came up to me and asked: "Steve Grande?" It was Pat Cravens with his wife Megan Cravens who themselves are frequent Amtrak travelers and visitors to TrainWeb. Pat told me that he had some pretty extensive Amtrak travel plans coming up shortly. We talked about some of our Amtrak experiences and I told Pat to make sure he comes up and visits our office when he swings through Fullerton later in the year.
During my travels, once in a while people that I knew in certain areas have come to say "hello" at the train station. Sometimes someone would e-mail me in advance and we would arrange to meet just to exchange greetings at some station along my way. I think this was the fist time someone that I didn't personally know or previously communicate with has shown up along the way unannounced. The spontaniety of just finding someone at a station to greet you is a pleasant surprise and maybe this will happen more often as TrainWeb gets known in ever wider circles.
1999 MAR 27 SAT 15:30 (15:30) Central Time St. Louis MO Departure
When I returned to the car, I found just one person in Custom Class. They didn't have a seat check so I assume they just boarded in St. Louis. Before we departed, two more people came into Custom Class. Thus there is a total of 4 people in Custom Class. Maybe the Kansas City Ticket Agents aren't explaining to people their option to upgrade to Custom Class.
1999 MAR 27 SAT 15:55 (15:55) Central Time Kirkwood MO
Three more people came into Custom Class in Kirkwood. Looks like a pair of grandparents and their grandson. It now looks like there are 8 people in Custom Class out of 18 available seats.
I just noticed that the bottom of the luggage racks have all been padded. This was definitely a modification made by Amtrak and not originally delivered with the cars. You can tell that it was done custom and not at a factory. The original covers for the lights and switches probably didn't work with the padding. You can definitely tell that the new covers were made in a metal working shop. They aren't the custom molded plastic covers that come with the cars when they are delivered. The covers are made of flat grey metal with slots cut for the switches and holes cut for the lights. When it comes to a trade off between the professional look of the factory delivered interior and this added padding, I think going with the added padding was the right decision. People often stand up from their seats and bump their head on the bottom of the luggage racks. This padding is a help in cushioning the blow.
One thing that is a little annoying on this trip is a problem with the P.A. system. There is constant loud static coming out of it even when nobody is announcing anything. It seems to have gotten a lot louder since we changed crews in St. Louis. Ah ... somebody just turned it off!
1999 MAR 27 SAT 16:35 (16:30) Central Time Washington MO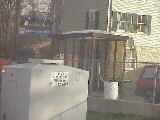 I got a Diet Pepsi and a cup with ice from the Cafe. Once again, this was free to Custom Class passengers.
1999 MAR 27 SAT 17:09 (16:57) Central Time Hermann MO
If I didn't need the electric outlet, then I probably should have been on the right side of this train as that is where the river is. There might be more scenery on that side. Hermann is an interesting town. Right next to the station there appears to be a Festival Hall with two giant barrels of beer out in front. Next to that is a historic hotel. I don't think it is open for guests, but it does offer tours. Just after the station are some buildings with interesting old architecture. I wasn't able to take photos of them as they are up on top of a hill and the train is at a difficult angle as it goes towards them. Just after that there appears to be a steamboat up on top of a hill right where there is a river at the bottom of the hill on the other side of the train.
1999 MAR 27 SAT 18:00 (17:55) Central Time Jefferson City MO
At 4:20 P.M. we passed the eastbound Amtrak Ann Rutledge. The consist of that train was identical to this one: a Genesis locomotive in the lead followed by an Amfleet Cafe Custom Class Car and that followed by three Horizon Coach Cars.
The Cafe Car Attendant asked the Conductor if he could announce that a free 10 ounce bottle of soda will be provided with each purchase of anything. Yes, anything: a sandwich, peanuts, brownie, or even will be given free with the purchase of another soda! It seems she stocked up on too many supplies for this trip and needs to get rid of the excess before she gets to Kansas City. Somebody has to explain to me how Amtrak's Cafe inventory system works. I can understand special promotions to encourage people to come to the Cafe to purchase things, but I have a hard time understanding just giving things away to clear out the inventory from an excess order of goods that don't spoil.
1999 MAR 27 SAT 19:11 (19:05) Central Time Sedalia MO
1999 MAR 27 SAT 19:40 (19:36) Central Time Warrensburg MO
1999 MAR 27 SAT 20:24 (20:11) Central Time Lee's Summit MO
1999 MAR 27 SAT 20:42 (20:28) Central Time Independence MO
1999 MAR 27 SAT 21:10 (21:00) Central Time Kansas City MO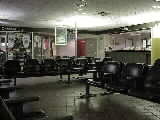 Made it! That's it! I can now truly say that I've traveled everywhere that Amtrak trains go! Note that I did not say that I've been everywhere that Amtrak goes. I have no urgent desire to travel the routes of the Amtrak buses. Now I just have to keep up with any new routes that Amtrak starts, but at the pace at which Amtrak expands, that shouldn't be too difficult. The only ones that look pretty definite to start up soon are: (1) a new Amtrak route into Oklahoma, and (2) a new Amtrak route into Maine. Amtrak will probably restore service to Las Vegas sometime in the near future and I will travel on that train, but that won't be new Amtrak mileage for me.
I don't have any plans for any further extensive Amtrak travel this year, but I'm sure something will come up to motivate me to head out on another rail trip this year. I will be heading up to Stockton in April and Sacramento in June, but these are to get to rail events and are more like business travel than pleasure travel. Though, most travel by rail is a pleasure for me!
My future plans for 2000 and beyond are to cover all the VIA routes in Canada and then start exploring some of the excursion trains in North America such as the American Orient Express, the Rocky Mountaineer, the Grand Canyon Railway, etc.
As a final thought, if anyone thinks there are Amtrak rail routes that I haven't covered or cities served by Amtrak trains that I haven't passed through, then drop me a line! I don't think I've missed anything, but it is always possible. The best way to check the routes I have traveled is to click hereto see what routes I have traveled. There is also a listing there of a few Amtrak trains on which I have not traveled, but the complete routes of those trains are duplicated by other Amtrak trains that I have taken.
I just heard a humorous thing while waiting in the Kansas City Amtrak Station for the Southwest Chief back to Fullerton, California. Someone called the Ticket Agent on the phone and must have been asking if the train to St. Louis is on-time. The Ticket Agent answered that the train is sitting outside right now and it will be on-time when it is scheduled to leave in the morning unless someone steals it!
I just realized, since I've been on every Amtrak route, that means I've been in every state of the United States that Amtrak serves. The only states that do not have Amtrak service are Alaska, Hawaii, Maine, and Oklahoma. I used to live in Boston and have been to Maine many times. I guess I'll wait until the new Amtrak service starts in Oklahoma to go there. As far as Alaska and Hawaii go, you might not think that Amtrak will ever make it there, but Hawaii has Interstate Highways, so who knows?
Consist:

83--- Genesis Locomotive
43010 Amfleet Cafe / Custom Class Car
54514 Horizon Coach
54512 Horizon Coach
54521 Horizon Coach
The detectors are reporting an axle count of 20.
Click here for additional photos taken during my travel on the Amtrak Ann Rutledge.
Click here for photos taken in the Chicago Amtrak Yard including some that were taken on this trip.
Click herefor the travelogue of the next segment of this rail journey.
Click herefor the travelogue of the previous segment of this rail journey.
Visit our Rail Magazine promotion trading partners:
Click here to add your print rail magazine.