Amtrak Lake Cities & Wolverine - Trains 352 & 351
Chicago, Illinois - Pontiac, Michigan
March 24, 1999 - March 25, 1999
Steve's Travelogue
www.trainweb.com/travel/stevelog/1999c24a.html
This travelogue covers my journey on the Amtrak Lake Cities from Chicago, Illinois to Pontiac, Michigan and my journey on the Amtrak Wolverine which returns from Pontiac, Michigan to Chicago, Illinois over the same route but with some different stops.
between Chicago and Quincy, Illinois.
Radio Frequencies:

66-161.100-Chicago Union Station
66-161.100-Chicago Union Station
13-160.305-Chicago Yard
46-160.800-Chicago - Michigan City

Detectors:

46-160.800-MP 518 (between Chicago & Hammond Whiting)
46-160.800-MP 511 (between Chicago & Hammond Whiting)
46-160.800-Whiting Indiana (between Hammond Whiting & Michigan City)
46-160.800-??? Harbor (between Hammond Whiting & Michigan City)
46-160.800-MP 482 Chester (between Hammond Whiting & Michigan City)
93-161.505-MP 236.3 (between Hammond Whiting & Michigan CIty)

93-161.505-Michigan City - Kalamazoo

Detectors:

93-161.505-Jusup? (between Hammond Whiting & Niles)
93-161.505-MP 151.9 Miller Hill (between Niles & Kalamazoo)

46-160.800-Kalamazoo - ???

Detectors:

46-160.800-Ogunset? Michigan (beween Kalamazoo & Battle Creek)
46-160.800-Marshall (between Battle Creek & Albion)
46-160.800-Leonay (between Albion & Ann Arbor)
46-160.800-Dexton (between Albion & Ann Arbor)
46-160.800-Dennis? Michigan (between Ann Arbor & Dearborn)
46-160.800-Instant? Michigan (between Ann Arbor & Dearborn)

64-161.070-??? - ???
28-160.530-??? - Detroit - Pontiac (Not sure about this)
Format:
YEAR MON DA DAY Actual-Departure-Time (Scheduled-Departure-Time) Time Zone
Train #352 - Lake Cities
1999 MAR 24 WED 14:10 (14:10) Central Time Chicago IL
About 10 minutes before the scheduled departure of my train, an announcement was made for everyone traveling in Custom Class to assemble at Gate D. They let us get right onto the train. There are 18 seats in Custom Class. The Cafe Car on this train is divided into three sections: (1) the Cafe serving area is in the center of the car and takes up about a third of the car, (2) Custom Class is in the forward third, and (2) regular Coach Class seating is in the rear third of the car. There are no tables in this Cafe Car.
There was a newspaper already at my seat when I sat down. About 15 people were traveling in Custom Class. That meant that all but 3 seats were taken and many people had to pair up. One person even seemed upset, said "There's more room in coach!", and went off to the coach car.
I only noticed one electric outlet in the car and it was at a seat without a seat back table. I decided to get a good window seat. If I ran out of battery later in the day, the people sitting by the outlet might have left by that time and I can move over to those seats at that time.
1999 MAR 24 WED 14:39 (14:39) Central Time Hammond-Whiting IN
It was very warm in Custom Class and someone asked to have the heat turned down. The Car Attendant asked for confirmation and everyone agreed that it was too warm. Unfortunately, the crew of the train kept opening the door between Custom Class and the trailing locomotive which would blow in a lot of cold air each time! There was so much wind when this door opened that all the sheets that protect the head rests would go flying up in the air and anything else that wasn't heavy would start flying around the room! Until the door closed again, we wished we did have the excess heat back!
This train has a locomotive at each end. I assume they are going to operate this push-pull train in the opposite direction when they pull out of Detroit and head for Pontiac. If not, they will certainly use it to turn around in Pontiac. The Conductors must be using the trailing locomotive cab as a crew lounge area. Other than for that reason, I can't imagine why several members of the crew keep going in and out of the trailing locomotive. Maybe they are keeping some of the supplies back there?
I purchased a Bloody Mary and a turkey, ham and cheese sandwich in the Cafe Car. Earlier, the Cafe Car Attendant had handed out coupons to everyone in Custom Class good toward a free sandwich. Later, we were told that the coupon was also good toward one alcoholic beverage. When I purchased my two items, the Car Attendant applied the coupon toward the drink which was the more expensive item and just had me pay for my sandwich.
I prefer the way they do it on the Amtrak San Diegans where they just give you various drinks, sandwiches and snacks as part of Pacific (Custom) Class. When they just give me a coupon redeemable toward items in the Snack Bar, I feel like they are just taking the extra money I paid for Custom Class and handing me a small amount of it back. If they are going to do it that way, I'd rather they just didn't provide any coupons and instead charged less for Custom Class. If the coupon is worth up to $3.50 and Custom Class is an extra $15.00, then I have to evaluate if what I'm getting for the rest of my $11.50 upgrade is worth it.
In this Custom Class the seats don't seem to give you much more room than regular coach seating, you aren't guaranteed an electrical outlet if you needed one for your computer, and there is no "at your seat" service. On top of that, it appears that Custom Class is much more crowded than regular coach seating. Maybe these are some of the reasons they discontinued Custom Class service on the Amtrak Illinois Zephyr to Quincy.
I don't mind paying the premium for Custom Class, but I would like that extra cost to result in Custom Class ammenities like those provided on the Amtrak San Diegans. Actually, I'm having a bit of a time figuring out why Amtrak did discontinue Custom Class on the Illinois Zephyr. It doesn't look like it costs them anything extra to operate. They don't have a special Car Attendant for Custom Class like they do on the Amtrak San Diegans. They don't provide any free wine as is sometimes done on the San Diegans. All they provide you with is a coupon worth $3.50 in the Cafe Car and that is easily covered by the extra cost for Custom Class. Perhaps they needed to use the special Cafe Cars that feature Custom Class in half of the car elsewhere.
Not to give the wrong impression, I'd still purchase Custom Class on this train. I suppose the main difference is that you get treated like a First Class passenger in Custom Class (Though, offically, Amtrak only considers Sleeping Car and Club Class passengers to be "First Class" and to qualify to use the Metropolitan Lounges). I have as yet to Fly First Class. I've never found it to be worth the significant extra cost, sometimes doubling the price of the ticket to fly First Class. I've racked up quite a number of air miles, but I rather use those on free flights than on First Class upgrades. Even when you do upgrade to First Class on an airplane, how long does it last? No flight is more than a few hours, so all you get for all the money it costs for the First Class upgrade is a few hours of special treatment.
On a train, however, the upgrade to Custom Class usually runs between $10 and $15. The upgrade to Club Class can run quite a bit more, but you do get First Class treatment for many hours at a fraction of the cost of a First Class upgrade on a plane. Adding a Sleeping Car Accommodation to your rail trip will often cost no more than what it would cost to upgrade to First Class on a long flight, but that gets you one or more days of First Class treatment on the train, plus all your meals, a comfortable place to sleep, and total privacy when you want it! Unique to the Coast Starlight is the Pacific Parlour Car which is open to Sleeping Car passengers only. First Class air travel offers no comparison to the features of the Amtrak Coast Starlight Pacific Parlour Car! For these reasons, I almost always upgrade to whatever top level of service is available on each train that I travel.
1999 MAR 24 WED 17:13 (16:51) Eastern Time Niles MI (South Bend)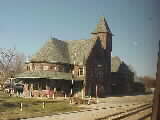 The Cafe Car Attendant just made an important announcement: "There is no such thing as low fat. There is no such thing as no fat. The only thing that doesn't have fat is water. Trust me!"
One of the Conductors just reported that one of the doors on the train is broken. He said: "We have a big problem!" I can imagine the coach passengers near that open door must be frozen! He said the door came off the slider and that he is going to try to fix it himself.
1999 MAR 24 WED 17:55 (17:40) Eastern Time Kalamazoo MI
It turns out that the door between our car and the next coach car broke and would not open. I'm sure that doesn't help sales in the Cafe since nobody can get into the Cafe other than the Custom Class passengers! There is a mother and her toddler in Custom Class that were walking up and down the train when the door broke leaving them trapped in the regular coach section without the supplies for the baby. At Kalamazoo, the Conductor took the sledge hammer and banged the door back onto its track and that fixed the door! Everyone gave the Conductor a big round of applause!
1999 MAR 24 WED 18:27 (18:12) Eastern Time Battle Creek MI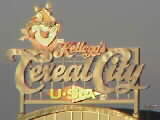 1999 MAR 24 WED 18:57 (18:42) Eastern Time Albion MI
1999 MAR 24 WED 19:19 (19:08) Eastern Time Jackson MI
1999 MAR 24 WED 19:56 (19:50) Eastern Time Ann Arbor MI
When the train departs Ann Arbor, last call is made for the Cafe Car. Normally I guess they wait a little longer, but the P.A. system is not working on this train. Thus, the Conductor had to go through the entire train letting everyone know that the Cafe Car was making a last call and would be closing before Dearborn.
1999 MAR 24 WED ??:?? (20:29) Eastern Time Dearborn MI
I think everyone left the train in Dearborn that was in Custom Class except for two people other than myself. There is one person in one of the seats in this section. I think the other person might be the one that left for regular coach because he felt that Custom Class was too crowded.
I did overhear a number of people in Custom Class talking about how they had traveled in regular coach class before and did not like it. Many of them never even knew Custom Class existed until Amtrak Reservation Agents asked if they would like to upgrade. Their whole attitude about train travel turned around after their first experience in Custom Class and they have booked Custom Class ever since!
1999 MAR 24 WED 20:52 (21:06) Eastern Time Detroit MI Arrival
Someone just rushed by me down the aisle all packed up to leave and exited out the rear end of the Custom Class Car. He was saying good-bye and wishing everyone well. I didn't look up from my computer, but was wondering who would be saying good-bye's to the remaining people in Custom Class? Then it dawned on me. I can't be sure, but I think it was the Cafe Car Attendant! No wonder he needed the Cafe Car all closed before Dearborn! Don't take me literally on that. It could have been some other crew member that was getting off.
1999 MAR 24 WED 21:00 (21:10) Eastern Time Detroit MI Departure
I'm not sure why we left Detroit 10 minutes early. Is my schedule out of date? The train is continuing to move forward. I thought that the train might head backwards out of Detroit since we are now heading in a more westward direction. There must be a track that curves around and heads up toward Pontiac.
1999 MAR 24 WED 21:25 (21:31) Eastern Time Royal Oak MI
I'm alone in Custom Class now! The last person got off in Royal Oak. They tried to get off at the rear of the Custom Class car, but there is no Conductor there any more. The Conductor came down and took the lady's bags, apologized, and said she would have to get off from one of the regular coach cars further up. The Conductor already told me that I would be getting off a couple of coaches up and apologized about that.
From the schedule, I can see that there is another train that makes this journey later this evening. It looks like that train will be the one that I take out of here in the morning since that train carries baggage and the one that I take in the morning also takes baggage. This train does not take baggage.
1999 MAR 24 WED 21:32 (21:38) Eastern Time Birmingham MI
1999 MAR 24 WED 21:45 (22:05) Eastern Time Pontiac MI
When I got off at Pontiac, I wasn't sure what to do next. There were no taxis and no payphones. There didn't seem to be an Amtrak Station building around at all. There were signs indicating I was in the right place for cars to drop-off and pick-up passengers and there was a sign indicating this was the passenger boarding area. However, the only building next to the tracks seemed to be for the crew and had no Amtrak signs on it at all! I was in the middle of a very large deserted parking lot with nothing around except this one unlabeled building. There was a major street in front of the station, but there was very little traffic on it at this hour.
The few passengers that got off at Pontiac either had their car at the station or had someone picking them up. This seemed like a good time to try to reach a taxi company using my cell phone. I dialed "0" to get the operator and asked her the area code for Pontiac. Then, I dialed that area code plus 555-1212 for information. I asked for the number of the "Yellow Cab Company" in Pontiac.
Long time ago when I was in college, I first learned of the difficulty of trying to get the number of a taxi company by calling the telephone information number. At that time I was caught in the middle of a snow storm and just wanted a taxi, any taxi, to take me home. I tried asking the Yellow Pages operator for the number of any taxi company. However, she said she could not give out that information since they were not allowed to select a company for the caller. She refused to give me the name of any taxi company unless I gave her the name of a particular taxi company!
I don't know if information handles these types of calls differently in different areas, or if things have changed over time, but I did run into that same problem a few more times over the years. Thus, I have taken to always asking for "Yellow Cab" whenever I call information. Just about every town has a "Yellow Cab". If that ever failed, I was always ready with my stand-by of asking for "Checker Taxi" or "Red & White Taxi", but asking for "Yellow Cab" has not failed me yet! If taxi companies were smart, they would form cooperatives with a nationwide 800 number and market it the way 1-800-FLOWERS does. A lot of individual taxi companies have 800 numbers, but I don't know of any that can get me a taxi anywhere in the United States.
There is almost always a taxi company listed under "Yellow Cab" in every community, but often the cab that gets sent out is not from the "Yellow Cab" company. When I called the phone number given to me for "Yellow Cab", the number was answered "Airport Transportation". They, said it would be a long time before they could get a cab over to me, probably not for about 20 minutes. I told them that was fine. The time was 9:50 P.M. If the taxi got here in 20 minutes, by 10:10 P.M., then that was the time my train would have arrived if it had not arrived early. Thus, the taxi would get here no later than I had originally expected to leave the station!
In case you end up in Pontiac, Michigan and need a taxi, you can call the Airport Taxi at 1-800-320-1683.
So, I started to just stand and wait by the building in the empty parking lot. It was too cold to attempt to read or work on anything outdoors. The Amtrak crew finally cleared out all the passengers, including one in a wheelchair that took a while using the special lift. One saw me standing there and asked if I'd rather wait in the station lobby. I replied that I would certainly wait indoors! They told me to just follow them over to the station. The station was way down on the other side of a large parking lot. There were no Amtrak signs on it and the building was all dark. There was no way without being familiar with this area that I could know that was the station building. All the parking and passenger pick-up/drop-off and passenger boarding signs indicated that this deserted spot was all that existed for the Pontiac Amtrak station. The actual station building just looked like another office building closed for the evening in the distance.
I walked through that huge empty parking lot along with the Amtrak crew. They walked over to the track side of the station building and in through the lobby doors. It was a very large waiting room. Most of the lights were turned off and it was very dim inside. I asked where the road was so that I could see the taxi when it arrived. There was no way to see out the building toward the road. There was one set of doors that faced the parking lot, but those doors were locked. One of the Amtrak people said that I could watch out those doors for my taxi and that he would unlock the doors when the taxi arrived.
At 10:10 P.M., a taxi did pull up. One of the Amtrak crew members shouted to the others: "There's our taxi!" The taxi driver asked me if I still needed a ride. I told him that I had called another taxi. He replied that I had called his company and he was to pick me up also. He asked the Amtrak crew if they would mind him going 5 minutes out of their way to drop me off. They said it was not a problem. So again I rode with the Amtrak crew to my hotel, but this time I got dropped off before the crew.
When we got to my hotel, the Fairfield Inn, one of the crew members commented: "I wish we got to stay at hotels like this." I think he was pulling my leg. It wasn't that expensive, about $63 per night, and the taxi driver in the morning told me that the Amtrak crews usually stay at the Red Roof Inn which is the taxi driver said was a better place than the Fairfield.
I used a special low-cost 800 number (7.5 cents per minute) that I had set up before I left to get on the internet from the hotel room. It usually takes me 10 to 20 minutes to find and logon to the internet using a local number. Since I didn't expect to be on very long, using the 800 number saved all the hassle of trying to find and use a local dial-up number. All I wanted to do online was just to download my e-mail so that I could work on it while on the train. I wasn't going to have many hours to sleep, so I didn't want to stay up late working on anything online.
I set the alarm clock to wake me at 4:30 A.M. and also set the alarm clock in the room for that time.
Click here to see more photos from this rail journey.
Train #351 - Amtrak Wolverine
I woke up at 4:30 A.M. from the wake-up call, alarm and count-down timer. I'm not sure which woke me first, but I usually like to have two methods to wake me up in the morning including one based on batteries in case there is a power outage during the night.
I put away everything that I had recharging overnight, got dressed and left the room at 4:45 A.M. to check out. I saw the taxi already waiting outside the lobby. When I got to the lobby, the taxi driver asked me if I was with the Amtrak crew going to the station. I replied that I wasn't with the crew, but I was going to the station! Seems like anyone going to the station this early in the morning is assumed to be part of the crew. Not knowing the traffic or the reliability of taxis in this part of the country, I really didn't want to risk leaving any later. Heading out at 5 A.M. for a 6:10 A.M. train would give me just about enough time to arrange another taxi if the one I called hadn't shown up, which sometimes can happen.
The taxi driver asked me what I was charged last night and wanted to know if it was $16, the same flat rate that they charge Amtrak to take their crews to the hotel. I told him I was only charged $9.70 which was what was on the meter when the taxi arrived at my hotel last night. This driver took the highway instead of the back roads to the station and it ended up costing a little more than last night: $10.70. I gave him $13 and told him to keep the rest.
Now that I knew where the Amtrak waiting room was located, I had the driver drop me off at that building. I was surprised to find the building open. The main doors facing the parking lot were neither open last night nor this morning, but the doors facing the tracks were open. I went inside to get out of the cold.
An Amtrak employee in the station services area was on the phone, but as soon as he got off the phone, he asked if I was taking the morning train. When I told him that I was, he asked if I knew where the train was boarding. I asked if it was boarding in the same location where it dropped people off, way across on the other side of the parking lot by the little block house. He confirmed that was the place. He told me that the train would be boarding shortly after I saw the crew leave the building and also said they would bring the train down to the boarding area about 5:50 A.M.
The Pontiac Amtrak Station itself is a fairly large facility. The waiting room has seats for 72 people but it could easily hold 2 to 3 times that many seats if needed. Almost every seat had a table next to it and there was a great deal of space between the seats. If every seat was occupied, I think the room would still not feel crowded.
There was an Amtrak Ticket Agent counter in the station that I think was set up for 3 agents. It was all closed and locked. I'm not sure if it is used at all. There was an office for Amtrak Customer Services with a sign stenciled on the window to purchase tickets onboard the train. There was also a separate office area for another staff person that I think was labeled: "Information". There were several baggage coin lockers, 3 drink and snack vending machines, some gumball machines, plus there were a number of newspaper racks outside the station.
Since the station was designed to provide services to a large number of passengers but was empty with very dim lighting, it gave a feeling like an eerie scene out of the TV horror movie: "The Langoleers" (sp?). There are many grand old stations that saw huge crowds of passengers in the past but serve very few passengers today, such as the Amtrak San Bernardino Station. In those stations I get a feeling of history and the role that trains played in the communities they served. But the Pontiac Amtrak Station was different. This was fairly new construction and modern design. When are the passengers here? I arrived on the first train last night. The only other arriving train that serves Pontiac arrives at 1:15 in the morning. I left on the 6:10 A.M. train and the only other train that departs from here is the one at 9:35 A.M. With this station being dead empty for those two trains, when are there any passengers here to use this station?
I was wondering if there was some other route that used to go through Pontiac that Amtrak had discontinued. It certainly looked like this was once a very busy station in recent history. The station building also served as the building for some government offices upstairs. I think there was also a Greyhound Bus office next door.
There was a lot of construction going on at the station. The platform looked as new or newer than the station building. However, there were no tracks at the platform! That is why passengers have to board so far from the station building. It looks like they plan to put in tracks so the train can pull up right in front of the station building.
The crew left the station building at about 5:30 A.M. That seemed too early for me to head down as I know the train wouldn't be ready for me to board for at least another 20 minutes. Shortly after that, the last remaining Amtrak person in the building asked me if I was in Coach or Custom Class. I think it was the Conductor since when I told him I was in Custom Class, he said he thought he saw one name on the manifest.
He asked if I knew where the train was boarding and then asked if I had an automobile to drive over there. When I said I didn't, he offered me a ride in his car over to the train. Before accepting his offer for a ride, I asked him what time the train would be boarding. He said it would be boarding about 6:00 A.M. or 6:05 A.M. and futher explained that they can't bring the train down too early as it blocks the road until it is ready to leave. Not wanting to wait out in the cold for the next half hour, I declined his kind offer. I told him I had walked it when I arrived in Pontiac and wouldn't mind walking back when it was time to board.
I waited until 5:45 before putting on my jacket and heading out the door. It was going to take about 5 minutes to walk from the station over to the boarding area. Since there was a boarding platform outside the station, I followed that down as far as I dared. At the end of the platform I had to decide whether to follow the tracks or walk through the parking lot. The parking lot seemed like the better choice since I wasn't sure how far the paved area beyond the end of the platform would continue or if I would end up trapped in a dead end fenced area before getting down to where the train would board. Because the sun had not come up yet, it was difficult to see down the tracks.
I think I had to wait until about 6:05 A.M. to board the train. They backed it down just far enough for me to enter the last door of the last coach car. The Conductor asked me as I boarded if I had seen any other passengers wandering around anywhere, which I had not. So, I was the only one to board the train in Pontiac.
1999 MAR 25 THU 06:10 (06:10) Eastern Time Pontiac MI
Since I saw everything on the north side of the train on my way out hear yesterday, I decided to sit on the side of the train that would give me a few of the south side today. For a moment I had difficulty trying to figure out which side of the train I would need to sit on to be on the south side. Then, I figured if I was on the left side of the train when it headed in this direction on the way out, I needed to be on the left side again as it headed out again. It wouldn't matter whether they turned the train around or operated in push-pull mode, I still needed to sit on the left side of the train relative to the direction of travel to see out the south side of the train.
I was the only passenger that boarded in Pontiac. The Conductor apologized that I'd have to board the very last coach car and walk all the way up to Custom Class. I told him that I didn't mind that. The Assistant Conductor escorted me all the way to my seat and then took my ticket. He let me know that the LSA (Lead Service Attendant?) would be getting on in Detroit.
As I entered the Custom Class area, I noticed the electric outlet at the first set of seats beyond the cafe area. However, there was a row of seats missing directly by the outlet which made for a very long distance from the seats in that position to the fold down tables in front of them! I decided to sit one row beyond the electric outlet. Once I was in my seat, I reached back behind my seat and plugged my notebook computer into the electric outlet.
Last night I was able to recharge my main battery unit, but not my additional power slice. Thus, I wanted to get that charged up while I had the chance.
1999 MAR 25 THU 06:26 (06:26) Eastern Time Birmingham MI
1999 MAR 25 THU 06:35 (06:35) Eastern Time Royal Oak MI
The Conductor came over and asked me if I had my notebook computer plugged in anywhere. I said: "As a matter of fact, I do." He replied: "I hope you are using a surge protector." I explained that I was and told him about the time that the total insides to my camcorder were fried which I suspect was from a surge in the train power. I've always used a surge protector ever since.
There was a switch stuck as we were heading into Detroit. The switch was already aligned properly for us when we got to it, but it was not set to the main line. In the old days, whenever a train switched off the main line, the Conductor would have to get out of the caboose and reset the switch back onto the main line again. Failure to do so could often result in a 30 day suspension.
Nowadays, freight trains don't have cabooses anymore so there isn't anyone at the rear of the train to set the switch back to the main line. Thus, it is now a common practice to just leave the switch in whatever position it was last used. Amtrak trains are usually short and it is fairly easy for the Conductor to still get to the back of the train. Thus, Amtrak Conductors still need to set manual switches back to the main line after the train passes the switch, even if it wasn't set to that position when the train arrived at the switch. It is not uncommon to now have freight trains setting manual switches off the main line and leave them that way and then for Amtrak to come behind and set the switches back to their proper main line position!
A switch was set properly for us to cross over, but once we crossed over, the Conductor could not get it back into its main line position. A Switch Maintainer arrived almost immediately at the scene by pickup truck and fixed the switch pretty quickly. We were then able to proceed on our way. As the Conductor came on back through Custom Class, he told me what had happened.
Heading in this direction, Custom Class is directly behind the locomotive. Thus, anyone going to or from the locomotive while we are traveling will be going through this car.
1999 MAR 25 THU 07:15 (06:58) Eastern Time Detroit MI Arrival
1999 MAR 25 THU 07:19 (07:01) Eastern Time Detroit MI Departure
After I knew the Cafe Car Attendant was pretty much done setting up, I went back and asked for a cup of coffee which is free to Custom Class passengers. While I was up there, he also handed me the voucher good for a free sandwich or alcoholic beverage.
1999 MAR 25 THU 07:45 (07:30) Eastern Time Dearborn MI
Five Custom Class people boarded in Dearborn. This is the first I have seen of any passengers on the train but it is possible that other coach passengers boarded at the previous stations (except Pontiac where I know nobody else boarded).
The Cafe Car Service Attendant handed out USA Newspapers to everyone. The headline reads: "NATO strikes Serb forces; Clinton cites 'moral' duty."
1999 MAR 25 THU 07:41 (07:35) Eastern Time Greenfield Village MI
1999 MAR 25 THU 08:15 (08:09) Eastern Time Ann Arbor MI
A few more people boarded Custom Class in Ann Arbor. We almost have a full house, but the Conductor said it was not going to be a full car according to his manifest.
A woman boarded and came into Custom Class but was a bit confused about where to sit since several people had left their seats temporarily and one person was actually sitting in a vacant seat while leaving his seat check over a different seat. The woman decided to wait by the Cafe until the Conductor could tell her what seats were available.
By the time the Conductor came to help her, most people had returned to their seats. The two most obvious places to sit were either at a seat by a dog that I think was with a blind person or with some guys that were talking up a storm. At first she seemed to decide to sit by the dog, but then she decided to move to a coach seat instead. She complained that the Custom Class seats seemed no larger than the regular coach seats.
She definitely has a point. These seats do not seem to have the legroom of the Custom Class in the Amfleet Cars on the San Diegans. Actually, now that I'm checking it, they don't have foot rests nor leg rests! What is even sadder is that I noticed the sign coming from the Cafe area into the Custom Class area says "Club Class"! Thus, this is an old Club Class Car being used for Custom Class. I guess in the past about the only difference between Club Class and regular coach class was the services that you received onboard.
The new Club Class and even the new Custom Class of many trains that I have taken, including the Pacific Class on the San Diegans, provides Superliner type reclining seats with foot and leg rests, even in Amfleet Cars. Many feature electric outlets at every seat. Most of the cars have been refurbished and sport the new blue and grey interiors with better indirect lighting. They have also reduced the number of seats in those refurbished cars to provide more leg room and a less crowded feeling.
The Custom Class would be great on this train if they made some similar upgrades. This might be down on the urgency list, however. Since Amtrak seems to be booking close to a full-house on every train, I guess they don't need any further incentives to get people to upgrade to Custom Class. I just don't like the idea that on each of the only two trips I have taken on this train, one person was unhappy with Custom Class and felt it was not better than just sitting in the Coach area.
1999 MAR 25 THU 08:55 (08:46) Eastern Time Jackson MI
From the seat behind me, someone said they do about 500,000 people on this route each year.
We got delayed before getting to the Battle Creek station. The train ended up at a red signal light and the crew couldn't seem to get hold of the Dispatcher for permission to proceed. We were stalled at this spot from 9:40 until 09:45 A.M.
1999 MAR 25 THU 10:02 (09:43) Eastern Time Battle Creek MI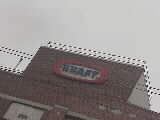 A new Conductor showed up. I think we must have changed crews in Battle Creek.
1999 MAR 25 THU 10:36 (10:17) Eastern Time Kalamazoo MI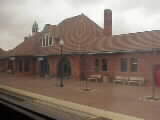 1999 MAR 25 THU 11:09 (10:51) Eastern Time Dowaglac MI
1999 MAR 25 THU 11:23 (11:07) Eastern Time Niles MI (South Bend)
The Conductor just came through and announced the Cafe will be closed when we reach the next stop at Michigan City. I'm not sure why the Cafes always close so early before we get to the end of the line. The schedule says we still have 52 miles to travel over the next 90 minutes after leaving Michigan City. You would think 20 or 30 minutes would be enough time to close up the Cafe Car, but I guess it has something to do with tracking the inventory.
1999 MAR 25 THU 10:56 (10:40) Central Time Michigan City MI
There is a nice little place to eat inside or outside right beside the tracks in Michigan City called The Depot Restaurant.
1999 MAR 25 THU 11:21 (11:16) Central Time Hammond-Whiting MI
1999 MAR 25 THU 12:15 (12:10) Central Time Chicago IL
Consist:

27--- Genesis Locomotive
48230 Amfleet Cafe / Custom Class
54564 Horizon Coach Car
54513 Horizon Coach Car
????? Horizon Coach Cars (More)
90215 F40 Cabbage Car
The dectectors are reporting 28 axles.
Click herefor the travelogue of the next segment of this rail journey.
Click herefor the travelogue of the previous segment of this rail journey.
Visit our Rail Magazine promotion trading partners:
Click here to add your print rail magazine.