Amtrak Illinois Zephyr - Trains 347 & 348
Chicago - Quincy, Illinois
March 23, 1999 - March 24, 1999
Steve's Travelogue
www.trainweb.com/travel/stevelog/1999c23a.html
This travelogue covers my journey on the Amtrak Illinois Zephyr round trip between Chicago and Quincy, Illinois.
Radio Frequencies:

66-161.100-Chicago - Naperville
85-161.385-Naperville - Galesburg

Detectors:

85-161.385-MP 043.8 (between Naperville & Plano)
85-161.385-MP 056.9 (between Plano & Mendota)
85-161.385-MP 085.5 (between Mendota & Princeton)
85-161.385-MP 110.9 (between Princeton & Kewanee)
85-161.385-MP 125.9 (between Princeton & Kewanee)
85-161.385-MP 142.6 (between Kewanee & Galesburg)

66-161.100-Galesburg - Quincy

66-161.100-MP 017.4 (between Galesburg & Macomb)
66-161.100-MP 214.0 (between Macomb & Quincy)
66-161.100-MP 230.8 (between Macomb & Quincy)
66-161.100-MP 257.8 (between Macomb & Quincy)
Format:
YEAR MON DA DAY Actual-Departure-Time (Scheduled-Departure-Time) Time Zone
Train #348 - Chicago to Quincy, Illinois
1999 MAR 23 TUE ??:?? (17:55) Central Time Chicago IL
1999 MAR 23 TUE ??:?? (18:15) Central Time La Grange Road IL
1999 MAR 23 TUE 18:32 (18:32) Central Time Naperville IL
If you read the end of the travelogue of the previous segment of this journey, then you know that I boarded this train in Naperville instead of Chicago. The eastbound Southwest Chief was running two hours late and I could not take a chance trying to change trains in Chicago.
Everyone was a bit confused about which side of the station to board the train. There are 3 tracks running through this station just like in Fullerton, California and there is a fence to block pedestrians from crossing over the tracks. Instead, a tunnel leads from one side of the station to the other. The Amtrak ticket agent made it very clear that the train would be boarding on the other side of the station. People mostly became confused when an announcement was made over the station P.A. system that the train would be arriving on the "North" side of the station. Nobody was sure which was the north side and there are no signs in the station indicating which is north or south. I had to do a little reasoning to figure it out for myself. The trains through this station run east and west. Assuming the north and south platforms were based on the east/west trains going through the station, I was able to conclude that the platform opposite from the station was the north platform as the Amtrak Ticket Agent had indicated.
Click here for a video of an eastbound Metra commuter train pulling into the Naperville Station.
1999 MAR 23 TUE 19:00 (18:55) Central Time Plano IL
1999 MAR 23 TUE 19:26 (19:22) Central Time Mendota IL
There is a steam locomotive and caboose right next to the tracks just before the Mendota Amtrak Station off the right side of the train as you are heading south.
1999 MAR 23 TUE 07:47 (19:41) Central Time Princeton IL
1999 MAR 23 TUE 08:10 (20:04) Central Time Kewanee IL
I just purchased a Bloody Mary in the Cafe on the train. The cost was $3.50 which is the same as I have found it to be throughout the Amtrak system. I left a $1.00 tip for the Cafe Attendant. If I just purchase a snack or softdrink, I'll usually just leave my change for a tip as long as there is at least 50 cents change. If I puchase any alcoholic beverages, I will usually leave a $1 tip regardless of the amount of the total order. I don't tip if all I purchase are souvenirs such as caps, T-shirts or playing cards. It just doesn't seem conventional to me to leave a tip when only buying souveniers!
I don't think this Cafe Car Attendant prides himself on his Bloody Marys. Some do. Some Cafe Car Attendants actually announce over the P.A. system that they make the "best" Bloody Marys around. Others claim to make Bloody Marys with more "zing" than anyone else. I have usually found that those Cafe Car Attendants that make such claims are able to back able their claims with 100% Proof!
I prefer to leave out the Tabasco in my Bloody Marys, but when a Cafe Car Attendant claims to make the "best" or the ones with the most "zing", I tell them to just make mine the way they usally make it. I want to see what their claim is all about! Those with "zing" are a bit spicy for my taste, but they are still excellent! Those that claim to make the "best" are not always the most spicy, but they are the most tasty! One person said his secret was to add a bit of A1 sauce. Ever since I learned that, I've been adding A1 sauce to the ones I make at home and I think it does improve the taste significantly.
This Cafe Car Attendant did what many of them do that claim no expertise in the art of making Bloody Marys. He put a can of Mr. & Mrs. T Bloody Mary Mix, a single serving bottle of Smirnoff Vodka, and a cup of ice with a stirrer in a cardboard box to take to my seat. He also pointed out all the ingredients on the bar counter that I could add to it to flavor it to my liking. He did have Tabasco on the counter, but he said he didn't have any A1 sauce. If one doesn't know how to make a great Bloody Mary, then this is the right way to serve it on the train. It is a lot easier to carry the box to your seat and mix the ingredients at your seat than to carry a full cup to your seat.
1999 MAR 23 TUE 20:42 (20:36) Central Time Galesburg IL
There is a steam locomotive right next to the tracks just before the Galesburg Amtrak Station off the right side of the train as you are heading south.
1999 MAR 23 TUE 21:20 (21:16) Central Time Macomb IL
1999 MAR 23 TUE 22:10 (22:18) Central Time Quincy IL
The train arrived into Quincy a few minutes early. When I got off the train, I noticed a taxi with the trunk openned. I asked the person near the platform that looked like a cab driver if that was his taxi and if it was available. He said that it was, that he could give me a ride, but that he had to drop someone else off first. The taxi driver said that the other person would have to get up at 4:30 A.M. so he wanted to drop him off first so he would have a chance to get a few hours of shut eye.
I put my luggage in the trunk and hopped in the back seat. The Cafe Car Attendant from the train also put his luggage in the trunk and hopped in the front seat. It was obvious that the Amtrak crew member and cab driver had been through this routine many times. The Amtrak person was staying at the Days Inn which seemed quite a bit further from the station than the Super 8 Motel where I was staying.
On the way back to my motel, I asked the cab driver if he could have a cab at the hotel for me in the morning to get me to the train on time. Amtrak going to use 2 cabs in the morning which might be all this company had available at that hour. The cab driver was trying to figure out if the company could fit me in before or after taking the Amtrak crew to the train. He concluded that it would be too tight to come to get me after the crew members were dropped off and asked if I would mind being taken down to the station before the crew at about 5 A.M. Since I was planning to head down to the station at 5:30 A.M., I didn't think heading out 30 minutes earlier would be a big problem. He called the dispatcher and scheduled a cab to pick me up at 5:00 A.M.
The cab driver checked his chart and charged me the $6 flat rate for taking a passenger from the Amtrak station to the hotel. After the ride to the hotel, checking in, and setting up all my things that needed to be recharged, I ended up falling asleep about midnight.
Train #348 - Quincy to Chicago, Illinois
1999 MAR 24 WED 06:12 (06:12) Central Time Quincy IL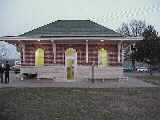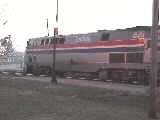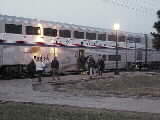 Click here for more photographs.
I woke up at about 4:15 A.M., a little too late to go back to sleep to wait for that 4:30 A.M. wake up call. After getting dressed and packing up everything that was being recharged (computer battery, camera battery, cell phone battery), I left the room at 4:45 A.M. to check out. The taxi arrived right on schedule at 5:00 A.M.
Since the Super 8 Motel is less than a mile from the station, it took no more than 10 minutes and a $6 taxi fare to get there. The cab driver was then heading out to get some of the Amtrak crew for the train.
There is a small indoor brick waiting room in Quincy with a lot of windows and just two long benches. The small building has just one large room. There isn't any Amtrak Ticket Agent here and thus no tickets are sold here. When I arrived, I thought the building would be all locked up. I tried the door on the side of the building facing the tracks and it was locked. Since I had a bit of time to wait until the train would depart at 6:12 A.M., I decided to explore around the building a bit.
There is a decent size parking lot for such a small station which looks like it could hold about 3 dozen cars. It even looks like it had been expanded to hold another dozen cars after it was originally built. Most of the seating for the station seems to be on the outside of the building rather than on the inside. All four sides of the waiting room building has bench seats built into the walls on the outside. When I got to the front of the building, I tried the door on that side and found that it was open!
After going back to the station side of the building and picking up my luggage, I went inside the waiting room. I was happy to get away from the outside chilly air. The inside of the station was lit, but was just a bit dim. Sometime around 5:30 A.M. I heard a loud "click" from one of the electrical boxes near the ceiling. Additional ceiling lights came on automatically making the room much brighter and heaters in the ceiling started pumping out a lot of warm air. Actually, so much warm air started getting pumped into the room that I had a strong desire to step outside for some cool air!
The train backed into the station about 5:55 A.M. and allowed people to board immediately. About a dozen people boarded at this terminal station this morning which is about as many as got off the train here last night. There were many more people on the train that got on and off at other stops last night, but it never came near capacity. Most people traveling alone were able to sit in pairs of seats by themselves.
Now I can see what the scenery is out the window! Last night it was all darkness. Mostly it seems to be a lot of farmland between Quincy and Macomb. Beyond the fields stretching on all sides away from the train, there is almost always a farm house, barn and silos in view in the distance. The scenery is not much different than from the Amtrak California San Joaquins, except there are no mountains in the background.
As the Conductor walked through the train, he announced that coffee was ready downstairs in the Cafe Car and breakfast items were also being served.
1999 MAR 24 WED 07:00 (07:00) Central Time Macomb IL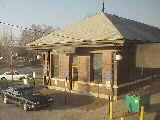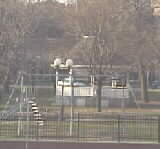 Click here for more photographs.
Click here for a video of the town and train whistle as we approach Macomb.
Click here for a video of the town and train whistle as we leave Macomb.
McComb looks like a quiet little farm country town. Across the street from the station is a park and the small downtown area. There is a bandstand in the middle of the park. On the other side of the tracks directly across from the station is a feed processing mill. Within a minute or two of leaving Macomb, we are back out in open farm country again.
1999 MAR 24 WED 07:40 (07:40) Central Time Galesburg IL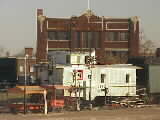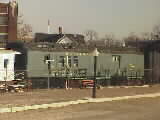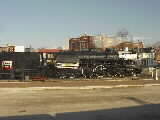 Click here for more photographs.
1999 MAR 24 WED 08:08 (08:08) Central Time Kewanee IL
1999 MAR 24 WED 08:31 (08:31) Central Time Princeton IL
1999 MAR 24 WED 08:56 (08:50) Central Time Mendota IL
1999 MAR 24 WED 09:20 (09:17) Central Time Plano IL
With all the Amtrak travel that I have done, there are still very basic things that I am learning. I guess I haven't done enough riding in Coach as there are still some things which I have overlooked. For example, I had some trash to throw away yesterday. I went to the center of the car where on the Sleeping Cars and California Cars you will usually find a large trash bag at the top of the stairs. In the Superliner I Coach Cars there is just a small trash receptacle probably used for throwing away cups used with the water spigget. The Conductor saw my confusion as I was looking for where to throw my stuff away and he said it was at the end of the car. Sure enough, at the end of the car by the door is a large trash receptacle.
Many of you have asked me about showers for coach passengers. Unfortunately, there are no showers available to coach passengers in either the Superliner I or II cars. I think the design philosophy was that it would not be possible to provide enough time, water, and towels for the large number of people that a Superliner Coach Car holds. Actually, I heard it was an after thought to even make a shower available to passengers with a Standard, Family or Handicapped Sleeping Accommodation! Passengers with a Deluxe Accommodation have a shower in their own room, but other passengers in the Superliner Sleeping Cars do not. Someone told me that they replaced a fourth downstairs bathroom with the shower / dressing room instead just before the cars went into production. I guess someone had the correct idea that riding in the Sleeping Car could not be a true first class experience unless passengers were given the option of a shower!
I purchased a cup of coffee and a bagel downstairs in the Coach Cafe Car. The only souveniers they had were blankets, playing cards, and medium sized T-shirts. They had discontinued the baseball caps. I would have purchased a T-shirt if they would have had a large or extra large.
The bagel was very strange. They had two different ones to offer: plain or cinnamon raisin. I took the plain one. The bagel didn't look like any bagel that I ever had before. It looked more like a dinner roll. There didn't seem to be any butter or cream cheese on the counter, but I noticed some leaking out of the "bagel". I figured it must already be inside the bagel and took it to my seat. The "bagel" seems to be constructed more like a cream filled donut. From the flavor and texture, it definitely would be classified as a bagel even if it didn't look like one. The cream cheese was already in the center of the bagel and the microwave had made it quite hot. This seems like an interesting edible invention that is good for keeping the cream cheese from getting everywhere, but I think I'll stick to the old fashioned bagels!
1999 MAR 24 WED 09:44 (09:40) Central Time Naperville IL
1999 MAR 24 WED 10:00 (09:56) Central Time La Grange Road IL
1999 MAR 24 WED 10:20 (10:35) Central Time Chicago IL
The train arrived into Chicago a few minutes early. To keep my cellular battery from running down, I went to a pay phone and got a number of important calls out of the way.
The most important of these issues was the upgrading of the TrainWeb server. Evidently, we are running an older version of the Commercial BSD Unix operating system that is having difficulty recognizing the new ulta-fast 10 Giga-byte drive that we have been trying to install. The BSD company does not recommend upgrading from this version of their operating system as many of their clients have encountered considerable problems when applying the upgrades. Instead, they recommend that we build a new system from scratch.
Since we've planning on building a mirror server for TrainWeb anyway, we decided to follow BSD's recommendation. We'll be creating a brand new server for TrainWeb that will start out with 20 Giga-bytes of disk storage instead of less than 3 Giga-bytes that we have on our current server. The new server will have much more RAM and operate at more than twice the processing speed of our old server!
Once the new TrainWeb server is operational and we are satisfied that it is stable and operating reliably, we'll tear down the old server and re-build it from scratch. The old system will have a copy of Commercial BSD Unix installed from scratch and will be used as a mirror site for TrainWeb. Once we have a new version of the operating system installed, we should be able to install the new 10 Giga-byte disk drives on it. The mirror site will be updated automatically and serve as a "live" backup of TrainWeb. It will be installed into the northern California office of our sister company. Once this is all operational, if there is ever an internet access interruption on our high-speed line into our southern California computer room, or if that facility was ever subject to any catastrophe, TrainWeb would remain up and operational from our northern California office. Since our northern California office has a fairly high-speed fractional T1, TrainWeb visitors and clients should hardly notice a difference if we ever needed to operate from the remote mirror backup server.
Since my tickets were only for coach travel today, I would not be able to use the Chicago Metropolitan Lounge. Not wanting to wait for the next four hours in the regular waiting room, I decided to go for a little tour on the Metra commuter rail system. I took the only trip that looked like it would fit into my schedule. That was a round trip to Northbrook from Chicago. There was only 8 minutes between trains to do my turn around in Northbrook, but the Metra trains literally run like clockwork. In worst case, I could always take a taxi back to Chicago Union Station.
I checked the train against the schedule and it really did run like clock work. The stations vary between 3 and 6 minutes apart and the Metra train arrived right on time, or even a minute early, at every station! I got off in Northbrook right on time and the train heading back to Chicago pulled into the station exact to the minute!
I still had about another hour to wait after I returned to Chicago. That hour was spent in the waiting room watching the television news.
Consist:

828-- Genesis Locomotive
35004 (0347) Superliner ? Coach Cafe
34016 (0348) Superliner I Coach
31006 (????) Superliner ? Coach Baggage
Detectors are reporting 16 axles.
Click herefor the travelogue of the next segment of this rail journey.
Click herefor the travelogue of the previous segment of this rail journey.
Visit our Rail Magazine promotion trading partners:
Click here to add your print rail magazine.