Amtrak Southwest Chief
Fullerton, California - Chicago, Illinois
March 21, 1999 - March 23, 1999
Steve's Travelogue
www.trainweb.com/travel/stevelog/1999c21a.html
This travelogue covers my journey on the Amtrak Southwest Chief from Fullerton, California to Chicago, Illinois.
Format:
YEAR MON DA DAY Actual-Departure-Time (Scheduled-Departure-Time) Time Zone
1999 MAR 21 SUN 20:16 (20:16) Pacific Time Fullerton CA
My room is in the "30" car, right behind the Dining Car. I'm in Room 6 upstairs. The Car Attendant took my ticket immediately upon boarding. I always like it when they do that so that I have immediate freedom to go where I want and don't have to worry about the Conductor trying to hunt me down to get my ticket.
Everything was nicely set up in the room including a copy of the schedule and the route guide. The Car Attendant had coffee ready in the beverage area at the top of the stairs in the center of the car. I can tell immediately that this is an unrefurbished Superliner I car as the decor is still orange and brown.
This room could use a new curtain for the door. This one seems to have shrunk a bit. The curtain doesn't quite block the entire wall. It is about 3 inches to narrow. That isn't a problem since there is a bit of wall before the window into the aisle starts. Since the curtain is too narrow, the velcro strip doesn't reach where it is suppose to attach. If the curtain had been any narrower, I would have had to hang some of my clothes up in that area at night to block the view of the interior of my room from the aisle.
The Amtrak Southwest Chief departed Fullerton right on schedule. I placed my heavy winter jacket in the closet and set up my notebook computer on the fold out table. I immediate plugged it into the electric outlet in the room, but this time using a surge protector.
An announcement of last call for a light supper in the Dining Car was made over the Public Address (P.A.) System. I went right down to the Dining Car and sat with another couple traveling in the sleepers that had boarded in Fullerton and a man from coach who had also boarded in Fullerton.
The man from coach worked on maps for the U.S. Forest Service and was returning home to Colorado. This was his fourth trip on an Amtrak train. He had traveled twice on the Southwest Chief and twice on the California Zephyr.
The couple across the table from me was just returning from a business convention in Irvine, California. The wife had an ear infection and was not able to fly home. They had flown out to the convention, but now they were both returning home by train. This was the first time they had ever been on an Amtrak train. So far they seemed to like it, but they were withholding much comment since they had only experienced their first few minutes of Amtrak travel when we met at the dinner table. They were not aware that the cost of the meals were included with their sleeping accommodation and had stocked up on food and drinks before boarding the train! With the cost of all meals included, they now realized that the difference between the coach and sleeping ticket was not quite as great a gap as they had first thought.
Amtrak offered 4 items for the "light" supper: Lasagna, a Hot Roast Beef Sandwich, Chicken Salad, or Plain Salad. I ordered the Lasagna and Daniel, our Dining Car Attendant, said I was lucky because I got the last one! Unfortunately, Daniel returned in a few minutes to let me know that I wasn't so lucky as someone else got the last one. Instead, I ordered the Hot Roast Beed Sandwich.
Some of the other people at my table ordered the salads. The one comment that we all had in common was the food was very good, and you certainly could not complain about the quantity! My open faced sandwich was piled high with Roast Beef and was served with mashed potatos and lima beans. I had also been served a small green salad before the meal and was offered a choice of different flavored ice cream sundays for desert! Everyone went to bed more than full that night.
1999 MAR 21 SUN 21:24 (21:18) Pacific Time San Bernardino CA
I returned to my room just a few minutes before our arrival into the San Bernardino Amtrak Station. I went out to the corridor when we arrived into the station to look out onto the platform. The Car Attendant had not opened the door to this car, so I had to be satisfied with just looking out the window. Another passenger looking out the window inquired as to where the station was. I explained that Amtrak was using just a small portion of the huge magnificent building by the tracks. The rest of the building seems to be used by the city for storage and much of the building was going to seed. This was one of the grandest stations in the nation during the heydays of passenger rail with thousands of people getting on or off trains every day.
I have to assume that Metrolink didn't want to pay any portion of this facility as they built their own "bus stop" like station right outside the historic building and Amtrak has signs inside that indicate that the restrooms are for "Amtrak" patrons only. There are many rumors that Amtrak itself might abandon this station in the near future to have both the Southwest Chief and Sunset Limited stop in Riverside. In terms of the actually location of passengers and connecting transportation services, this would be a very logical move. However, it is a shame that such a historic station could not be brought alive by finding a contemporary use.
1999 MAR 21 SUN 22:24 (22:24) Pacific Time Victorville CA
If you are a frequent visitor to the TrainWeb web site, then you are aware that many rail related products and services are advertised and promoted here. The companies that provide these products and services sponsor TrainWeb and make it financially possible for us to post these travelogues, photos, video clips and other rail information to you free of charge. I certainly do appreciate it when you do purchase from these sponsors and let them know that you saw their offering on TrainWeb.
The items advertised on TrainWeb cover the entire field of rail interests including rail travel, railfanning, model railroading, the rail industry, etc. Since each of us find different things about rail that interest us, we don't all have a use for everything mentioned at TrainWeb. There are a lot of items advertised at TrainWeb that don't apply to my own personal interests in rail, but I do mention and promote them if I feel they would be useful to many of the visitors to TrainWeb. Even if a company is not a TrainWeb Sponsor, you will still find mention of what they offer when I feel it is of interest to the visitors to TrainWeb. Naturally they won't be given the exposure on TrainWeb that is given to our sponsors, but we still won't hestitate to mention other interesting rail products and services.
When I do find an item that I personally find extremely useful, I do like to mention it so that you can derive the same benefit that I do! The item that I found extremely useful on this trip is the carry bag with the "Amtrak California" logo from Sam's Steel Rails West. I appreciated it when Sam gave me one of these bags, but just regarded it as another Amtrak souvenier. I had been using it in place of another bag for several months, but had not realized how useful it was until I took it on this particular trip!
Before I went to bed, I perched it on the arm table next to the seat (also used as the stairs to get to the upper bed) with the main front pocket with the Amtrak logo facing me. As I get ready for bed, I start to take things out of my pockets like my cell phone, pager, pen. These things usually end up in various nooks and cranies around the room that look like logical places to me until I try to find them later! This time, that Amtrak logo zipper pocket was staring me in the face and I ended up putting all these things and even my eyeglasses into that pocket. For the first time, I found it real easy to find anything during the night that I needed. Also, since it does zipper up, nothing is going to fall down or roll away from where you placed it during the night.
You are probably thinking that any zipper bag could have been just as effective. What I particularly like about this bag is that it is very large, but not too large for the top of that side table. There are also two very large zipper pockets on each side of the bag. These are great places for your camera, scanner, radio, and other large objects that you want to have immediate access to and don't want to be buried with your clothes and other items in the central area of the bag. The main area of the bag has a double zipper flap to make it really easy to get things in and out of the bag, even after you have already filled it to capacity! The bag has both a shoulder stap and smaller top handles for easy carrying. Plus, on top of all that, it is still a great train souvenier with a unique style of the "Amtrak California" logo! Click here if you want to go to Sam's Steel Rails West web site now to find out more about how to puchase a travel bag like this.
I am traveling pretty light this trip because much of it is going to be in coach. There are no sleepers in the other trains that I will be taking during this journey. When doing a lot of travel by coach, I find it helpful to use luggage that will fit over the coach seats. Thus, I took along the above carry bag for my clothes and a backpack for the heavy items, such as my notebook computer. When I'm in a sleeping car, I re-arrange things so that everything can be accessed more easily. For that reason, I use a backpack that also has a front pocket and two large side pockets. I keep important documents like my tickets in the front pocket. Items that I might need at a moment's notice are kept in the side zipper pockets, like film and batteries for the cameras. When traveling by train, it is very important that bags have zippers rather than be open carry bags. It is very easy for items to spill out of luggage as it is moved from luggage racks to overhead seat racks to the floor, etc.
1999 MAR 21 SUN 23:16 (23:16) Pacific Time Barstow CA
1999 MAR 22 MON 02:25 (01:43) Pacific Time Needles CA (Laughlin NV)
1999 MAR 22 MON 04:33 (03:52) Mountain Time Kingman AZ
I woke up around 6:30 A.M. Mountain Time and headed down to breakfast before they made first call over the P.A. system. The Dining Car has been open since 5:00 A.M., but they don't usually make the first call over the P.A. system until 7 A.M. so that they don't wake up people who would rather not be up so early. I wanted to get down to the Dining Car before that first call since the Dining Car gets crowded after that and they often have to start a waiting list.
I'm going to try to restrict myself to no more than 2 meals per day on the train this trip. Trains can be like cruise ships when it comes to the amount they feed you. Sleeping Car passengers might be tempted to eat much more than usual since all 3 meals each day are included in the cost of the room. Sides of sausage and bacon are offered with almost every breakfast at no cost, deserts are offered with almost every lunch and dinner, plus soup and/or salad are also provided with many lunch and dinner entrees! You may be tempted to eat everything that comes your way to get your full money's worth out of what you paid for your room.
Personally, that is far too much food for me. I'll often have breakfast and skip lunch. Breakfast is usually not as crowded or as hectic as lunch time, especially if you arrive before the first P.A. breakfast announcement. At other times, I'll have lunch and skip dinner, though dinner offers the best selection of the day and the most elaborately prepared foods.
This morning I had scrambled eggs with hash brown potatos, wheat toast, a glass of orange juice, and a cup of coffee. I skipped the side of sausage or bacon that was offered. The couple that sat across from me was returning home from Victorville, California to Galesburg, Illinois. The husband had worked for the railroad as a welder for 30 years and talked about some of the changes he had seen over the years. The person sitting next to me was going all the way through to Chicago and then on to Annapolis, Maryland. He was aware that Amtrak usually uses the same equipment on the Capitol Limited that he would be taking as this Southwest Chief. He also said that he misses the days when Amtrak let you stay onboard the train during the layover in Chicago and was aware that the main reason Amtrak states for having done that is to save the cost of having the train and passenger's property guarded during the layover.
1999 MAR 22 MON 07:20 (06:42) Mountain Time Flagstaff AZ
Flagstaff is a nice little down and currently serves as the gateway to the Grand Canyon. This is where you would get off to transfer to the Grand Canyon Railway which takes you right to the rim of the canyon. The Grand Canyon Railways starts from another station a few miles away and you would be transferred to there by bus from Flagstaff.
Photography on this route is going to be difficult for me. I've taken the Southwest Chief so many times that I noticed that I have many photos of the same scenery posted to TrainWeb! I don't want to continue to take photos of the same things and keep posting redundant pictures. Although I plan to avoid taking such photos on this trip, don't be surprised if I post some duplicate photos of items that I thought that I had not photographed previously.
1999 MAR 22 MON 08:50 (08:10) Mountain Time Winslow AZ
Heading east, on the left side of the train there is a pink stucco and tiled roofed station and a building that used to by a Harvey House.
We passed an Amtrak Road Railer Express Car just as we departed the Winslow Station. Looks like we are going to make a reverse move to attach that Road Railer Car to the end of this train! The Road Railer units allow a specially designed truck trailer to be attached to an Amtrak train without any need for piggy-back equipment. Road Railer units are placed at each end of the special truck trailer. The trailer body itself looks like any trailer that you would see going down the highway as part of a truck trailer (or tractor trailer). The Road Railer units have steel wheels on them that go onto the rails and have a coupler to attatch to other cars on the train. One of these Road Railer units are placed at each end of the truck trailer and the trailer is lifter just a few inches off the ground.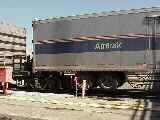 Click here to view photos of the Road Railer.
These units allow truck trailers to be added or removed from the train anywere an access driveway has been built up to the level of the rails. An example of where roads and rails are at the same level are normal grade level crossings where roads cross over railroad tracks. This allows Amtrak Express Shipping to serve many locations that would not be available to regular piggy-back freight trains. The income that Amtrak is able to derive from this new full truck load Express Shipping business is expected to contribute significantly to the cost of operating their long haul passenger trains.
There are still some details that need to be worked out. Obviously, the passenger schedule is impacted by how long it takes to load and unload these units on and off the train. Additional delays are sometimes introduced when a mechanical problem crops up in trying to get a unit added or removed. However, if this new business is able to keep Amtrak financially viable and might even provide enough income and demand to add more routes and frequencies to the system, then it is probably well worth dealing with these new problems.
I just heard that the crew is going to have to keep an eye on this Road Railer as it is a brand new unit.
A bit past Winslow we begin to follow the Little Colorado River. There is a huge electric power station on the left that generates much of the electricity for the Southwest as far as California and uses 100 hopper cars of coal a day, each containing 100 tons of coal. That is almost 4 million tons of coal a year!
Last call for breakfast was made over the P.A. system at 8:30 A.M. Mountain Time.
Video Clip (122K): I think this is the Wig Wam Motel!
1999 MAR 22 MON 10:27 (09:52) Mountain Time Gallup NM
Gerald Pinto boarded the train in Gallup and would be an Indian Guide from Gallup to Albuquerque, New Mexico. The informative narration is provided in the Sightseer Lounge Car. I wish they would do on this train like they do on most other Amtrak trains that offer narration for part of the trip and broadcast it over one channel of the P.A. system. That way, people could enjoy the narration from their rooms. If they don't want to listen to it, they can just switch to a channel that only provides important train announcements. I once attended one of these narrations on the Southwest Chief. The items pointed out were interesting, but each item was separated by many miles and many minutes. I'd love to listen to the narration from my room where I could stop doing my work each time something was pointed out and then return to my work during the silent periods. It's rather awkward trying to work on my notebook computer in the Sightseer Lounge Car.
Video Clips (about 122K / 5 seconds each):

There is some fabulous scenery between Gallup and Albuquerque, New Mexico. This scenery along this part of the route would be considered one of the scenic highlights of this trip. Unfortunately, it is very difficult to give the proper impression in a photograph. I'm not taking many pictures of this section during this trip, but you can look at many of my travelogues from earlier trips on the Southwest Chief and find lots of photos of this area. If you try to take a close-up of the cliffs, they just look like any other cliff. If you take a wide shot, the cliffs and mesas look so small that they don't look impressive. Maybe a panoramic photo is what is needed. My camera can't take those types of photos, or if it can, I have as yet to learn how to do that. Even though you won't see many impressive photos from this part of the trip posted to TrainWeb, don't be fooled! This is one of the most scenic parts of the entire rail journey!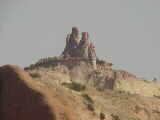 Click here to view what photos I did take of the rock formations in this area.
I went out to the beverage area at the top of the stairs in the center of the car and made myself a cup of coffee. I should have grabbed one of the big hot coffe paper cups and plastic lid when I saw them there in the morning. Those ran out and all that is left is the short plastic coffee cups without lids. As far as the beverages themselves go, Fred has kept this area pretty supplied. I've seen coffee available from the moment I woke up until late last night before I went to bed. Cartons of apple and orange juice are also available as well as clear plastic cups and all the sweeteners, cream and stirring sticks for the coffee. This might be a small thing, but I have seen Car Attendants, especially those that don't drink coffee, only make coffee once or twice per day and have the urn shut down long before evening. I've even seen some that only make it once in the morning! The most bothersome have to be the Car Attendants that make the coffee, but forget to put out any cups or creamer! Lately I've noticed that most Amtrak Sleeping Cars seem to have the coffee ready all day long with plenty of supplies. This could be a new policy that Amtrak keeps an eye on. If so, I applaud whoever is responsible!
In the corridor, I met the couple that I had supper with last night. The wife was feeling motion sickness. Not too many people get that from the train, but I have met a few that do. That doesn't stop most people from riding the train. Instead, they just ask for a room downstairs which doesn't sway as much as the upstairs rooms. There are two reasons for this: (1) The downstairs rooms are closer to the center of gravity, and (2) All of the downstairs rooms are between the wheels of the car and not on top of them nor beyond them. Thus, the downstairs rooms do not sway as much as the upstairs rooms and also don't fishtail like the rooms at each end of the car upstairs. I recommended that they book a room downstairs in the future to try and avoid the motion sickness problem. They might even check with their Car Attendant now to see if they can move to an available room downstairs.
This has been a good trip so far. Everyone seems friendly. The people in the dining car are prompt and efficient and the food has been excellent. The Car Attendant has been very dilligent in answering when people use the call button. He showed up almost instantly when I pulled the button to have my bed made up. I pulled it again before I left for breakfast this morning and my bed was made when I got back. Everything was in my room when I boarded the train last night: schedule, route guide and safety card. The bathrooms have been kept spotless and he has placed a can of Lysol spray in each. Most Car Attendants don't do that, so I usually consider that as good extra attention to detail.
What does seem missing, however, is that my only contact with the crew outside the Dining Car has been when my Car Attendant took my ticket when I boarded last night. I don't mind not having a visit from the Conductor to take my ticket. I think it is an improvement in service to have the Car Attendant lift the tickets as the passengers board the train. Beyond that, nobody came to my room to ask if I needed any orientation to the train or explanation of how anything worked. I suppose the Car Attendant may have recognized me and realized I didn't need any introduction, but at least a visit to my room to welcome me aboard would have been appropriate. I also like it when the Chief of Onboard Services goes to every room to introduce himself and let each passenger know that he is always available if any problems develop. But, as I said, nobody has come to my room on this trip yet, except when I've specifically asked for service.
The Car Attendant dropped off a USA Today newspaper in my room this morning and later slipped under my door a beverage coupon that reads: "SLEEPING CAR SERVICE BEVERAGE COUPON - This Card is good for one complimentary drink of your choice from our lounge car at anytime during the course of your trip. If you like, your attendant will bring your beverage or you may redeem this card in our lounge car at the snack bar on the lower level. Thank you for choosing Sleeping Car Service on The Southwest Chief, one of the Great Trains Of The West. ROOM/CAR NUMBER: 6-430, DATE: 03-22. One pass per person per trip on The Southwest Chief. Amtrak."
One thing I found a little odd was that the Car Attendant showed up wearing an undershirt when he came to make up my bed. It was late and I could have been mistaken. Maybe it was an off-duty white T-Shirt, but it definitely didn't look like part of a uniform. I look at train travel as a rather casual experience where crew and passengers all work together to make it an enjoyable experience for all. Thus, this didn't bother me that much. However, I couldn't help but think of all those people that sent me negative e-mail about wearing my baseball cap in the dining car. What would they think of a Car Attendant that serves passengers while wearing an undershirt (lest I leave the wrong impression, he was also wearing pants and shoes)?
Just to let those of you know who were concerned, I have taken to no longer wearing my baseball cap in the dining car, although I still see many others that do every time I look around. If that many visitors to TrainWeb think still think it is inappropriate to wear a hat while eating at a table, then I don't see any reason to fight this lingering custom. With the limited time that I have available, I like to pick the battles that I think will be most worth while and this is not one of them. Personally, I wish more of the old traditions had lingered and people were just as upset about seeing others come to the dining car in T-shirts, shorts and sandals as they are about someone wearing a hat!
They just made first call for lunch at 11:30 AM Mountain Time. They just did the usual call of "Please come in and wait to be seated."
1999 MAR 22 MON 12:45 (13:05) Mountain Time Albuquerque NM Arrival
1999 MAR 22 MON 13:30 (13:30) Mountain Time Albuquerque NM Departure
We arrived quite early in Albuquerque so I had plenty of time to get all the car numbers and take quite a few photographs. There must be quite a bit of padding in the schedule to have gotten about 40 minutes behind and then arrive quite early!
Expecting Albuquerque to be cold like Flagstaff, I had put on my heavy winter ski jacket before stepping outside. That was a mistake! It was quite warm in Albuquerque. I would have brought my jacket back to my room, but I was afraid I would waste too much time getting things out of the pockets that I needed like film and batteries. So, I just suffered through the heat and accomplished what I had set out to do. I couldn't even take the jacket off and carry it around as that would get in the way of trying to write and take pictures.
Click here to view photos of the Albuquerque Station and the train.
1999 MAR 22 MON 14:42 (14:39) Mountain Time Lamy NM
Above is a picture of a church that we passed just before arriving into Lamy.
The Legal Tender Saloon is all boarded up. I wonder how long it has been that way. This saloon is mentioned in most of the route guides for the Southwest Chief, but not in the current one provided by Amtrak.
Above are photos of the Lamy Amtrak Station.
Sam Sullivan, who always introduces himself over the P.A. system as "Your favorite Dining Car Steward," just announced that he will be going to each car on the train and giving out dinner reservations.
Since I am in Car Number 30 (0430), the first car behind the Dining Car, Sam arrived at my car first. He went through the Deluxe Rooms in this car and then he might have gone through the rooms downstairs before he came to my room. Sam told me to pick anytime that I want for dinner tonight. Since I hadn't gone for lunch, I told him 5:30 P.M. There must be a lot of people that want to eat early as that was the only time slot that was already full! He offered me 6 P.M. and I took it. Sam asked me about TrainWeb. I gave him my business card and he noticed that TrainWeb was right in the Fullerton Depot. Sam said he lived right in Orange County and might drop by sometime.
Sam handed me a Dinner Reservation Card. This is what it says on those cards: "DINNER RESERVATION CARD - Seating Group #1 - 6:00 P.M. - One Reservation Card Per Person Please - Amtrak - Seating times are 'Approximate'. Please listen for an announcement for your call to the diner. - NRPC 2316 (11/92)"
The Lounge Car Attendant just announced that Happy Hour will be starting in the Lounge Car at 4 P.M. and all drinks will be $1 off. He also announced that two movies will play tonight in the Lounge Car: (1) The Mask of Zorro and (2) Armageddon.
1999 MAR 22 MON 16:28 (16:18) Mountain Time Las Vegas NV
Video Clips (about 122K / 5 seconds each):

1999 MAR 22 MON 18:11 (18:05) Mountain Time Raton NM
1999 MAR 22 MON 19:10 (19:05) Mountain Time Trinidad CO
Interesting stop in Trinidad. The station seems to be in the parking lot of a Pizza Hut, or right next to it. Cars that are parked in the parking lot of the Pizza Hut are less than 30 feet from my window! I think the door to the Pizza Hut is much closer than the door of the Dining Car from my room.
1999 MAR 22 MON 20:20 (20:48) Mountain Time La Junta CO Arrival
1999 MAR 22 MON 20:48 (20:48) Mountain Time La Junta CO Departure
We arrived quite early into La Junta. The Conductor announced that we would have time to get off the train and stretch our legs, but not enough time to go into town or even into the station. Actually, there was probably plenty of time to go into the station, but I would not suggest ignoring the Conductors warning. I've seen people get left behind when they went into the station even though they were warned. I went outside without putting on my jacket and found it to be a bit chilly outside. The air was refreshing and I stayed outside for maybe 5 minutes or so.
1999 MAR 22 MON 21:36 (21:36) Mountain Time Lamar CO
I don't know what the story is about fast food and train stations in this part of the country, but my room is as close to the drive-up window of a Carl's Jr. as it was to the Pizza Hut in Trinidad!
1999 MAR 22 MON 23:57 (23:57) Central Time Garden City KS
1999 MAR 23 TUE ??:?? (00:48) Central Time Dodge City KS
1999 MAR 23 TUE ??:?? (02:33) Central Time Hutchinson KS
1999 MAR 23 TUE 03:14 (03:14) Central Time Newton KS (Wichita KS)
1999 MAR 23 TUE ??:?? (05:25) Central Time Topeka KS
1999 MAR 23 TUE 06:10 (05:56) Central Time Lawrence KS
I got up about 6:15 A.M. today. The Dining Car didn't open until 6:30 A.M. I wanted to get up a bit early so that I would be done with breakfast by the time we reached Kansas City so that I could walk around a bit. Also, I wanted to eat early so that I would be hungry for lunch later. This would be my last "free" meal on a train until my trip back home on the Southwest Chief at the end of the week. Since I'll probably skip dinner today, I figured I should eat breakfast and lunch on this train.
1999 MAR 23 TUE 07:47 (07:35) Central Time Kansas City MO Arrival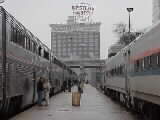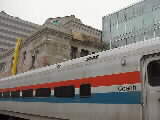 Click here for photos taken at the Kansas City Amtrak Station.
Video Clips (about 122K / 5 seconds each):

Studying my maps and schedules last night, I was starting to wonder if one of the short segments of this trip was really necessary. Later today I'll be taking the train to Quincy, Illinois and then back again to Chicago in the morning. There are only two stations along that route that are not along the rails of the Amtrak Southwest Chief: McComb and Quincy. Both those station names sound familiar like I had been through them before. I know they rerouted one of the western trains on its way to Chicago, either the Southwest Chief or the California Zephyr. I was thinking that maybe one of these trains used to go through Quincy and McComb. Unfortunately, I could not find anything in my notes on my computer that would tell me if I had ever been through these stations before. Thus, I will take this route today just to make sure I cover it.
I also noticed that between Galesburg and Chicago, Illionois, the Southwest Chief and the train to Quincy, Illinois cover the same route. If I had planned something to do in Galesburg, I could have gotten off there and spent several hours before boarding the train to Quincy from that same station. In any case, I was in no danger of not making my connection between the Southwest Chief and the train to Quincy as I could always have changed trains in Galesburg with several hours to spare.
The train seems to have developed some electrical problem at or before Kansas City. It is now 8:30 A.M. and we were supposed to depart at 8:00 A.M. Thus, we are already running 30 minutes late. The train is currently without power and I am working off the battery in my notebook computer.
The electricity is back on again at 8:45 A.M. Another problem seems to be that the EOT (End Of Train) unit is not working. I think that is the device also called a FRED (Flashing Rear End Device). The electrician said he wants both a new EOT and a new battery. The battery is reading zero power and the unit itself is going in and out. They are checking to see if they have another unit in Kansas City, but they think they do. They found one! They installed EOT device 13684.
Ooops! After waiting a while with nothing happening, the Engineer called back to the Electrician and asked what the problem is. The Electrician said he didn't have a problem and he was waiting to hear from the Engineer. So, I guess they were waiting for each other! The Electrician told the Engineer to flip the switch, the Engineer did, everything worked, and the Electrician gave a "high ball" for the rear end to the Engineer and Conductor!
Blue Flags down, everything ready to go, "high ball" number 4! We're movin' on out at 9:03 A.M., just about one hour behind schedule.
1999 MAR 23 TUE 09:03 (08:00) Central Time Kansas City MO Departure
1999 MAR 23 TUE 11:57 (10:22) Central Time La Plata MO (Kirksville MO)
1999 MAR 23 TUE 13:30 (11:31) Central Time Fort Madison IA (Keokuk IA)
1999 MAR 23 TUE 14:30 (12:32) Central Time Galesburg IL
1999 MAR 23 TUE 15:24 (13:23) Central Time Princeton IL
1999 MAR 23 TUE 15:45 (13:45) Central Time Mendota IL
1999 MAR 23 TUE 16:50 (14:39) Central Time Naperville IL
1999 MAR 23 TUE ??:?? (16:00) Central Time Chicago IL
Whoops! Never quite made it to Chicago. The train did, I assume, but I didn't. The train was running about 2 hours late and didn't look like it was going to make up much time. There is some padding at the end of the schedule just as the train arrives into Chicago. Amtrak allocates 1 hour and 21 minutes to get just 29 miles from Naperville to Chicago. Usually the train can make it in much less time. That is why the Conductor said the expected arrival of the train would be 5:30 P.M. into Chicago instead of arriving 2 hours late around 6 P.M. However, the Southwest Chief is arriving into Chicago right in the middle of the commuter rush hour and will be working its way against a lot of local Metra commuter trains that operate on the same tracks. Also, the express freight cars are often removed from the train before they bring the train into the Chicago station. These two factors could easily move the arrival of the Southwest Chief beyond the departure of my train at 5:55 P.M.
Not wanting to take a chance, I decided to switch trains in Naperville. The Conductor agreed with my decision. I heard the Conductor notified my Car Attendant that I would be getting off in Naperville instead of Chicago. When I saw my Car Attendant, I reconfirmed that I would be leaving the train in Naperville instead of Chicago.
The train pulled into Naperville and stoppped, but nobody came to my room to get me. I didn't want to miss my stop, so I picket up my stuff and went downstairs. The Car Attendant was there along with two passengers, but the door was not open yet. The other two passengers were not getting off the train, they were just there to get some fresh air. As soon as the Car Attendant saw me, he opened the door and let me out. I was going to tip the Car Attendant $10, but I was so rattled at not having been notified and having to rush down to the door, that I forgot to give him the tip! I discovered the $10 bill in my shirt pocket a few minutes later when I was looking for something else.
Actually, not being notified about being at my stop was probably not the Car Attendants fault. When I got off the train, I was way far down at the most western end of the station and I didn't see anyone else leaving the sleeping cars. As I started to walk toward the station, which was a long way down, I heard over my scanner that the train would be making a double stop for the sleeping cars. Thus, I wasn't really even suppose to get off the train yet but was suppose to wait until they brought that end of the train closer to the station. I just have to assume my Car Attendant knew this and was waiting to come get me from my room when the train was ready to make the second stop. Though, I do wonder why he opened the door for me. He could just have told me we would be making another stop.
Shortly after I arrived at Naperville, the eastbound Amtrak Southwest Chief arrived into the station! I've posted a couple of video clips of that train leaving the station.
Video Clips (about 122K / 5 seconds each):

Click here to view additional photos from this rail journey.
On Board Staff:

Onboard Service Chief:
Car Attendant: Fred
Dining Car Steward: Sam Sullivan
Dining Car Server: Daniel
Cafe Car:
Consist:

27---- Locomotive: Genesis
75---- Locomotive: Genesis
26---- Locomotive: Genesis
1002-- Baggage Car
39011- Transition Sleeper (0410) Superliner II
34041- Coach Car (0412) Superliner I
31508- Coach Smoking Car (0411) Superliner I
33040- Sightseer Lounge Car - Superliner
38064- Dining Car - Superliner
32041- Sleeping Car (0330) Superliner I
32048- Sleeping Car (0331) Superliner I
32066- Sleeping Car (0332) Superliner I
1456-- Express Baggage Car
71190- AMTK Express Box Car with blue Amtrak stripe
71184- AMTK Express Box Car with blue Amtrak stripe
71152- AMTK Express Box Car with blue Amtrak stripe
71133- AMTK Express Box Car painted grey
71088- AMTK Express Box Car painted grey
1525-- Express Baggage Car
1426-- Express Baggage Car
1450-- Express Baggage Car
71175- AMTK Express Box Car painted grey
410022 Road Railer Body

5010 Road Railer Lead Unit
5011 Road Railer Rear Unit
Leaving from Fullerton, the detectors were reporting 88 axles. After we added the Road Railer in Winslow, the detectors were reading 92 axles. Many of the Express Cars in the consist had a yellow sign with black letters that read: "MAIL SERVICE ONLY / CHI - LAX"
Click herefor the travelogue of the next segment of this rail journey.
Click herefor the travelogue of the last segment of this rail journey.
Visit our Rail Magazine promotion trading partners:
Click here to add your print rail magazine.