Southwest Chief Travelogue
From Ray Burns
(http://www.trainweb.com/travelogues/rayburns/2001d24r.html)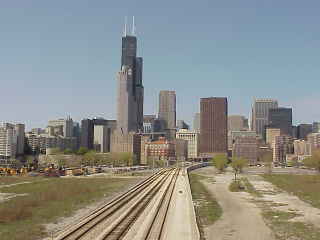 Today, Tuesday, April 24, 2001, is one of those days that gave TrainWeb one of those unexpected hardships. It was pretty warm today. I heard that it was 97 degrees out today. Fortunately, we have a pretty decent air conditioner for our office. As usual, we were pretty busy with our everyday work, but then, Steve and I also put in the final preparations on taking the SouthWest Chief to Chicago. We expected to leave our office above the Fullerton Train Station around 5:45 PM and go to Los Angeles to await the Amtrak SouthWest Chief to start our journey to Chicago to attend the annual meeting of the Amtrak Historical Society. Every year it is held at a different location around the country.
We soon learned that our train would be later than 8:00 PM. Later, we were informed that it might be in around 1:00 AM, or possibly 2:00 AM. Gene Poon, a good friend of ours thought that reality would be more like 6:30AM. My vote supported Gene. It turned out that he wasn't correct as the train actually came at 7:30AM the next morning. Gene was on target. It ended up that if we would have been notified of the approximate arrival time to Fullerton, we all could have gone home and had a good nights sleep in preparation for the next days trip. Seeing as that we were not informed of reality and everyone was guessing, other than the passengers who cancelled and left, the rest of the passengers slept inside and outside of the train station, expecting the train to come in at any time. The three of us buckaroos were more fortunate. Our office is on the second floor of the Amtrak station so we had the luxury of being in our own "turf." That means that we had our own refrigerator, water, drinks, restroom, and personal surroundings. The three of us ended working all through the night and morning until around 6:30 AM. Needless to say, we were just as beat as everyone else. Knowledge is so valuable. The only positive thing out of this whole situation was that the weather was wonderful. Not too hot and not too cold. Things could have been worse.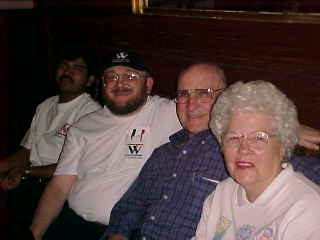 I might add that Amtrak did invite the passengers that were boarding to go next door to "The Spaghetti Factory" and have dinner on them. The three of us joined another couple for dinner. Everyone had more than enough to eat. They spend six or seven months a year in San Diego and then spend the balance of the year back east. They are a very charming couple in their late seventies. He is a minister and his wife keeps him on the straight and narrow. A good combination, I would say.
Wednesday, April 25, 2001 - It was a welcome sight seeing those Genesis engines pulling the Amtrak cars pulling into the Fullerton Train Station around 7:30 AM. Oh well, we each had our own private room and that was a luxury in itself. Lots of legroom for each of us
The consist layout from Los Angeles to Chicago today is:
Consist:

60---- Genesis Locomotive P42DC with new Amtrak logo
95---- Genesis Locomotive
70---- Genesis Locomotive
74---- Genesis Locomotive
1733-- Baggage Car
39010- Superliner 2 Transition Sleeper (0310)
34044- Superliner 1 Coach Car (0313)
34026- Superliner 1 Coach Car (0312)
31591- Superliner 1 Coach Car (0311)
33016- Superliner Sightseer Lounge Car
38034- Superliner Dining Car
32043- Superliner 1 Sleeping Car (0330)
32013- Superliner 1 Sleeping Car (0331)
33038- Superliner Sightseer Lounge Car (Dead Head)
------ Amtrak Express Car
------ Amtrak Express Car with new logo
------ Amtrak Express Car
------ Amtrak Express Car
------ Amtrak Express Car
------ Roadrailer Car
Steve and I were standing at the right place for our sleeper car at the station. Once the train stopped and the car attendant got out she told us that the coach cars were down the other end of the trainset. It seemed that it was difficult for her to accept us as passengers who had a room in her car. Was it because we were wearing T-shirts or had not shaved and looked "grubby" for not sleeping all night?? No one will ever know, but after the shock wore off her once we presented our tickets showing our sleeping accommodations she seemed to somehow accept the fact that we did indeed have a perfect right to be where we were.
Once situated in our rooms, we went to the dining car to have breakfast. Steve and I had French toast. We also had juice and ate light. After breakfast we went to the snack shop and picked up a few things and then went to Steve's room, as it was larger than the other one. We talked for awhile but then Steve and I were dozing off so I went to my own room and had some very needed shut eye. Fortunately, the car attendants had already put the beds down for everyone. I really enjoyed my sleep!
We went to lunch late, but that was okay. Steve and I had a Garden Burger with apple pie for desert. The food was good. The service from Judy this morning and for lunch was good as well.
We later went to Steve's room for a while to chat and then after half an hour, I went to my own room to catch up on my travelogue. We had set up our dinner reservations for 6:15 PM. It is now 5:25 PM and this train IS moving! We have an awful lot of time to make up. I believe that this whole late mess is due to a freight derailment back east when Amtrak was on its' way to Los Angeles. It is very rare when a passenger train derails, as they're so light compared to freight. Even when they rarely do, the injuries are very light as a general rule. When a plane derails, it's all over for everyone! Right now I am still tired. I am very happy that I have a comfortable room to snug up into.
For dinner, I had pasta. Quite good, really. Steve had the same thing and neither of us had dessert. Judy served us again. The same gentleman who sat with us for breakfast, sat with us at this occasion as well. Lenny Pinto is from the east coast originally and goes there every year for a visit, but he now resides in Los Angeles. A person with a great sense of humor. He reminds me of Roger Dangerfield.
After dinner we went to Steve's room to talk some more. After some time I excused myself and went to my room and worked with my laptop computer. It was after 11:00 PM when I hit the sack.
Thursday, April 26, 2001 - As I was getting up around 8:45AM, Steve came knocking on my door. I was half dressed so his timing was good. We then went into the dining car for breakfast and this time we sat by a very interesting person, David Cloutier Smith. David is a walking library of Rail History and of many other things as well. It was quite fascinating to listen to him as he was a very pleasant conversationist. I talked to him about writing his travelogues and sharing them with TrainWeb. Our hostess, Gwendalyn McCormick who has worked for Amtrak for 25 years has also toured the world including on the steam trains of China around 1980. We hope that Gwen also shares her knowledge (she's kept a journal) with all you good people out there, as well. This morning has been a bonanza for us.
Steve and I each had raisin bran cereal with a glass of juice, for breakfast. The conversation was so interesting that we stayed for some time. Fortunately we were some of the last people to come to the diner. We are looking forward to hearing from David and Gwen in the near future.
Back to Steve's room for a little get together again and just plain relaxation. We ended up on a siding waiting for our sister Amtrak train going west to pass us by. That done, in no time we were off again. Though yesterday we were off to a "bad" start, and we had to wait for a few freight trains a couple of times, I think that we'll have a smoother go of it today. The weather is certainly lovely and the scenery is just fabulous. I saw a good dozen antelope today and also a few small "twisters."
As we were passing Williams Junction, Arizona, I noticed a VIA Rail trainset in a small rail yard. Now why would VIA Rail Canada railcars be parked down in this neck of the woods?? I'll have to call Montreal now that I am this curious.

Matt Doti was kind enough to send us an e-mail with the following information:

In Ray Burns' travelogue, he wonders why a train set of VIA cars is in Williams Junction. The small rail yard he saw, was actually the yard for the Grand Canyon Train out of Williams AZ. I was there last summer and there were a few cars still painted in VIA colors awaiting refurbishing. These cars where purchased from VIA for use on the Grand Canyon Train. The Alco FA's they use are also from VIA. Hope this solves any confusion.
It is now 10:50 AM and we are coming into La Junta, Colorado. A twenty five minute stop turned into fifteen. Fortunately we were walking back towards our car when they yelled out "Board!" We slipped into one of the coach cars and worked our way back to our rooms. I went and got a soda for myself and took it to my room and then caught up on my travelogue.
At 12:00 PM noon, we went in for dinner. I had chicken soup with salad and a grilled cheese sandwich with chocolate pudding for desert. Our friend, Lenny Pinto, joined us again and was his funny amusing self that kept everyone entertained. We talked with our hostess, Gwen, again, and asked her to consider writing her travelogues and sharing them with us. The nice thing about travelogues at TrainWeb is that we'll never take them down. That way someones great grandchildren can read some interesting things from their heritage line and feel good about it. Hopefully she will follow through.
That afternoon I had a good rest and talked with Steve in his room a few times. I appreciated the scenery that we went by. The farmland and towns that we went by were very pretty and relaxing to look at. This is one of the great treasures of train travel. Everyone was informed that the dining car will first serve the coach passengers this evening with a complimentary meal and then those passengers in first class would then come in at 7:00 PM for their evening meal. I figured that they'd be out of pasta, which they were, so I just had apple pie for dinner. Steve had the same thing. Maybe it's just as well. One can easily eat too much if they're not careful.
The remainder of the evening was restful. I looked forward to my sleep. As comfortable as it is in coach, there is no comparison to the full relaxation one can experience on having their own bed in their own private room.
Friday, April 27, 2001 - Our car attendant got us up two hours earlier than was necessary. Everyone that got on the train in Los Angeles and Fullerton, California, were still trying to catch up on as much sleep as possible and this ninny wakes us up early? In fact, once we were eventually off the train, she had been into the train station before many of the travelers were. In fact, we met her at the same Quality Inn hotel that we were staying at. She was already checked in. A little later the rest of the Amtrak crew came into the hotel. The other car attendants took care of their people the way one would have expected. They let them sleep in to an appropriate time and then saw them all off properly and then went back to completing their jobs. They were not taken advantage of but were rather taken care of. It was quite difficult for the crew as they had to be back on board by 12: noon for the return trip. Now I know why our car attendant wanted to get to the hotel so fast.
The hotel staff didn't turn out that much better. Was this our "hell day?" Our hotel reservation was cancelled. Steve called them yesterday to inform them that we would be quite late but to continue to hold our rooms. "No problem, sir!" We were there for a convention meeting with the Amtrak Historical Society. We asked for a new room with the special rates we were offered because of the convention group. The gal could not do that. We had to wait for the manager to be in by 8:30 AM, so we went into the café and had a bite to eat to kill time.
The hotel manager came in and we went to the counter to talk to her. She never smiled, did not apologize for the mixup, nor was pleasant in any way. She did honor our special rate and we did get a room - though it was smoking. We are non smokers. The tub plugged up easily and one towel looked liked someone polished their shoes with it. The cleaning woman was quite nice though. I'm glad to see that there's some professionalism at some level of the company! "Whew," what a morning. Those days do happen.
The rest of the day went pretty good. We took a taxi to the Sears Tower as we had never been to it before. We went to the top and enjoyed the magnificent view from 103 stories up and took a few pictures for everyone to enjoy. There were a lot of schoolchildren there as well, but the trip here was still enjoyable. While here we purchased tickets to go on the "Chicago Trolley Co." tour bus that takes you around Chicago. We went around a fair part of the city until we came to the Rainforest Café. The outside and inside of the structure is totally wild looking and is a must place to visit. Not the cheapest place to go to, but the food and drinks do taste great, the service is very good and the atmosphere quite extraordinary. Huge aquariums with large colorful saltwater fish, heavy jungle vegetation and animals (not real, of course) to keep you entertained. Quite a fun place to bring the kids, bring your parents, and enjoy the food. The only problem, is choosing what you want to eat, as the menu is quite large and it is difficult to choose one item over another.
We later got on the "Chicago Trolley Co." bus again and saw and heard a little more of the city history and then went to the Art Museum. Again, there were a lot of students inside and though we looked at many treasures inside, we could not see everything as the museum had to close.
Amtrak Historical Society Conference
On Friday evening, April 27, 2001, we went to the Amtrak Reservation Center in Chicago where we caught up with the rest of the Amtrak Historical Society group. Barbara Lewis, a twenty five year veteran with Amtrak, is in charge of the Information Clearing Center and graciously arranged it for Jeff Kocar, the president of the Amtrak Historical Society, to bring the attending members through her office and observe how her staff handles the incoming calls to Amtrak. Everyone was quite impressed. I believe that they do a wonderful job of taking care of incoming telephone calls and inquiries for travel by Amtrak.
After leaving Amtrak, we headed back to the hotel to meet in our conference room on the 2nd floor. There we looked at much of the memorabilia The Amtrak Historical Society brought out for everyone. A few old Amtrak commercial videos were also shown as was a slide show by one of the members. For those who are into passenger rail, you would enjoy this time.
On Saturday morning, April 28, 2001, we were up and out the door by 8:00 AM. We went downstairs to the restaurant with the rest of the group and had breakfast. When all had finished, we grouped together and went to the Metra Station to take the train to The Pullman Historic District. On the way, the conductor let us right up front and cleaned the windows so that we could take unobstructed pictures out the front window of the train. Our thanks to the crew for that nice touch!
Once we got to the Historic Pullman District, our guide was there at the station to greet us. We walked downstairs from the platform, under the rail overpass bridge, crossed the street, and we were now at the famous Pullman Park with its grand hotel facing us as we entered the area. Lovely trees and many flowers, especially tulips, surround the neighborhood.
Pullman's Palace Car Co. is still famous today as "the" company that built high quality and beautiful rail cars. They are still highly valued today as something to be proud to own. From 1891 to 1894, Pullman received international awards as the "World's Most Perfect Town." The whole town is a historic landmark with beautiful original homes from a bygone era. Many residents have restored their homes to their original beauty. A wonderful tour well worth going on.
We had to leave to catch our 2:30 P.M. train back to Chicago. It was a relaxing ride back. From the Metra Station we took a bus to an overpass that overlooked the Amtrak Chicago rail yards. This is quite a site with so many train tracks side by side in one concentrated area. Here, one can easily see the different passenger trains coming and going through the rail yard. Amtrak intercity trains as well as Metra commuter trains could be viewed going in and out of the tunnel under the Post Office that leads to Chicago Union Station. Many of us took a lot of pictures that day!
We then caught a bus around 4:30 P.M. and came back to the hotel for a little rest and cleanup for our big get together this evening. There were 82 people attending for the occasion and a better meeting it couldn't be. We had a great chicken dinner with peach cobbler to finish it off. The socializing was great and the atmosphere was very friendly, and as usual, Jeff would come up with some great surprises for everyone.
First off, TrainWeb, meaning Steve Grande and myself, were awarded the coveted "marble" spike award this year. Then, we had a number of great speakers from Amtrak address the group. Jeff, being the master of ceremonies with Tim Noel (whom I might add, also was awarded a "marble" spike for his undying services) assisting him not only during our tours, but also this evening as well. We then went into a drawing where everyone came out a winner with some Amtrak souvenirs to take home.
Patti Gowanlock who had been with Amtrak for 23 years and is presently with Human Resources, gave a talk on the train station of where she worked for 20 years. This historic station is quite beautiful and the locals are very proud of it and the numerous flowers that surround it for beautification. I think that virtual photographs of this lovely station would be good for Amtrak and for the general public to see and appreciate.
Mr. Lee Gleysteen, with Amtrak Intercity, who also has been with Amtrak for a few decades, shared some of his history with the company and other pertinent information relating to the growth of Amtrak. Very informative and interesting. Everyone was all ears. Click here if you would like to read a transcript of his speech.
Another speaker from Human Resources shared very interesting information with the group about the Passenger Train Emergency Response Course in College Station, Texas. Amtrak had donated a number of passenger rail cars including two engines for the school to actually use for the Passenger Train Emergency Preparedness class. A one of a kind.
Ms. Dee Fritch, the Manager of Human Resource Development (HRD) also attended the gathering. It was a great time for all and I look forward to touching base with all the speakers in the future.
After the speakers were finished, we stayed for a little while and then headed for our rooms. It was a great full day and we were bushed. We'll sleep good tonight.
Sunday, April 29, 2001 - Steve and I got up at 7:00 AM and then went down to have breakfast. I came back to the room to work on my travelogue and Steve went out to The Field Museum of Natural History, the Shedd Aquarium, the Adler Planetarium and the Museum of Science & Industry. I sorely wanted to be with him like I always do, but it was not possible. He later called me to ask me to go to the Aquarium with him, knowing that I would really enjoy that. But it was not to be.
I worked all day on the laptop composing this travelogue by using my limited notes and trying to remember other events of this rail trip and conference. It was a quiet and restful day in the room. Tomorrow morning I will be taking a plane around 11:00 AM and flying directly to Los Angeles. My train trip is over at this point.
Photo sets from this rail journey:

---
---
Click here to read the travelogue of Steve Grande for this same rail trip.
Click here for more information about the Amtrak Historical Society Conference
Click here to return to the main page of this rail trip.


---
---
Below are links to previous journeys on the Amtrak Southwest Chief taken by Steve Grande:
For those of you that would like to learn more about the Amtrak Southwest Chief, visit the following websites:
Click here
to take a 360x360 degree virtual tour of the Superliner trainset!
Select the "Amtrak Superliner Trainset" from that page.

Visit our Rail Magazine promotion trading partners:
Click here to add your print rail magazine.