Aerial Railroad Photos
http://trainweb.com/samssrw/aerial97.html
The following are aerial photographs of railway related structures around Los Angeles. These photos were taken on July 15, 1997.
NOTE!
The photographs on this page are COPYRIGHT &copy 1997 by
Sam Pottinger's Steel Rails West.
Reproduction of these photographs is not permitted without
the express written permission of
Sam Pottinger's Steel Rails West.

Click here for contact information for Sam Pottinger's Steel Rails West to find out how to purchase enlargements of these photographs or permission for other use of these photographs.
Click on the thumbnail image to display a full photograph.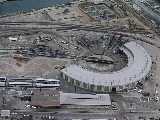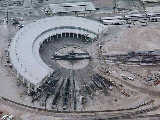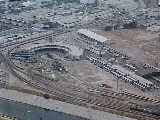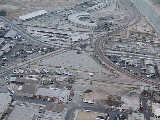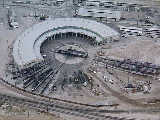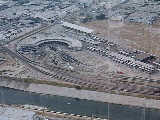 Amtrak's Los Angeles Redondo Roundhouse

Overall view of the Redondo Y, Redondo Tower and the Roundhouse.
Same as above with a wider view.
Same as above with a wider view.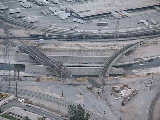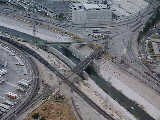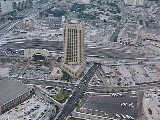 Los Angeles Mission Tower looking east. Across the river the oil cans are starting their journey west to Mojave to pick up another load of crude oil.
A closer look at the Mission Tower area looking southwest.
Los Angeles Union Depot area showing new office building with depot in back. Looking West.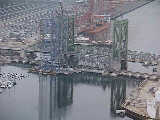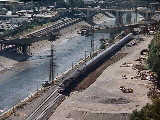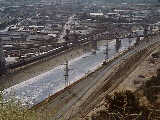 Building of the new double track lift bridge replacing the old basque type draw bridge across Cerritos Channel to Terminal Island. The increased traffic to the new APL and coal loading facility made this new bridge a must.
This photo was taken from Elysian Park overlook (See our L.A. Rail Guide for more info on Elysian Park area), showing the about to be completed light rail line bridge over the L.A. River. The train at right is the Coast Starlight leaving on its trip north.
The same basic area as the previous photo showing the old Santa Fe Pasadena Sub Bridge in the 1980's. Again the Coast Starlight is leaving town on the east side of the river.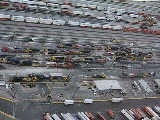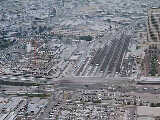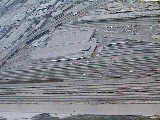 The old Hobart Diesel Facility in Santa Fe's L.A. Hobart Yard. Now 1-98 the facility has moved to the old Lever Brothers Property near the Commerce Depot Platform. (See our L.A. Rail Guide for info on this site). 8x10 size available.
Los Angeles Union Passenger Depot looking north.
The Red Line Facility along the west bank of the L.A. River, south of the Union Depot.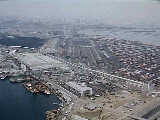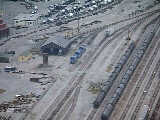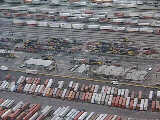 The new APL and coal load facility on Terminal Island.
The Pacific Harbor Line Shop and Yard in Wilmington. The 3 blue SW-1500's are ex-Conrail switch engines to be used by this industrial line.
Another view of the old Hobart Diesel Facility.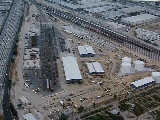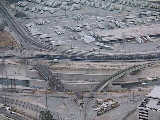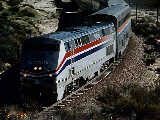 The new BNSF Lever Brothers Car and Diesel Facility just before completion. It is now fully operational.
Another view of the Mission Tower - L.A. River track diamonds and track layout looking east.
Amtrak's Desert Wind (Train #36) as it approaches the Mormon Rocks area and an area called Steins Hill. The Desert Wind route which ran from Chicago to Los Angeles via Las Vegas was terminated by Amtrak in 1997.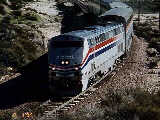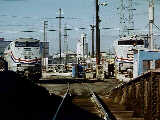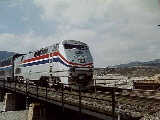 Desert Wind (Train #36) again.
Amtrak's L.A. Diesel Facility at Redondo Junction, looking east off of turntable. The only track in service now is the one on the right, which is the pit track. Due to the new facility being build, 1-98.
Amtrak Desert Wind (Train #36) westbound at bridge east of Devore in Lower Cajon Canyon.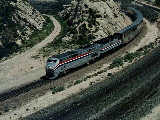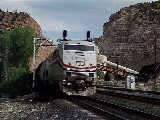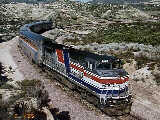 Amtrak's eastbound Desert Wind (Train #36) on BNSF's north track at Sullivan's Curve. This unique photo was taken after climbing about 100 feet up the lower rock itself.
Amtrak's California Zephyr (Train #6) at Castle Craig, just west of Helper, Utah. 8x10 Available.
Amtrak Desert Wind (Train #35) descending BNSF's track at Steins Hill (Mormon Rock area), with GE Dash 8 Power.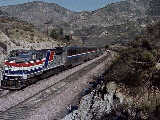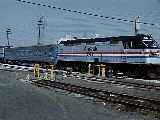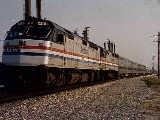 Amtrak's Desert Wind (Train #35) descends Cajon Pass at Blue Cut in Cajon Pass. (See our Cajon Rail Guide for more information on how to reach these great locations).
Amtrak AC Units 451 and 450 with EMD Test Car at L.A.'s Redondo Jct Facility. These were designated F-69PHAC's. Some photos are available of these units. Write or call for information.
Amtrak's AC Unit on San Diegan at Santa Fe Springs, CA.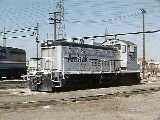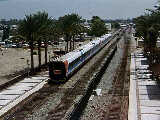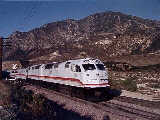 Amtrak 795 Switcher at L.A.'s Redondo Junction Facility.
The Talgo Tests on the San Diegan Corridor at Fullerton, California. 8x10 Available.
On one of the last duties for Amtrak's AC Units they were repainted in white and red and pulled the ice train to Los Angeles. Shown here at Swarthout Road in Cajon Pass, August 23, 1993. Available in 8x10.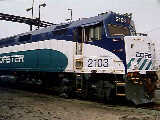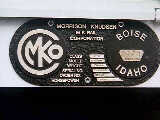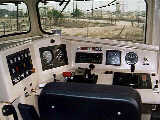 A Coaster Unit sits in L.A.'s Redondo Junction Garden, as its called. Before the Coaster facility was completed at Oceanside, California, L.A.'s facility handled the inspections and repairs of the engines.
Morrison Knudson Builders Plate on the Coaster engine.
An Engineer's view of the Coaster's Control Stand.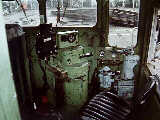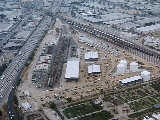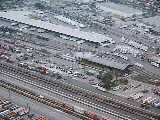 An old CF-7 Control Stand showing components of the old style brake system.
BNSF's diesel facility at Lever Brothers across from the Commerce Station platform on July 15, 1997 before it was completed.
UPS diesel facility looking southeast.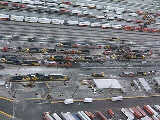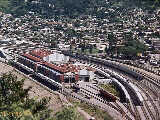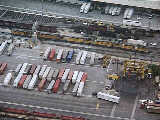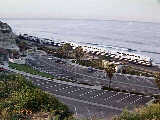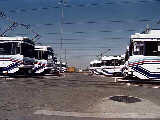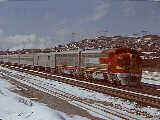 A westbound Metrolink passes one of the many beach parks in San Clemente, California, on the San Diego Corridor.
Metrorail Blue Line cars in their yard before regular service began.
A Santa Fe movie special at Martinez spur in Cajon Pass using California State Museum's Engines 347 C and Booster, February 1988.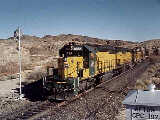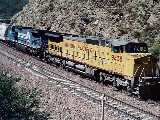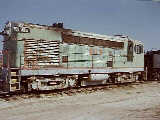 A Chicago Northwestern Unit leads a UP westbound train at Afton, California (See our Afton Canyon Guide to visit this beautiful desert area.
An eastbound UP train with Conrail Power passes Swarthout Canyon Road in Cajon Pass.
A Fairbanks Morris DS-44 Switcher Ex UP at the San Diego Rail Museum at Campo, California. If visiting the San Diego area, be sure to visit this museum!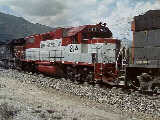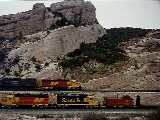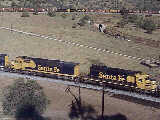 EMD lease unit on SP westbound train near Blue Cut on Colton Palmdale cutoff at the Swarthout Road Crossing in Cajon Pass.
Sullivan's Curve in Cajon Pass with the merger that wasn't to be between the SF and SP. Over 100 units were painted in the red and yellow scheme before the government said no to the merger. April 1987. Available in 8x10 and 20x30 sizes.
A long SF eastbound stretches all the way around the famous Tehachapi Loop. Unfortunately at this location you will need a fish eye lens to capture the complete scene.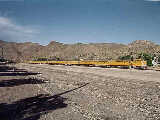 A UP special that accompanied the 3985 steam special to Los Angeles in May 1994. Caliente Nevada where the E-9 Diesels and the steam engine ran separately.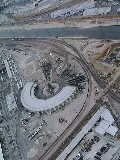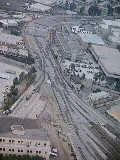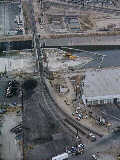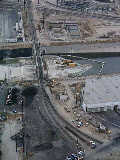 Another aerial view of Amtrak Redondo Roundhouse and tower in Los Angeles. Looking northeast.
New track work being completed into Los Angeles Union Depot. Looking north.
Bridge construction work over the L.A. River on UP's line at Redondo Junction as part of the Alameda Corridor Project, July 15, 1997. Now there is a new concrete bridge to the right of the one shown, January 15, 1998.
Same as previous photo.
---
Please select one of the following:
Sam Pottinger's Steel Rails West Main Page
TrainWeb Photo Gallery
---
visits since January 8, 1998.
http://trainweb.com/samssrw - copyright &copy 1998 Sam Pottinger's Steel Rails West