Metra - Chicago's Commuter Rail System
www.trainweb.com/routes/metra.html
Photographs, travelogues, accommodations, and other information about train travel on the Metra, the Chicago commuter rail system.
Click here to go to the official site of Metra Rail.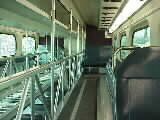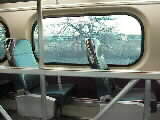 Click here for more photos of the inside of the Metra commuter rail cars.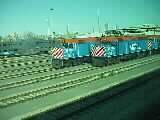 Click here for more photos of the outside of the Metra commuter rail cars.
UP-N to Kenosha, WI
Union Pacific North Line
Chicago (OTC) to Kenosha, WI
Traveled by Steve Grande: Not yet.
UP-NW to Harvard and McHenry
Union Pacific Northwest Line
Chicago (OTC) to Harvard and McHenry
Traveled by Steve Grande: Not yet.
UP-W to Geneva
Union Pacific West Line
Chicago to Geneva
Traveled by Steve Grande: Not yet.
MD-N to Fox Lake
Milwaukee District North Line
Chicago to Fox Lake
Traveled by Steve Grande: 1999-Mar-26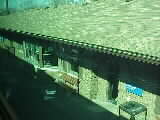 Click here for more photos taken along the Metra routes.
Starting out of Chicago there was a problem with the locomotive. Very little time was wasted in removing the problem locomotive and adding a new locomotive. Even though boarding was delayed to 5 minutes before departure time, the train departed on time anyway!
I've seen a number of people bring food and drink onto the train and eat it on the train. I would assume that eating is allowed on these trains unlike the Metrolink trains in Los Angeles.
I still can't get over how fast the train gets out of the downtown Chicago area and is out into the suburbs. Actually, it doesn't take long before the train has even left behind the dense suburbs and is out in wooded areas where many homes, even new homes, are large with very big yards. Between these wooded communities are large expanses of empty woods and lakes. Once in a while there will be a clearing with some ongoing industrial operation such as a gravel pit or a grain processing facility. These scattered industrial operations were obviously here long before they started to build new homes in these wooded areas.
At 3 P.M. in the afternoon I noticed that trains heading both in and out of Chicago are traveling on the left instead of on the right. That seemed unusual to me. In most cases, when a line has double track, the commuter trains usually travel on the right just like passenger cars.
On the way back to Chicago, running against the early rush hour at 3:10 P.M., there are just as many people going into Chicago as coming out of Chicago! Perhaps that is because this is Friday and there is much to do in Chicago on Fridays.
Unlike my previous journeys on the Metra where I did not see any use of radios and the train ran on time like clockwork, this train did run into some unexpected red signals. They did resort to using the radio to contact the Dispatcher. The Conducter and Engineer were talking back and forth over the radio, but just during the time they were stuck at the red signal. We lost a bit of time at that signal and stayed about 11 minutes behind for quite a way.
The Conductor got into a brief discussion with some passengers carrying protest signs to a demonstration in Chicago against the bombing of Serbia. He said: "It is your right to protest as an American. I'm a real American. I spent 10 years in the military." On his way back, he said to them: "You are right to protest. We have no business being over there."
By the time we got to the Golf Station, this train was really getting packed! There are still a few seats here and there, but it is really filling up! Two pepole just sat down in the area the Conductor set aside for his "office". I wonder what his reaction will be when he comes back. Good thing we don't have too much further to do to Chicago. Little by little, even the scattered empty seats are filling up!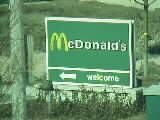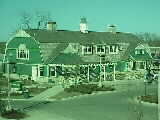 The above are photos of a McDonald's along the Fox Lake Metra route.
Click here for a video of the Metra train heading through woods along the Fox Lake route (122k - 5 seconds).
MD-W to Elgin/Big Timber
Milwaukee District West Line
Chicago to Elgin/Big Timber
Traveled by Steve Grande: 1999-Mar-26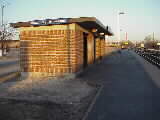 Click here for more photos taken along the Metra routes.
Since the Metra I took from Fox Lake back to Chicago was running 13 minutes late, I barely had time to make it to this train. I got as close to the door as I could before that train stopped so that I could get a head start in making it over to this train. I made it in time, but this is one of the most crowded Metra trains that I have been on! Probably both because it is the start of the rush hour and because it is Friday, the end of the week.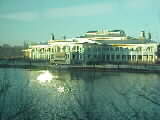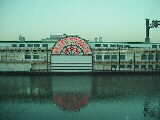 Click here for more photos taken along the Metra routes.
I went up about 4 or 5 cars before I boarded figuring that the cars further from the station would be less crowded. That was partly true. The first car I boarded didn't have any seats available at all. I continued to move through the train from car to car further and further away from the station. There were many dozens of people both ahead and behind me in the aisle doing the same thing! I didn't see any seats available upstairs in any car. As I got further down the train, I did start to see more and more people sitting alone in pairs of seats. The very last car was the rule breaker as it was already packed solid!
I went back in the other direction until I found the first seat where the person hadn't blocked it with their coat, pocketbook or briefcase and where the person wasn't so wide as to be taking up two seats all by themself. I sat next to a guy that was relaxing with a beer. A beer? Well, there aren't any signs on the Metra that says drinking alcoholic beverages is not allowed! And ... there was a previous trip to Chicago where I saw a store selling cans of beer to passengers in the station out of this big barrel full of ice. People were just coming into the station off from work, grabbing a beer out of the ice barrel, purchasing it, and I assume taking it with them onto the train. Later on my way back on this same train I saw other people bring aboard boxes of the small single servings of wine. It seems interesting that Amtrak prohibits coach passengers from bringing their own alcohol onboard but Metra does not seem to mind. But since Metra doesn't have Cafe Cars, you aren't taking away any of their business by bringing your own along!
The Big Timber Station wasn't quite finished when I went there. One platform is in pretty good shape. The other platform hasn't had the cement poured yet. They let us off on the side without a platform. At first I was wondering why they did that, but I'll explain that in a moment. Most of the people that use the Metra are commuters so they usually don't have luggage. On this train, however, there was a woman with 3 suitcases. Three men helped her off the train with her luggage and then carried the luggage over to the other platform for her. It would have been impossible for her to roll the suitcase through the rough dirt.
The reason our train went to the side without a platform is that another train arrived a few minutes after ours. I was a little mystified about that. I had checked the schedule earlier and saw that the next train to Big Timber didn't leave for another half hour. What I didn't notice was that second train was a double express. The train I took was an express, but the later train skipped almost twice as many stops! Thus, they needed the other platform for the second train to arrive.
As it turned out, I would still have been able to get this return train, even if I had missed my train coming out. Not only that, but the ride might have been a bit more enjoyable because of the double express. These Metra schedules can be tricky. I've noticed that some express trains will even arrive at the final stop before a local train. It is built into some schedules where the express train will catch up to the local train and pass it!
NCS to Antioch
North Central Service to Antioch
Chicago to Antioch
Traveled by Steve Grande: 1999-Mar-25
Below are photos of the inside of the Antioch Metra Station. Click on any photo for a larger image:
The above are photos of the inside of the Metra Station at Antioch. The station is left open unattended during Metra operating hours. There is plenty of seating, restrooms, and is heated. Most stops along the Metra routes have similar types of buildings where passengers can wait out of the Chicago weather.
The route to Antioch is Metra's newest major addition and is the only major addition in commuter rail made to the system in many years. Many of the neighborhoods along this route are new and have been built in just the last couple of decades. There are brand new developments along this route still being built and sold.
BNSF to Aurora
Burlington Northern Santa Fe to Aurora
Chicago to Aurora
Traveled by Steve Grande: Not yet.
ME to University Park
Metra Electric to University Park
Chicago to University Park
Traveled by Steve Grande: Not yet.
HC to Joilet
Heritage Corridor to Joilet
Chicago to Joilet
Traveled by Steve Grande: Not yet.
SWS to Orland Park
SouthWest Service to Orland Park
Chicago to Orland Park
Traveled by Steve Grande: Not yet.
RI to Joilet
Rock Island District to Joilet
Chicago to Joilet
Traveled by Steve Grande: Not yet.
SS to South Bend, IN
South Shore Line to South Bend, Indiana
Chicago to South Bend, Indiana
Traveled by Steve Grande: Not yet.
OTC - Ogilvie Transportation Center (formerly C & NW Station)
Visit our Rail Magazine promotion trading partners:
Click here to add your print rail magazine.