Southern California Railfaning
www.trainweb.com/accounts/railsocal/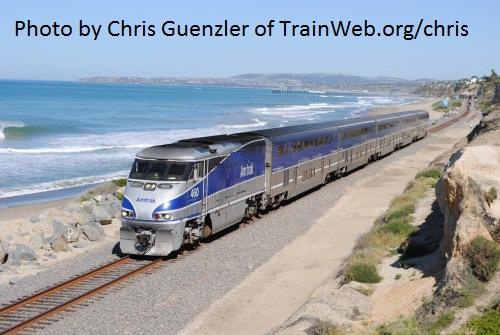 Southern California has some of the most wonderful and interesting rail destinations in the nation, and that is in addition to some of the most scenic views right from the train of dramatic coast lines and high plains deserts. The purpose of this web site is to feature those destination, how to get their by rail, and what to do and see once you get there.
---
UPDATE: OCTA / METROLINK adds more rail service and promotes Orange County rail destinations with All Day and All Weekend rail / bus passes! Click here to visit www.octa.net/oclink. Also visit: CLICK HERE to visit Rail Restaurants.
---
Here we present our list of the BEST rail destinations in southern California. Please feel free to suggest your own.
Camarillo - a LOT of restaurants, shops, and just a fantastic southern California resort atmosphere. All the Amtrak and Metrolink trains stop here.


Fullerton* - over 50 restaurants and lounges, many open until 2am every night, plus several live theater venues all within easy walking distance of the station. For information on more to do here visit DowntownFullerton.net


Old Town Orange - Just a block away is the Circle of Orange, a turn of the century historic location that has been used in countless movies. It feature MANY restaurants and shops all within a short walk. For information on more to do here visit www.OldTownOrangeWalkingFoodTours.com. Right at the depot itself is Ruby's Streamliner Lounge. Click Here for more information.




Riverside - Just blocks from Downtown Riverside where you will find the Mission Inn plus dozens of shops and restaurants in this revitalized college and historic city.


San Clemente Pier - In the past was one of the most popular stops along the line of the Santa Fe. And no wonder! It is just steps from the water, the pier and the shops along the beach. This is a fantastic destination for walks along the beach.


San Juan Capistrano* - the oldest community in the west it features the world famous San Juan Capistrano Mission (when the swallows return) and a lot of wonderful restaurants and shops within walking distance of the station. Be sure to visit The Vintage Steakhouse which is right on the platform of the station with a view of the tracks and Rick's Cafe that offers current movies in addition to a great dining experience.


Solana Beach - Both Amtrak and the NCTD Coast stop every train here. It is just a block from the beach with many restaurants and shops just a short walk from the station. One of a kind!
---
---
| | |
| --- | --- |
| CLICK HERE to view the entire RailDestinations.com Facebook Fan Page! | |
| | |
| --- | --- |
| CLICK HERE to view the entire RailDestinations.com Facebook Fan Page! | |
Click on the below images to visit our rail magazine promotion trading partners:
(Click here to add your print rail magazine.)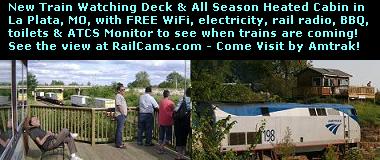 ---
Visit related pages from this and other web sites:
Click below for pages in the directory of TrainWeb sites: