RailDestinations.com
www.trainweb.com/accounts/raildestinations/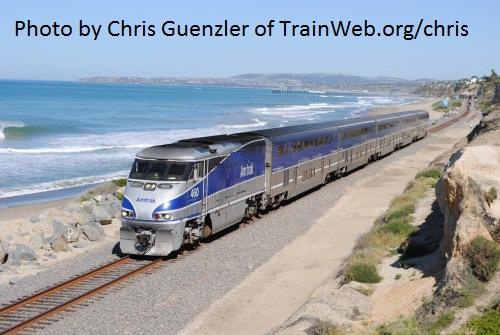 For now this website is going to be heavily biased towards Southern California, but we do hope to eventually expand it to other rail destinations throughout the nation and the world.
The inspiration for this web page is that some of the most wonderful and interesting rail destinations in Southern California are highly underserved by both Amtrak and Metrolink. This might be understandable except for the fact that Amtrak and Metrolink provide excellent service throughout southern California to parking lots that are of little or no interest as rail destinations. It as though Amtrak and Metrolink believe their only purpose is to pick up commuters from the suburbs and bring them to the "big cities" with little regard that there are other stations along the lines of these trains that are real gems!
---
UPDATE: OCTA / METROLINK adds more rail service and promotes Orange County rail destinations with All Day and All Weekend rail / bus passes! Click here to visit www.octa.net/oclink. Amtrak and Metrolink still need to do much more to promote the below Southern California Rail Destination, but OCTA has most definitely stepped up to the plate with their campaign to promote several of them in Orange Country including more frequent service and all day and all weekend low cost passes. Also: CLICK HERE to visit Rail Restaurants.
---
Here we present our list of the BEST rail destinations in southern California. Please feel free to suggest your own.
Camarillo - a LOT of restaurants, shops, and just a fantastic southern California resort atmosphere. All the Amtrak and Metrolink trains stop here, but there just aren't enough of them. A number of Metrolink trains terminate at the parking lot in Moorpark and just don't quite make it his far.


Fullerton* - over 50 restaurants and lounges, many open until 2am every night, plus several live theater venues all within easy walking distance of the station. There is consideration of skipping this station in favor of the parking lots of Anaheim and Buena Park. For information on more to do here visit DowntownFullerton.net


Old Town Orange - Just a block away is the Circle of Orange, a turn of the century historic location that has been used in countless movies. It feature MANY restaurants and shops all within a short walk. Metrolink provides adequate service but mostly during commuter hours. Most Amtrak trains just race right through without stopping. For information on more to do here visit www.OldTownOrangeWalkingFoodTours.com. Right at the depot itself is Ruby's Streamliner Lounge. Click Here for more information.


Riverside - Just blocks from Downtown Riverside where you will find the Mission Inn plus dozens of shops and restaurants in this revitalized college and historic city. This station gets relatively good service by Metrolink during the day Monday through Friday but has no departing trains after 6pm and very little service on weekends at all.


San Clemente Pier - In the past was one of the most popular stops along the line of the Santa Fe. And no wonder! It is just steps from the water, the pier and the shops along the beach. This is a fantastic destination for walks along the beach. But Metrolink service is non-existent. And if you take Amtrak, plan to spend the entire day there waiting for your return train as most of them just race right through without stopping. If you plan to take Amtrak down for a walk on the beach, be prepared for a VERY LONG walk as there is a huge gap in Amtrak service.


San Juan Capistrano* - the oldest community in the west it features the world famous San Juan Capistrano Mission (when the swallows return) and a lot of wonderful restaurants and shops within walking distance of the station. Some proposals show the complete elimination of this station to only have it replaced by shuttle bus service from the parking lot at Laguna Niguel / Mission Viejo. Be sure to visit The Vintage Steakhouse which is right on the platform of the station with a view of the tracks and Rick's Cafe that offers current movies in addition to a great dining experience.


Solana Beach - Finally a bright spot! Both Amtrak and the NCTD Coast stop every train here. It is just a block from the beach and there don't seem to be any plans to reduce or eliminate service to this station. One of a kind!
While Amtrak and Metrolink provide limited service to some of the above stations, they do provide considerable service to stations that really are nothing more than parking lots with no desirable attractions within sight of the station. These include: Laguna Niguel/Mission Viejo, San Clemente (not the pier), Irvine, Santa Ana, Anaheim, Glendale, Chatsworth, Simi Valley, and Moorpark. We believe that Amtrak and Metrolink need to provide more service to true Rail Destinations and stop thinking themselves as just a commuter service to pick up and deliver people to parking lots. The above destinations have a TREMENDOUS amount to offer within walking distance of the stations and need to have frequent service throughout the day. All of them do have several trains through them every day, but they just fly through without stopping so that they can hurry to various parking lots.
Of the above, Solana Beach has adequate Amtrak and Coaster service with no plans to reduce service. The two stations with an * above, Fullerton and San Juan Capistrano, have some written proposals to reduce or completely eliminate service. The logic with Fullerton is that it is too close to both the Anaheim and Buena Park stations. One proposal would eliminate service to Fullerton (with its more than 50 restaruants, shopping, and several live theaters) and instead provide more rapid service to the parking lots of Anaheim and Buena Park. One proposal for San Juan Capistrano (with its historic mission and many restaurants and historic locations) and replace that with bus service from the Laguna Niguel / Mission Viejo parking lot Other fantastic destinations like Old Town Camarillo, Old Town Orange, and San Clemente Pier, all have plenty of trains, but most of them just speed right through without stopping! Amtrak and Metrolink seem to have no concept of these Rail Destination GEMS that they should be promoting rather than racing through.
The following are what Amtrak, Metrolink, Coaster and we all assume are wonderful Rail Destinations. They hardly need any promotion as they have fantastic Amtrak, Metrolink and / or NCTD Coaster service as well as adequate publicity and promotion. What Amtrak, Metrolink and Coaster really need to do is add more service to the above locations and to promote them as Rail Destinations.
Los Angeles
Oceanside
San Diego
San Luis Obispo
Santa Barbara
Note: I have mentioned Amtrak and Metrolink several times above, but don't take your rath out on them. They are actually not the decision makers of what level of service to provide to each station. They are just the service providers. They work under contract to intergovernmental agencies that most of you have probably never heard of. But it is the intergovenmental agencies that fund the Amtrak and Metrolink trains and decide the type and level of service to every community. I am working on obtaining contact information for these agencies as these are the prople you really need to express your opinion to. But if you wish to contact Amtrak or Metrolink to express your opinion in the meantime, please feel free to do so. Just keep in mind that they do not make the decisions. They just run the trains to where they are told to do so. If you live in any of the above underserved communities, your best bet may be to express your concerns and desires to your own local city council. They are the people who have the most influence in bringing passenger rail service to your own community.
---

CLICK HERE to view the entire RailDestinations.com Facebook Fan Page!
CLICK HERE to view the entire RailDestinations.com Facebook Fan Page!

---