Downtown Fullerton
Fullerton, California 92832
www.trainweb.com/accounts/downtownfullerton/index.html
Downtown Fullerton ? You'd be surprised !
An almost comprehensive listing of restaurants, theaters, and other merchants located in Downtown Fullerton, California, including links to websites when available.
Visiting Fullerton by rail? The Amtrak/Metrolink train station is located within easy walking distance of Downtown Fullerton. Almost everything listed on this page is located in Downtown Fullerton!
Former Home Of: TrainWeb.com and TrainParty.com / (Our Old Depot Office)
Publications: Fullerton Observer / Fullerton Stories
Hotels: Fullerton Hotels
Restaurants: (Click Here to View on a Map)
/ Angelo's and Vinci's / Back Alley Bar & Grill / Branagan's Irish Pub / Brownstone Cafe
/ Bourbon Street / Cafe Hidalgo / Chomp / Commonwealth Lounge / Envy Ultra Lounge
/ Florentine's Grill / Fullerton Reviews / Heroes Bar & Grill / HopScotch
/ Joe's / Knowlwood / (Train Travel Meetup Group) / Matador Cantina / Monkey Business Cafe
/ Mulberry Street / Palapa Grill / Revolucion Cantina / Roman Cucina
/ Roscoe's Famous Deli / Rutabegorz / Santa Fe Express Cafe / Stadium Tavern
/ Steamers Jazz Club and Cafe / Stubrik's Steakhouse / The Cellar / The Old Spaghetti Factory
/ The Olde Ship / The Pint House / The SlideBar / Tuscany Club
/ Twisted Vine / Ziing's Bistro & Bar / More Fullerton Restaurant Info
Martini Bars: Continental Room
Wine Shops: Twisted Vine
Fast Food: Domino's Pizza / Pizza Hut / Taco Bell / McDonald's
Live Theaters:
Fullerton Theatre League
Maverick Theater / Stages Theatre
Fullerton Civic Light Opera / Plummer Auditorium / Fox Fullerton
Fullerton College Theatre Arts Dept / Brodwyn Dodson Theater (Fullerton College)
CSUF Performing Arts Center / Secret City Comedy
Museums: Fullerton Museum Center
Ballroom & Swing Dancing: Historic Fullerton Ballroom
Events: Miss Fullerton / Fullerton Market / First Night in Fullerton / Railroad Days
Places To Live In Fullerton
Wilshire Promenade (Essex Property Trust, Inc.)
Pinnacle at Fullerton / City Pointe
Condos: SOCO Walk / Amerige Court (Coming Soon)
Transportation: Metrolink (Fullerton is on the "Orange County Line" & "91 Line")
Amtrak: Station Info / Pacific Surfliner: Route Info / Southwest Chief: Route Info
OCTA Bus Information (Easy bus access to most of Orange County from Fullerton!)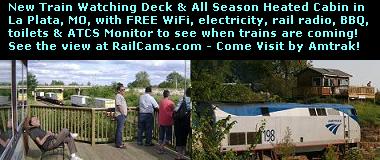 visits since July 13, 2008.
Visit related pages from this and other web sites:
Click below for pages in the directory of TrainWeb sites: